IV. Modernization of Transport Governance
China is the largest developing country in the world. The complexity and rapid development of its sizable transport sector have created difficulties in managing the industry. Based on national conditions and drawing on international experience, China has devoted serious effort to modernizing its transport governance. Through reform and innovation, the country has unleashed the vitality of technology and market, increased efficiency and facilitated the high-quality development of the industry.
1. Reforming the Transport Governance System
Basing itself on the present while focusing on long-term development, China has reformed its comprehensive transport management and improved related laws and regulations. At present, a unified, open, competitive and orderly transport market is in place, and a transport governance system that meets the needs of the country's development in the new era has been steadily improved.
Upgrading comprehensive management. With the focus on advancing supply-side structural reform and improving transport governance, China has furthered reform of the management institutions and mechanisms. As part of the "large government departments" reform in 2013 to optimize administrative functions, a basic institutional framework was formed under the Ministry of Transport, which brought the National Railway Administration, Civil Aviation Administration of China and State Post Bureau under its management. The country has advanced corporate reform of the China Railway Corporation and the China Post Group Corporation. The two companies, restructured into China State Railway Group Co., Ltd and China Post Group Co., Ltd, have established a modern corporate governance structure and a modern state-owned enterprise system with Chinese characteristics. Reform has been accelerated at the provincial level, and most provinces have begun to put in place comprehensive transport management institutions or operational coordination mechanisms.
As National Railway Administration and China State Railway Group Co., Ltd were set up, separation of government administration from the management of enterprises was achieved in the railway sector. Reform of the civil aviation institutions and mechanisms for airport public security, pricing, investment access, and air traffic control is proceeding in a well-planned manner. Reform of the postal service has been proceeding steadily, with improved supporting measures for postal reform.
China has steadily promoted reform of administrative law enforcement by reorganizing and streamlining law enforcement teams and their functions. A comprehensive administrative law enforcement system that is authoritative and efficient, balances powers with responsibilities, and features effective regulation and high-quality service is now in place. The country has established a basic mechanism for comprehensive transport planning and coordination, which helps the connection and balanced development of railways, highways, waterways, civil aviation and postal services.
Thanks to these reforms, China has further modernized its capacity for transport governance by optimizing the institutions and mechanisms for comprehensive development, integrating different modes of transport, and boosting driving forces from within the industry.
Developing law-based government departments for transport. Implementing the Xi Jinping Thought on the Rule of Law in developing law-based government departments, China has exercised the rule of law in all aspects of transport, including planning, construction, operation, management and workplace safety, providing a solid guarantee for building China's strength in transport. A system for law-based government administration has taken shape, and the working mechanisms for legislation, supervision over law enforcement, administrative review and response to lawsuits, and public education on the law and the rule of law have gradually improved. The government has stepped up the pace to introduce legislation on railways, highways, waterways, civil aviation and postal services, and as a result a broad framework of laws and regulations is now in place.
Focusing on major national strategies and areas relevant to the industry, China has formulated and revised key laws and regulations on railways, highways, maritime traffic safety, ports, waterways, civil aviation, and postal services. China has also promulgated and revised urgently needed provisions and measures for ensuring safe navigation when overwater and underwater activities take place, and for standardization in the transport industry, and has progressively overhauled normative documents.
Advancing reforms to improve the business environment. China has remained problem-oriented, accelerated the transformation of government functions, furthered reforms to streamline administration, delegate power, improve regulation and upgrade services, and continued to improve the business environment. It has gradually relaxed restrictions on market access in the transport sector, removed unreasonable and unnecessary fines and inspections, and established catalogues of fees charged to enterprises. Tax and fee reduction policies have been implemented to lower logistics costs. The government has strengthened in-process and follow-up oversight, cleared intermediary services from the list of items of administrative examination and approval, and furthered reform in the business sector.
Oversight conducted through the random selection of both inspectors and inspection targets and the prompt release of results has been implemented. China has made use of information technologies such as big data, cloud computing and internet of things to promote the nationwide parallel licensing system for inter-provincial heavy cargo. It has also accelerated the establishment of a new market supervision mechanism based on credit, coordinated the regulation of new business forms, and created innovative and integrated online and offline regulation models to make the market environment fairer and more orderly.
China has improved administrative approval services regarding transport, and enabled access to government services via a single website to make it easier for people to get their problems solved by one single department and with one-stop service, thus significantly improving the efficiency of public services.
Reforms designed to streamline administration, delegate power, improve regulation, and upgrade services have optimized the business environment, stimulated the vitality of the transport sector, raised the efficiency of government services, and promoted the healthy development of the industry.
2. Pursuing Green Development
Acting on the understanding that lucid waters and lush mountains are invaluable assets, China has improved the system for promoting eco-civilization in the transport sector, achieved real results in energy conservation and carbon reduction, and increased environmental friendliness.
Comprehensive energy conservation, emissions reduction and low-carbon development. China has worked hard to conserve energy, reduce emissions, and develop low-carbon transport to boost economic development. It has strictly implemented a system that controls both the total amount and intensity of energy consumption to improve the overall efficiency of transport. The national railway electrification rate has reached 71.9 percent. There are now more than 400,000 buses and 430,000 trucks using new energy, 180,000 natural gas vehicles, and 290 liquefied natural gas (LNG) ships. About 14 percent of airport vehicles and facilities are run on new energy sources, substitute facilities for aircraft auxiliary power units (APUs) are in full use, and the numbers of postal vehicles run on new and clean energy and those that are in service in key regions are steadily increasing. More than 7,400 charging piles have been built and operated in 942 expressway service areas across the country, more than 5,800 sets of shore power facilities have been built at ports, covering over 7,200 berths, and container terminals at major ports along the Yangtze and coastlines have switched from oil to electricity for power. The annual energy saved by green transport provinces and cities, green highways, green ports and other demonstration projects has exceeded 630,000 tonnes of coal equivalent. The central government has used vehicle purchase tax funds to support the construction of comprehensive passenger terminals, freight hubs, and port railways, and coordinated the development of road-rail, sea-rail and other multimodal forms to restructure the transport network.
Strengthening the intensive and economical use of resources. In taking responsibility for the country's long-term development and for future generations, the Chinese government is endeavoring to transform the extensive use of transport resources to an approach that is intensive and economical. By implementing national planning for land use, drawing red lines to protect ecosystems and permanent basic cropland, and to restrict unlimited urban development, China has promoted the integrated intensive and efficient use of railways, highways, waterways, civil aviation, postal services and associated resources along these passages of transport.
China has strengthened the protection and comprehensive utilization of land resources along highways and railways and reduced the impact on the surrounding environment by building low embankments or building bridges and tunnels instead of roads. It has reinforced eco-environmental protection and green development and maintenance of waterways, promoted the beneficial use of dredged sediments from waterways, strengthened the administration, supervision and efficient use of port shorelines, and explored systems for paid use of shoreline resources.
China has promoted the recycling of waste pavement, asphalt, used tires, construction scrap and other materials. It has also attached great importance to the green treatment, reduction and recycling of delivery packaging, and promoted the replacement of disposable plastic woven bags with recyclable transit packaging, with the utilization rate of electronic waybills reaching 98 percent.
Strengthening the prevention and control of atmospheric and water pollution. China uses the strictest systems and laws to control environmental pollution from transport. It has set up the Domestic Emission Control Areas (DECAs) for Atmospheric Pollution from Vessels along coastlines and the main streams of the Yangtze and other major rivers, and implemented measures to limit the sulfur content of fuel oil used by international vessels entering Chinese waters in accordance with international conventions. It has promoted the use of clean energy and installation of exhaust gas cleaning equipment on vessels, and established a mechanism for ensuring the supply and joint supervision of low-sulfur fuel oil.
The country has implemented the national mandatory standards for water pollutant discharge from vessels, built receiving and treatment facilities for oily wastewater, chemical tank-cleaning wastewater, sanitary sewage and garbage from vessels in ports, and carried out dust pollution control at ports. It has implemented the Blue Sea Action2 plan along the coast to salvage sunken ships and objects that are at risk of polluting the oceans and affecting the safety of maritime transport.
China has also accelerated the management, phase-out and renewal of old and high-energy consuming, high-emission vehicles and construction machinery, and introduced an emission inspection and mandatory maintenance program for motor vehicles. By replacing subsidies with incentives, the central government has helped the Beijing-Tianjin-Hebei Region and its surrounding areas, and the Fenhe-Weihe River Plain, to phase out commercial diesel trucks at or below China III emission standards. A three-year action plan to readjust the transport structure has been carried out across the country. From 2012 to 2019, motor vehicle pollutant emissions decreased by 65.2 percent nationwide.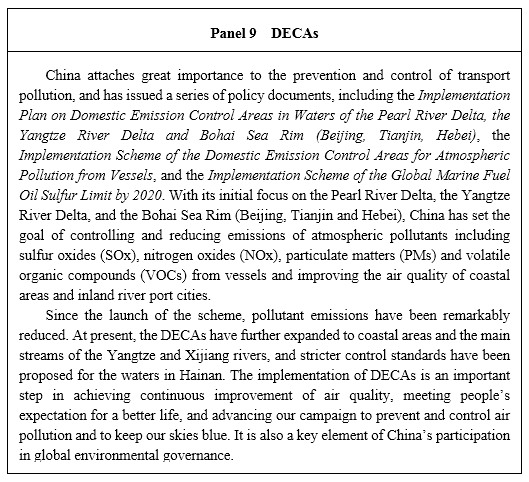 Intensifying eco-environmental protection and restoration. China has strictly enforced the red lines for protecting the ecosystems and has put in place a system for protecting and restoring ecosystems. In building transport infrastructure, it has adopted a model of "avoidance, protection and restoration", and promoted eco-friendly route planning and site selection and design. Particular efforts have been made to avoid farmland, forestland, wetland and other types of territorial space with key eco-environmental functions.
China has carried out afforestation programs along railways, highways and waterways to improve eco-environmental functions and landscape quality. In railway and highway construction projects it makes provision for wildlife corridors. The wildlife corridors built on the Qinghai-Tibet Railway have guaranteed the safe migration of Tibetan antelopes and the movement of other plateau animals. In the construction of ports and the renovation of waterways, China has focused on reducing impacts on aquatic ecology and life, building fishways and facilitating fish migration. It has implemented more than 50 million square meters of eco-environmental restoration along highways and ports.
The country has also addressed the problems of illegal docks and sand mining along the Yangtze River. By the end of 2019, it had closed or rectified 1,361 illegal docks, improving the eco-environment and ensuring flood control, water supply and navigational safety along the river.
3. Strengthening Safety Management and Emergency Response
Upholding the sanctity of human life, China has improved the capacity of the transport industry to deal with public emergencies and in particular major public health emergencies, strengthened safety management and emergency response, and coordinated development and safety, so as to provide safe transport to the public and support economic and social development.
Traffic safety management has significantly improved. Putting prevention first and adopting a comprehensive approach, China has further enhanced the system for ensuring safe transport, and improved the mechanism for controlling workplace risks and removing hidden dangers, with the goal of preventing serious and major traffic accidents and ensuring workplace safety.
No major railway accidents have occurred since 2012. In 2019, railway accident fatalities had dropped by 46.1 percent compared with 2012, the death rate per billion tonne-km by 53.8 percent; the number of serious and major traffic accidents on ordinary roads had lowered by 55.9 percent, and the number of fatalities by 60 percent. In water traffic, there were no serious accidents in 2019, and the number of serious accidents and deaths both decreased by 68.5 percent and 69.4 percent respectively compared with 2012. Civil aviation has achieved a new safety record of almost 81 million hours of continuous safe flight in 112 months.
Emergency response has markedly improved. China has strengthened emergency response capacity, prevented and defused major safety risks in a timely manner, and effectively responded to disasters and accidents of all kinds. It has carried out projects to secure safety of high-speed railways, built a security system combining manpower, equipment and technology, and improved the security conditions along high-speed railway lines, removing 64,000 potential risks from the routes. Efforts have also been made to improve the safety of standard rail lines. The country has carried out safety and security projects covering 889,000 km of roads at or above the township level, renovated 47,000 unsafe bridges, and effectively disciplined the operation of transport vehicles.
China has strengthened maritime rescue and reinforced emergency response to major offshore oil spills. It has established a fast and efficient approach to maritime search and rescue that follows unified government leadership with the main responsibility on local authorities, and enlists help from both professional forces and the public in line with the principle of proximity and convenience. China is now equipped with more than 70 professional rescue vessels, more than 120 salvage vessels, more than 20 specialized rescue aircraft, and more than 20 emergency rescue teams. It has built a maritime search and rescue capability composed of professional rescue and salvage forces, the armed forces, government forces and social forces. From 2012 to 2019, the government organized 16,000 maritime search and rescue operations, dispatching 72,000 vessels and 2,780 aircraft, and rescued 11,000 vessels and 122,000 people in distress, with a success rate of 96.2 percent.
The capacity to deal with public emergencies has distinctly improved. China has enhanced its emergency response systems and capabilities, and has responded rationally and efficiently to various public emergencies. After Covid-19 struck, the Chinese government made resolute decisions to block the transmission of the virus and ensure the continuity of the transport network, the channels for emergency transport, and the transport of goods and materials essential for work and daily life. It introduced a series of timely policies and measures:
ensuring the rapid handling and delivery of emergency supplies by rail;
prioritizing and expediting free road access for emergency transport vehicles;
giving priority to emergency transport waterway vessels in passing through locks, being piloted, anchoring and docking;
allowing each Chinese airline to operate only one route per country with no more than one flight per week;
matching supply and demand between air transport enterprises and international trade and foreign-funded enterprises; and opening fast postal channels.
These measures stopped any spread of the virus by means of transport and ensured the availability of emergency supplies and daily necessities, providing strong support for the all-out war against the epidemic.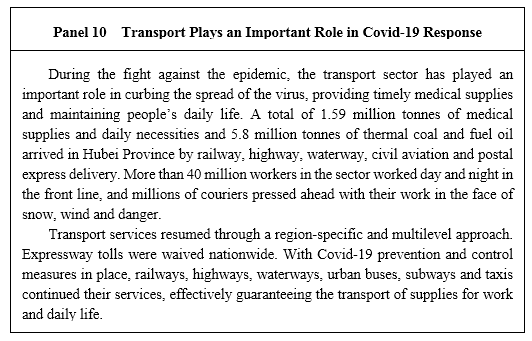 ---
2The Blue Sea Action is a public welfare program approved by the State Council as a major measure to promote eco-civilization and related national strategies, and to build green and safe transport. Since 2014, the transport rescue and salvage departments have carried out the action plan for six consecutive years, salvaging a total of 79 sunken ships.