Impetus for post-pandemic recovery
Without the deals signed at the previous Shanghai expos and the e-commerce channel with Chinese buyers, his family business in saffron and Persian carpets would not survive the COVID-19 pandemic, Iranian exhibitor Mahdi Barid Olyaei told Xinhua.
This year Mahdi secured an exhibition area of 36 square meters, bigger than nine square meters in 2018, and adeptly combined livestream platforms with in-person promotion to make his products reach more people.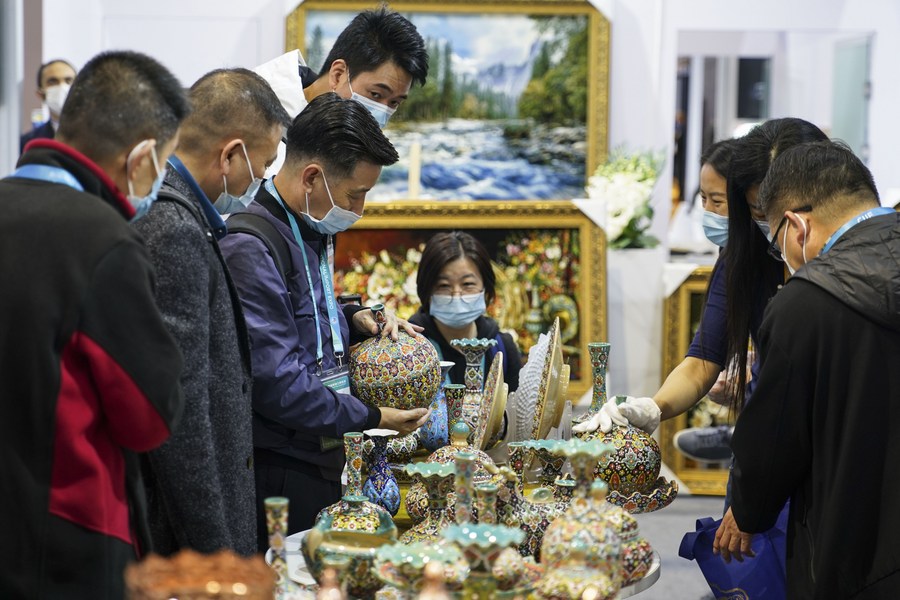 Visitors view Iranian handicrafts at the Consumer Goods exhibition area during the third China International Import Expo (CIIE) in Shanghai, east China, Nov. 8, 2020. [Photo/Xinhua]

Tackling difficult problems through cooperation is one function of the CIIE platform. Fostering a brighter future for humanity is another.
Attending the Shanghai expo for the third year, Maximilian Foerst, president of ZEISS China, said the German company wants to show its innovation ability in high-tech and medical technology at the expo, strengthen cooperation with other partners, and enjoy opportunities in China.
Three years on, trade bonds established at the CIIE have benefited a lot of participants. Especially in a year clouded by the COVID-19 pandemic, willingness to join the expo demonstrates a vote of confidence in the Chinese market and China's role in the world.
The power of trade, both in goods and services, is boosting people's confidence in future development, as well as efforts to overcome the pandemic.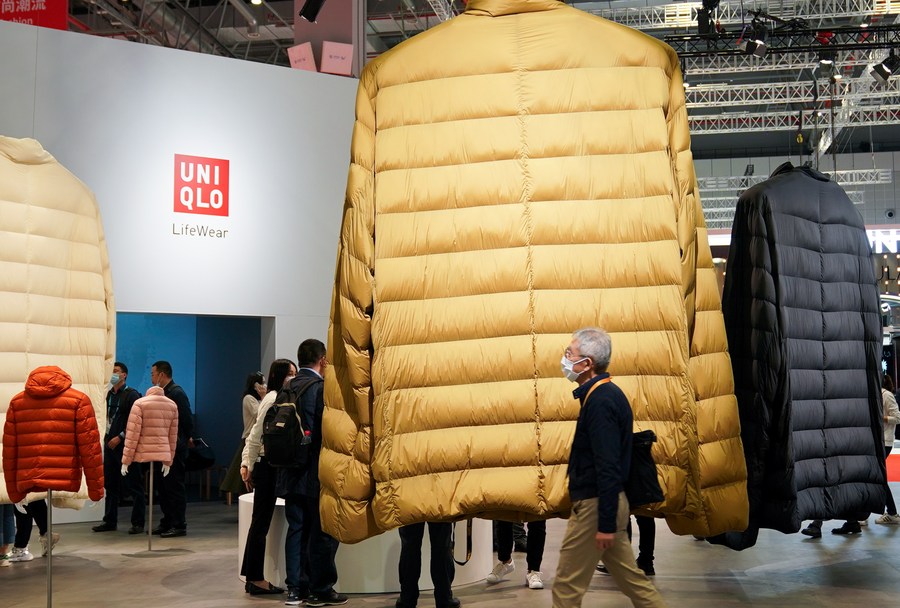 Giant down coats at the booth of casual clothing brand Uniqlo attract visitors at the Consumer Goods exhibition area during the third China International Import Expo (CIIE) in Shanghai, east China, Nov. 6, 2020. [Photo/Xinhua]

"Our company would like to bridge Chinese enterprises and their foreign counterparts to establish win-win cooperation focusing on the Chinese market," said Zhang Hailiang, the CEO of consulting firm Tricor Group, which was present at the third expo for the first time.
Impressed by the face-to-face communication with customers at the expo, Zhang told Xinhua that Tricor will be here for the next CIIE as he is confident about the number of potential customers at the next show.
According to official data, 29 enterprises registered for the fourth CIIE in 2021 on the first day of this year's expo, and nearly 100 exhibitors had already signed deals to attend the expo in the next three years before the opening of the third CIIE.
As the curtain falls on the third CIIE on Tuesday, the expo bureau announced that the six-day show has accrued 72.62 billion U.S. dollars' worth of tentative deals, an increase of 2.1 percent compared with that of last year.