Chance to deepen roots in China
For many overseas exhibitors like Roy Van Den Hurk, who runs a dairy company in New Zealand, the 14-day quarantine before attending the third CIIE and another 14 days on the way back home, among other restrictions, are worthwhile.
"The sales volumes are definitely increased each time we've been to the CIIE," Van Den Hurk said.
Notwithstanding the COVID-19 pandemic, business opportunities at the CIIE have attracted 2,600-odd global exhibitors to the Chinese financial hub.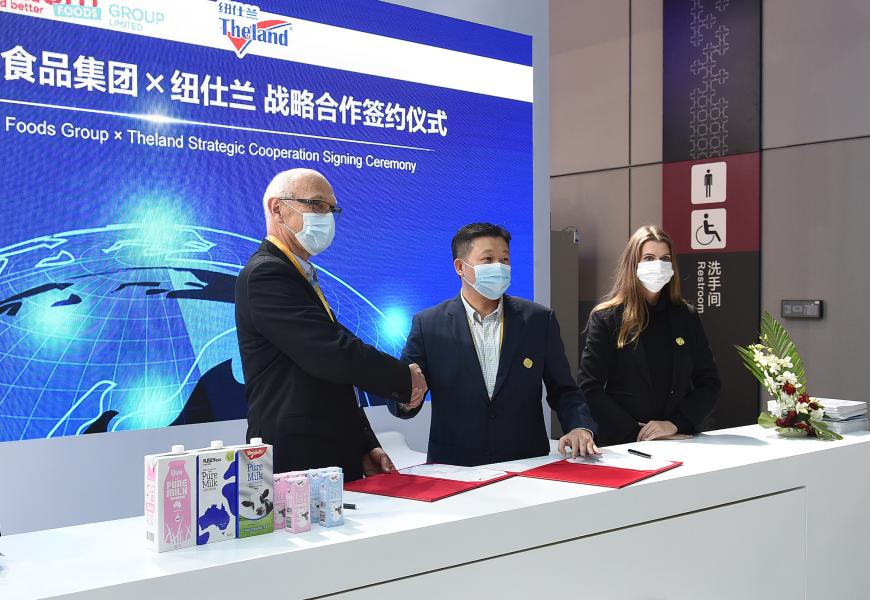 Roy Van Den Hurk (1st L) attends a cooperation signing ceremony during the 3rd China International Import Expo (CIIE) in east China's Shanghai, Nov. 5, 2020.[Photo/Xinhua]

As of Saturday, up to 861 "cooperation intentions" were reached at online or offline sessions attended by 674 exhibitors and 1,351 buyers from 64 countries and regions, according to the CIIE bureau.
"I have great confidence in the Chinese market and economy, which is now the second largest market for Elekta after the United States," said Gustaf Salford, acting president and CEO of Elekta, a Swedish medical equipment producer.
"China's performance was indeed beyond my expectations," Salford said. Elekta China's performance in the second quarter was essentially the same as last year despite the pandemic, he said.
The Swedish company, which has been a CIIE exhibitor since 2018, this year exhibited its Elekta Unity, the world's first high-field magnetic resonance-guided adaptive linear accelerator, which has already seen orders two days after launching to the public in Shanghai.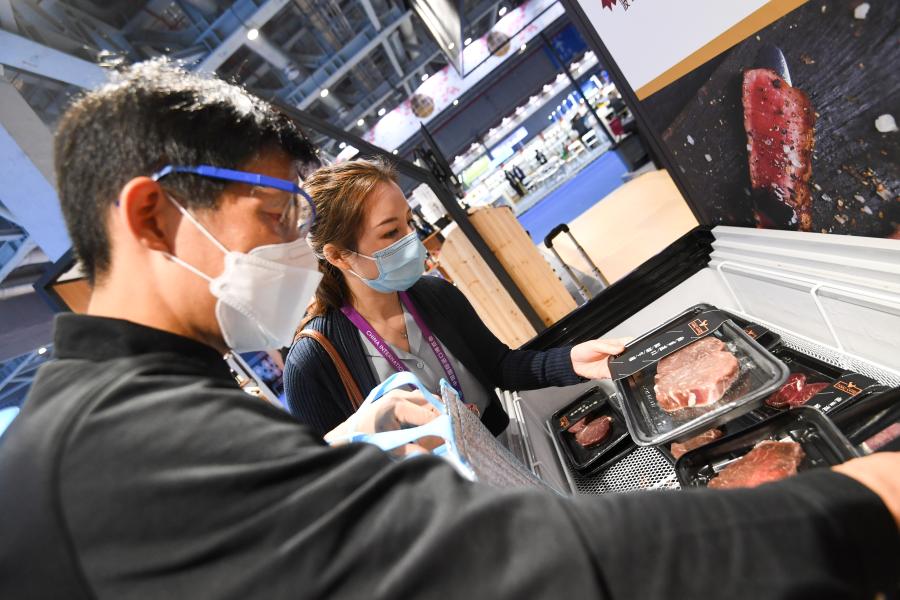 An exhibitor (L) presents beef products from South Africa at the Food and Agricultural Products exhibition area during the third China International Import Expo (CIIE) in Shanghai, east China, Nov. 7, 2020. [Photo/Xinhua]

The resilience of China's economy has been a magnet for more foreign companies and the CIIE is deemed as an important platform to deepen their roots in the Chinese market.
"There's a lot of untapped potential in the Chinese economy, and this fits with our localization efforts as well," said Alan Gabor, president of Merck China, which plans to set up a new R&D lab in Shanghai.
Over 50 Fortune Global 500 companies and leading enterprises, including Michelin, Abbott, Nike, Icona and Uniqlo, made their debut at this year's expo and hundreds of new products, technologies and services were introduced to the Chinese market for the first time, more than half of which made their world debut.