A total of 1,126 cargo train trips were operated linking the city of Zhengzhou, capital of central China's Henan Province, with European cities in 2020.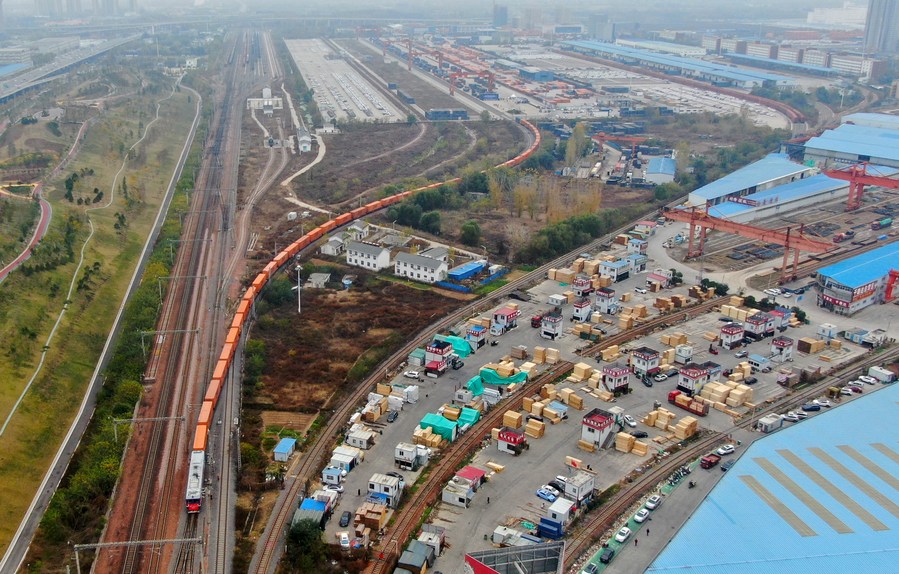 Aerial photo shows a China-Europe freight train bound for Finland's Helsinki departing from the Putian Railway Station in Zhengzhou, central China's Henan Province, Nov. 20, 2020. (Xinhua/Hao Yuan)
The trains carried 714,900 tonnes of goods worth 4.3 billion U.S. dollars.

In mid-February 2020, the China-Europe freight train service via Zhengzhou took the lead in resuming operation following the disruption brought by the outbreak of the COVID-19 epidemic. In November 2020, a new China-Europe freight train route linking Zhengzhou with Helsinki in Finland was launched, marking the fifth route to Europe from Zhengzhou.
Launched in July 2013, the logistic network of China-Europe freight train services originating from Zhengzhou has operated 3,886 train trips, handling more than 2.1 million tonnes of cargo worth 16 billion U.S. dollars.