V.A Global Community of Shared Future Free from Poverty
China will prosper only when the world prospers, and vice versa. The country has always closely linked its future with that of the rest of the world. While committed to eradicating its own poverty, China has actively participated in international cooperation on poverty alleviation, acted as an advocate, facilitator of and contributor to the international cause of poverty alleviation, and worked with other countries to build a global community of shared future that is free from poverty and pursues common prosperity.
1. China as a Facilitator of the Global Cause of Poverty Alleviation
Over the past 100 years, China has contributed to global poverty alleviation under the leadership of the CPC through its own development – from winning the people's liberation to meeting their basic needs, from ensuring them a moderately prosperous life to building a moderately prosperous society in all respects. Since reform and opening up, more than 770 million of China's rural population living below the current poverty line have been raised from poverty, accounting for more than 70 percent of the global total over the same period according to the World Bank's international poverty standard. Against the backdrop of severe global poverty and a widening gap between the rich and the poor in some countries, China has won the battle against extreme poverty and achieved the poverty alleviation goal set on the UN 2030 Agenda for Sustainable Development 10 years ahead of schedule. This has significantly reduced the world's poor population and made a significant contribution towards realizing a better and more prosperous world, as envisioned by the Agenda[ UN Secretary-General Antonio Guterres extended congratulations to Chinese President Xi Jinping in February 2021 on the occasion of the announcement of China's success in the fight against extreme poverty. Noting this moment is a notable achievement and a significant contribution towards realizing a better and more prosperous world, as envisioned by the 2030 Agenda for Sustainable Development, the secretary-general said, "This extraordinary result is a reason for hope and inspiration to the entire community of nations."]. As the largest developing country, China has achieved rapid development in step with large-scale poverty alleviation, and economic transformation in step with the elimination of extreme poverty. It has completed all poverty eradication targets and tasks on schedule, which, as a new chapter in the history of the fight against poverty, has greatly accelerated global poverty alleviation.
2. International Support and Assistance
In the early years after the founding of the PRC, China made great efforts to break an external blockade and carry out international exchanges and cooperation in order to win the support of the international community. Since reform and opening up, China has conducted extensive cooperation with the UN development system and the World Bank in the field of poverty alleviation, while accepting assistance from some developed countries and carrying out cooperation projects. It has received support in financial input, knowledge transfer, and technical assistance, and learned from the advanced concepts and methods of the international community in poverty alleviation. All this has provided support to its poverty alleviation effort. In cooperation with the United Nations Development Program, the World Bank and other international organizations, China has implemented foreign-funded poverty alleviation projects in some poverty-stricken counties, bringing in various forms of concessional loan and grant aid. These international poverty-alleviation exchange and cooperation projects have alleviated poverty, improved China's institutional innovation and management, and laid a foundation for sustainable development in the project areas. The Chinese people will always remember the valuable support and assistance received from the international community. The Chinese nation never forgets the help and generosity it receives, and always reciprocates with the same goodwill; China has always supported other countries in poverty alleviation and development to the full extent of its ability.
3. International Exchanges and Cooperation
To improve the wellbeing of all peoples, China has taken an active part in global poverty management, furthered exchanges and cooperation with other countries, and promoted a new model of international exchanges and cooperation on poverty alleviation, with mutual respect and mutually-beneficial cooperation at its core.
China has supported other developing countries in poverty alleviation. Immediately after the founding of the PRC, China began to provide assistance to other developing countries in support of their struggle for national independence and liberation and for economic and social development, despite the fact that China had to address its own difficulties with limited financial resources. Since reform and opening up, China's foreign aid approach has diversified, which has promoted the common development of China and other developing countries. Entering the new era, China has fulfilled its responsibilities as a major country and upgraded its foreign aid into international development cooperation, contributing its vision and approaches to the resolution of global development challenges and the implementation of the UN 2030 Agenda for Sustainable Development. President Xi Jinping has announced on many major international occasions that China's practical measures for international development cooperation have been implemented on schedule or are progressing in an orderly manner (Box 16).
China has launched the Belt and Road Initiative (BRI) to expand deep and high-level regional cooperation on economic and social development, and to help eligible countries better achieve poverty alleviation. According to a World Bank study, the initiative will help 7.6 million people out of extreme poverty and 32 million out of moderate poverty in these countries. Over the past 70 years and more, China has provided assistance in various forms to over 160 countries in Asia, Africa, Latin America and the Caribbean, Oceania, and Europe, and international organizations, reduced or exempted the debts of eligible countries, and helped developing countries in their efforts to achieve the Millennium Development Goals.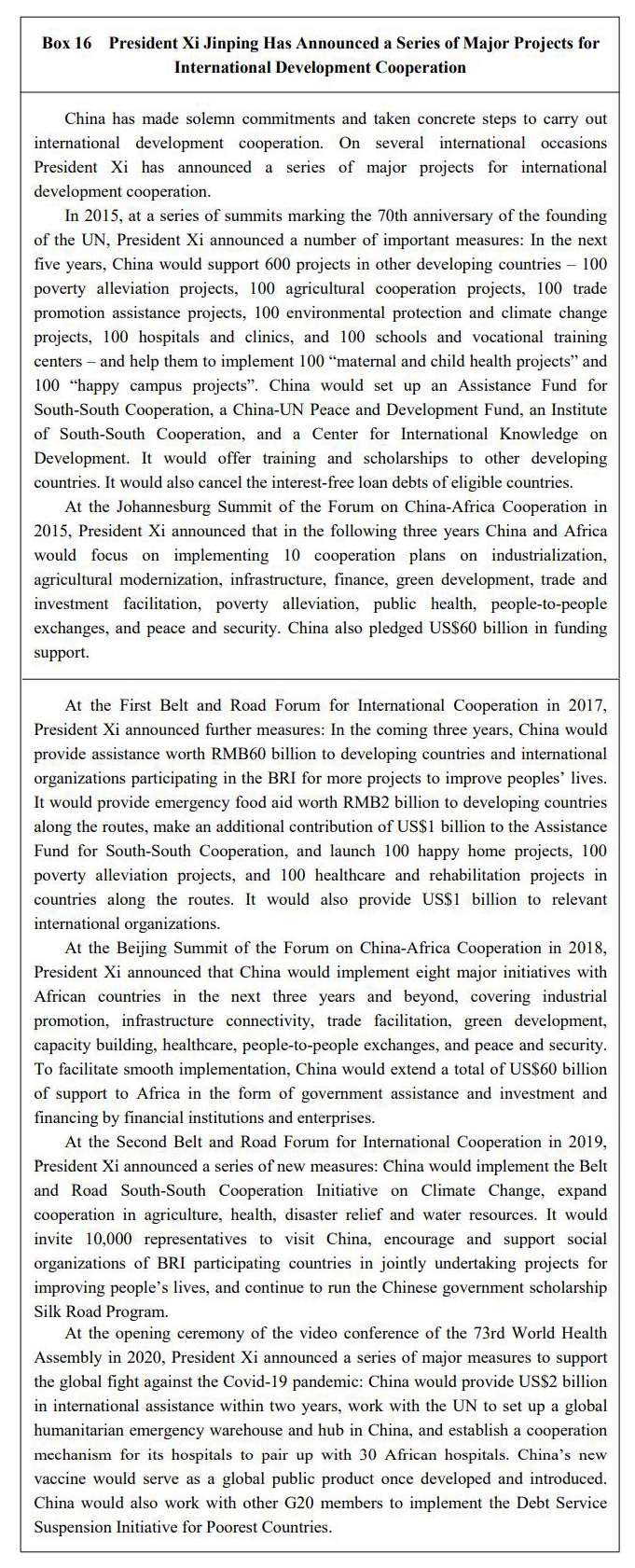 China has launched international poverty alleviation cooperation projects for the benefit of all. In Asia, China and ASEAN countries have jointly launched a rural poverty alleviation plan, and carried out the East Asia Poverty Reduction Demonstration Cooperation Technical Assistance Projects program in rural communities of Laos, Cambodia and Myanmar (Box 17). In Africa, China has helped African countries build water conservancy infrastructure, vocational and technical schools, government-subsidized housing, and other facilities, set up demonstration zones for agricultural cooperation, and carried out China-Africa cooperation projects involving a Chinese-invented technology using grass to grow mushrooms, China-Africa friendship hospitals, and the headquarters of the African Center for Disease Control and Prevention (Box 18). In the South Pacific region, China has promoted measures such as grant aid and concessional loans to Pacific island countries, and carried out technical cooperation assistance projects in infrastructure construction, agriculture, and medical care. In Latin America, China has built agricultural technology demonstration centers to help local people in recipient countries shake off poverty. China has also set up the International Research and Training Centre for Rural Education and other institutions in cooperation with UNESCO, and carried out projects on rural education transformation and teacher training for countries in Africa, Southeast Asia and other regions.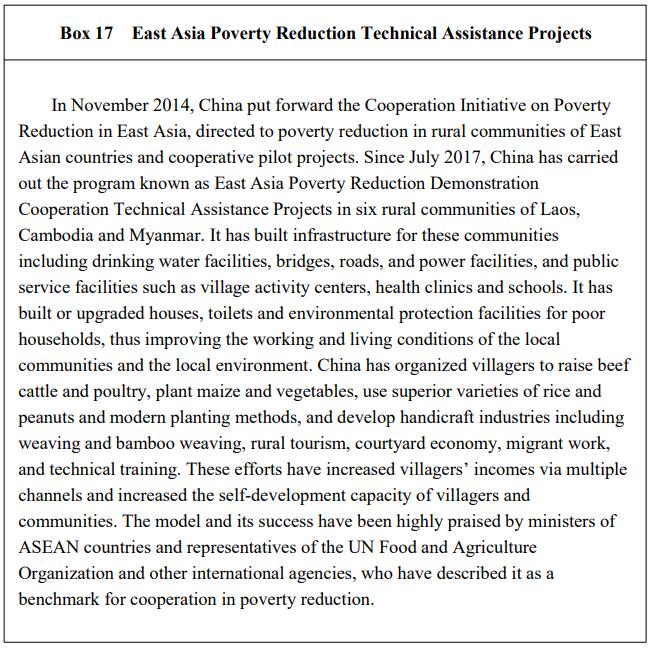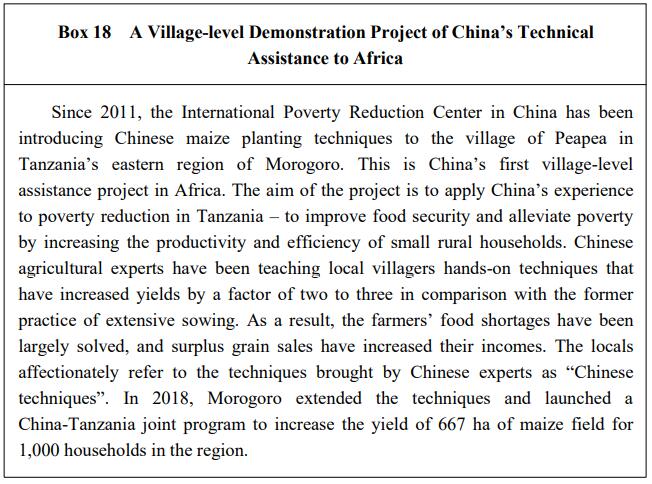 China has shared its experience on poverty reduction. It has carried out exchanges and cooperation in various forms, including building platforms, organizing training, and conducting think tank exchanges. Together with UN agencies in China, the Chinese government has convened sessions of the Global Poverty Reduction and Development Forum on the International Day for the Eradication of Poverty. China has initiated the China-ASEAN Forum on Social Development and Poverty Reduction, and the International Forum on Sharing Poverty Reduction Experience, and has hosted a series of discussion and exchange activities including the China-Africa Poverty Reduction and Development Conference, the International Seminar on Poverty Eradication and Responsibility of Political Parties, and the International Forum on Reform and Opening Up and Poverty Reduction in China. In cooperation with the ASEAN Secretariat and relevant ASEAN countries, China has launched the ASEAN Plus Three (China, Japan and the ROK) village official exchange program for grassroots village officials and community officials. China conducts international training on poverty reduction with relevant countries and regional organizations. Since 2012, it has held over 130 international training sessions, attended by officials from 116 countries and organizations.
The world today is experiencing a scale of change unseen in a century. The Covid-19 pandemic is still spreading around the world, and poverty, hunger and disease are undermining people's pursuit for a better life. The kind of world we should build and the future direction of human civilization, are issues that have a bearing on every country and every person. Everyone has the right to a decent life. All countries need to shoulder their responsibilities and work on poverty reduction, so that the sunshine of equity and justice can break through the haze of poverty and backwardness and illuminate a future of prosperity and development. China is ready to strengthen exchanges and cooperation with other countries on poverty reduction, support international poverty reduction, and make a greater contribution to building a global community of shared future that is free from poverty and blessed with common prosperity.