IV.Exploring a New Path of Poverty Alleviation
Eliminating poverty is a challenge for all countries. Each subject to different national conditions and at different stages of development, they adopt different poverty reduction criteria, methods and approaches. Bearing in mind its prevailing reality and understanding the nature of poverty and the status of poverty alleviation, China has embarked on a path of poverty alleviation and designed an approach with Chinese characteristics. In this battle, the nation has upheld the CPC leadership and the people-centered philosophy. It has taken advantage of one of the strengths of its socialist system – the ability to pool resources on major endeavors. It has adopted targeted measures and stimulated the enthusiasm, initiative, and creativity of the people in poverty. It has carried forward the great tradition of working together and offering mutual support, and it has adopted a down-to-earth and pragmatic style of work. In this approach, China has accumulated valuable experience, which belongs both to China itself and to the rest of the world, and offers enlightenment to the international community in its battle to reduce poverty.
1. People-centered Philosophy
The CPC is an ambitious party with a grand but simple goal: to ensure a happy life for the Chinese people. In the face of all the changes in the international landscape and the domestic situation over the past century, the Party has always followed a people-centered philosophy. It has borne in mind its founding mission to seek happiness for the Chinese people and national rejuvenation, and united and led the people in fighting poverty armed with firm convictions and a strong will. In the new era, the CPC has adopted a series of bold policies and measures to advance the cause, trying to ensure higher incomes and better education, healthcare, and living conditions for the poor. Taking public satisfaction as an important yardstick to judge the effectiveness of poverty elimination, the Party has concentrated its efforts on guaranteeing the basic needs of the poor. It would rather cut down on the number of major projects in favor of investment in poverty elimination; it would rather penalize short-term, partial or local interests to ensure the cause is well served and guaranteed; and it would rather slow the pace of economic growth to ensure the task of poverty alleviation is accomplished on schedule.
In the fight against poverty, officials including first Party secretaries and resident working teams, grassroots officials and Party members, and volunteers have worked with diligence and a spirit of dedication in support of the poor, fulfilling their mission and their pledge to the people. Some of them have been fighting on the front line for a long time, without time or energy to take care of their own families; some have been traveling around or braving harsh natural conditions; some have fallen sick from overwork all the year round; some have continued work even after getting injured at work. More than 1,800 Party members and officials have lost their lives in the cause of poverty alleviation.
China's poverty elimination effort in the new era is a full and vivid expression of its people-centered philosophy and the CPC's mission of serving the people wholeheartedly. Success in poverty alleviation has proven that the problem of poverty, in essence, is how the people should be treated: the people-centered philosophy is the fundamental driving force behind this cause. Only with this philosophy, can a country identify those who are poor, adopt concrete measures, and deliver genuine outcomes; only with this philosophy, can it draw on inexhaustible motivation, set a clear direction, and find the right approach.
2. Highlighting Poverty Alleviation in the Governance of China
Poor conditions for development in impoverished areas and a lack of capacity for self-improvement among the poor population determine that poverty cannot be eliminated by relying solely on the efforts of individuals, local governments, or non-governmental forces. Poverty elimination must be taken on as a responsibility of the ruling party and the country; it requires will and action at national level, and it must be elevated to a national strategy.
The CPC has always regarded poverty alleviation as an important task for ensuring national peace and stability. It has highlighted poverty alleviation at national level when setting its guidelines, principles and policies, and when formulating national plans for medium- and long-term development. The Party has pooled national resources to advance this cause and motivated generations of its members to devote themselves to this cause.
Since the 18th National Congress in 2012, the CPC has prioritized poverty elimination in its governance, and planned and advanced this cause under its centralized and unified leadership. All Party members, from top leaders to the grassroots officials, are concerned about the poor and the cause of poverty alleviation, and work together towards the same goal.
China has strengthened top-level design and strategic planning. It has issued policy documents such as Decision on Winning the Battle Against Extreme Poverty and Guidelines on the Three-Year Action Plan to Win the Battle Against Extreme Poverty, setting specific aims, defining approaches and detailed measures, and carrying them out with consistent efforts. Investment has been increased by governments at all levels (Figure 4) and a multiple investment system has been established (Box 12), guaranteeing financial support for poverty alleviation. Leveraging the strength of its socialist system – the ability to pool resources on major endeavors – China has mobilized forces from all quarters to participate in poverty alleviation. Systems have been established, covering responsibilities, policies, organization, inputs, mobilization, supervision, assessment and evaluation, and many other aspects of poverty elimination, providing an institutional guarantee for the nation to advance the battle against poverty.
The success in poverty alleviation has proven that governance of a country starts with the needs of the people, and that their prosperity is the responsibility of the government. Poverty alleviation is a pioneering and arduous trek. To achieve success, it is of utmost importance that the leadership have devotion, strong will and determination, and the ruling party and government assume their responsibilities to the people, play a leading role, mobilize forces from all quarters, and ensure policies are consistent and stable.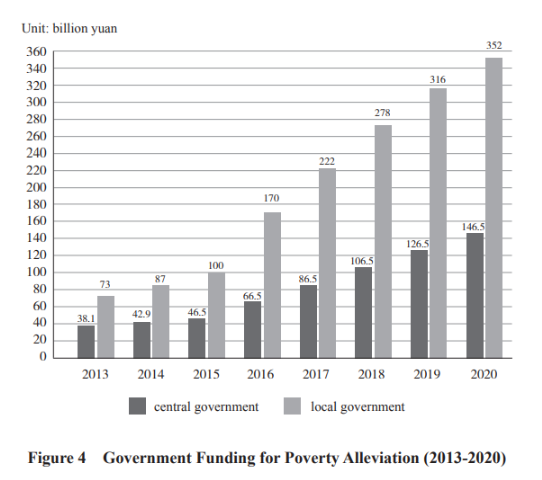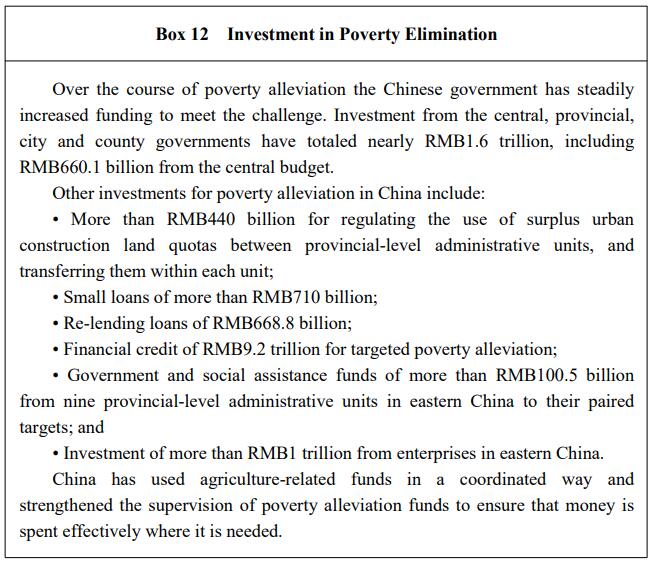 3. Eradicating Poverty Through Development
The root cause of poverty is inadequate development. As the world's largest developing country with a population of 1.4 billion, China is aware that development is essential to solving many of its problems, including poverty. The CPC has always regarded this as the top priority in governing and rejuvenating the country. It has concentrated its efforts in particular on the economy, to address the problem of unbalanced and inadequate development. Through development, the economy has been growing rapidly and the country has enjoyed a long period of social stability. China has regarded reform as an important driving force for poverty eradication and worked constantly to remove institutional and structural causes of poverty:
• By launching land reform and establishing the socialist system after the founding of the PRC in 1949;
• By implementing the household contract responsibility system with remuneration linked to output after the launch of reform and opening up in 1978;
• By establishing the socialist market economy and rescinding all agricultural taxes;
• By separating the ownership rights, contracting rights, and management rights for contracted rural land and further reforming the rural collective property rights system since the 18th CPC National Congress in 2012.
These measures have contributed to rural development and increased farmers' incomes. In addition, China has opened wider to the world amidst economic globalization and seen sustained and rapid growth in its foreign trade, creating many employment opportunities and more sources of higher incomes for rural labor.
Since the founding of the PRC in 1949, and especially since the launch of reform and opening up in 1978, the country has witnessed rapid economic and social development, with the economy and national strength growing steadily. This has provided solid support for large-scale development-driven poverty alleviation effort.
China's experience with poverty alleviation has proven that development is the most effective way to eradicate poverty and the most reliable path towards a more prosperous life. Only development can lead to economic growth, social progress and higher living standards. Only development can better guarantee people's basic rights and meet their desire for a better life.
4. Pressing Ahead with Poverty Alleviation Based on Reality
Poverty problems, as well as their causes, are diverse and complex. China's poverty alleviation efforts are based on a realistic appraisal of the situation. China has set its poverty line and its poverty alleviation goals and strategies, and worked to create better ideas and methods based on its national conditions and stage of development, and on the changes in the demographics, distribution, and structure of the poor population. It has advanced this undertaking step by step and with a steady effort.
Immediately after its founding in 1949, the PRC addressed the problem of poverty mainly through reform of the social system and large-scale economic development. After the launch of reform and opening up in 1978, China drove poverty alleviation mainly through rural economic reform and economic growth. It adopted development-oriented measures, guiding people in impoverished areas to increase their capacity for accumulation of wealth and endogenous development by adjusting the local economic structure, tapping into local resources, and developing production in response to market demand. In the new era, China has continued previous measures, and at the same time carried out a strategy of targeted poverty alleviation. The approach has changed from generalized broad-brush policies to targeted measures based on specific conditions. Before, resources for poverty alleviation came from multiple sources and were used by scattering them among the impoverished areas; now they are concentrated and better coordinated. The model of poverty alleviation has changed from mainly relying on external support like a blood transfusion to a more sustained effort from self-motivation. The assessment system has shifted focus from regional GDP as the main indicator to the genuine result of poverty alleviation. China has gradually lifted its poverty line based on its economic and social advances and progress in the cause of poverty alleviation to share the fruits of development with more people.
The occurrence and evolution of poverty has its own features and trends. To achieve success in reducing poverty, a country must follow a path in line with its national conditions, identify and remove obstacles to poverty alleviation, find driving forces for this cause, and constantly adjust and reform its strategies and policies as circumstances and local conditions change.
5. Letting the Poor Play the Principal Role
Poor people are the main players in eliminating poverty. Poverty alleviation requires both external and internal forces to form a synergy. China fully respects the principal role of the poor and encourages them to play their part, inspires them with the motivation to fight poverty, and enhances their ability to participate in development, share the fruits of development, and achieve endogenous development. They benefit from success in the undertaking of poverty alleviation and at the same time contribute to development in China.
China has inspired its people in poverty to strive for prosperity and provided them necessary education, so that they have the ambition to emerge from poverty and the tools to succeed. People in poverty have had better access to education opportunities, such as farmers' night schools and training workshops, to improve their skills and abilities in work and business.
A significant improvement in the battle against poverty is an effective mechanism of positive incentives encouraging the poor to learn from and keep pace with each other. Through this mechanism, productive activities are rewarded and subsidized and jobs instead of grants are provided, to encourage poor people to rely on their own efforts rather than wait for external assistance.
China has promoted stories of role models who escaped poverty through their hard work. It has also carried out various activities to establish the idea that "It is better to work hard than to endure poverty." The people in poverty have followed suit and eventually shaken off poverty and backwardness.
The fight against poverty shows that the people are the creators and drivers of history, and the true heroes. As long as a country serves the people, relies on them, respects their principal status and pioneering spirit, and motivates the poor to rely on their own hard work, it is sure to defeat poverty.
6. Pooling All Resources to Create Synergy
Poverty alleviation is an arduous, complex, and systematic endeavor, requiring the active participation of all parties. In the fight against poverty, the CPC has mobilized and pooled all possible forces on the basis of its rigorous organizational system and efficient work mechanism. A large-scale poverty alleviation network has been established, with the government, society and the market working in coordination, and government-sponsored projects, sector-specific programs, and corporate and societal assistance supplementing each other. It is a framework with the full participation of multiple players from different regions, sectors, departments and businesses.
China has strengthened collaboration and paired assistance between the eastern and western regions (Box 13) at provincial, city and county levels to encourage the flow of talent, capital, and technology to poor areas so that they can complement each other and narrow the gaps between them.
Poverty alleviation assistance has been directed to designated targets. Party and government institutions, people's organizations, state-owned enterprises and public institutions, and the military have assisted poor counties or villages (Box 14).
Other political parties, federations of industry and commerce and prominent individuals without party affiliation have leveraged their strengths to contribute intellectual and material support.
Various industries have been encouraged to offer assistance with their professional advantages by launching sector-specific programs, providing technological support, improving education, cultural undertakings and healthcare, and boosting consumption.
Private enterprises have been urged to participate in development-driven poverty alleviation. Businesses skilled in resource extraction have been encouraged to enter regions with great resource potential, which benefit both the businesses and those regions (Box 15).
Social organizations and individual citizens have been mobilized to participate in poverty alleviation and related public benefit activities. China has designated a National Poverty Alleviation Day and established a national system to commend models in fighting poverty. All these measures have created an atmosphere where everyone who is interested can join in poverty alleviation.
China's experience has proven that only when a country mobilizes all sectors of society to unite with common purpose and act in unison, can poverty be finally defeated.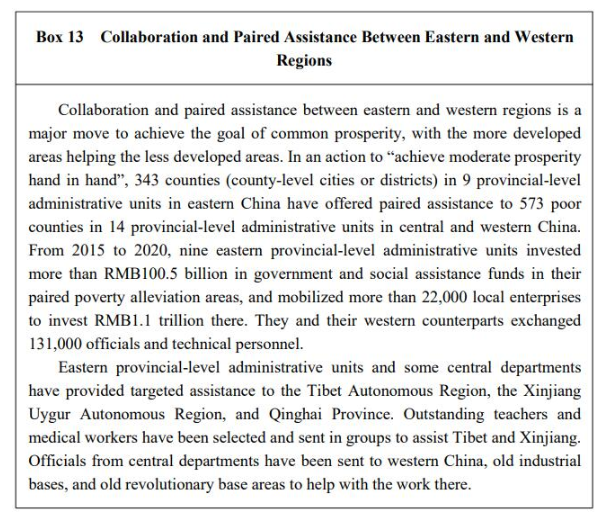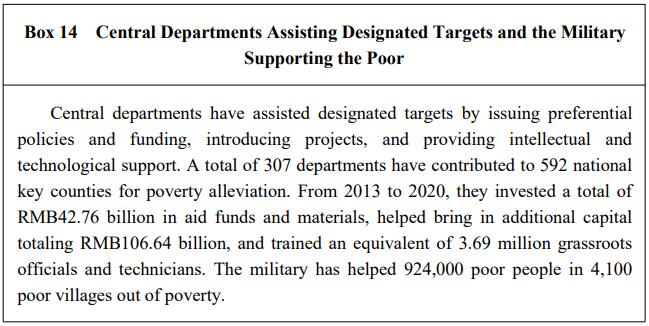 Under the CPC leadership, the Chinese people have created an approach to poverty alleviation with their own hard work. China's successful practice and valuable experience in eliminating extreme poverty have deepened human understanding of poverty alleviation trends, enriched and extended the theory of international poverty alleviation, and boosted the confidence of other countries, especially developing ones, in eradicating extreme poverty. They serve as reference for other countries to choose a suitable path of poverty alleviation, and offer China's approach to solving the problem of modern national governance and creating brighter prospects for social progress.