Chinese President Xi Jinping and his Russian counterpart Vladimir Putin on Wednesday sent congratulatory messages to the opening ceremony of the years of China-Russia local cooperation and exchange.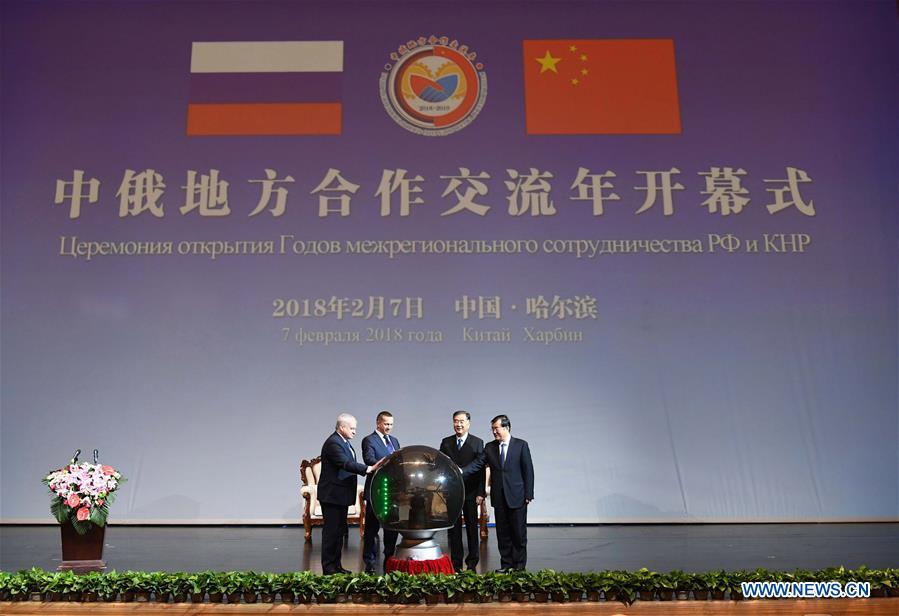 The opening ceremony of the years of China-Russia local cooperation and exchange is held in Harbin, capital of northeast China's Heilongjiang Province, on Feb. 7, 2018. [Photo/Xinhua]
Calling localities an important force for China-Russia all-round win-win cooperation, Xi said he and President Putin decided to hold years of China-Russia local cooperation and exchange in 2018 and 2019.
Xi voiced his hope that it would inspire enthusiasm for local bilateral cooperation, further tap cooperation potential and encourage more localities, enterprises and people to join the cause of China-Russia friendly cooperation and common development.
Both China and Russia are at an important period of national development and rejuvenation, Xi said in his message, adding the development plans of both countries enjoy a high degree of affinity, and bilateral local cooperation is promising.
He called on both sides to make the event a new spotlight in bilateral ties, and work together for a splendid future in relations.
Putin hailed the progress of Russia-China all-round partnership of strategic coordination, adding that the years of local cooperation and exchange would cement contact and cooperation between various Russian federal subjects and Chinese localities.
There will be more than 100 activities including an investment conference; trade, industry and agriculture exhibitions; seminars; art festivals; and exchange of visits.
Representatives of the two countries will meet at the International Economic Forum in St. Petersburg, Eastern Economic Forum and Russia-China Expo, Putin said, adding that he believes the years will fully exploit the potential for local cooperation.
Chinese Vice Premier Wang Yang addressed the opening ceremony in Harbin, capital of northeast China's Heilongjiang Province, together with Russian Deputy Prime Minister Yury Trutnev, also presidential envoy to the Far Eastern Federal District of Russia.
They also hosted the meeting of the Intergovernmental Commission for Cooperation of the Northeast China and the Far East and Baikal Region of Russia.
Wang hailed the progress of China-Russia local cooperation, citing rapid growth of trade between China and Russia's Far East, as well as enhanced investment cooperation and cultural exchanges, and progress in interconnectivity projects.
China appreciates Russia's new measures to promote development in the Far East and facilitate people-to-people exchanges, and expects these measures to have good outcomes, Wang said.
Calling China one of Russia's most important political and economic partners, Trutnev said Russia hopes to work closely with China to speed up infrastructure building, and boost local cooperation.