A total of 9.6 million Chinese people were relocated to better homes under the Chinese government's poverty-reduction campaign during the 13th Five-Year Plan (2016-20) period, a senior official said on Thursday.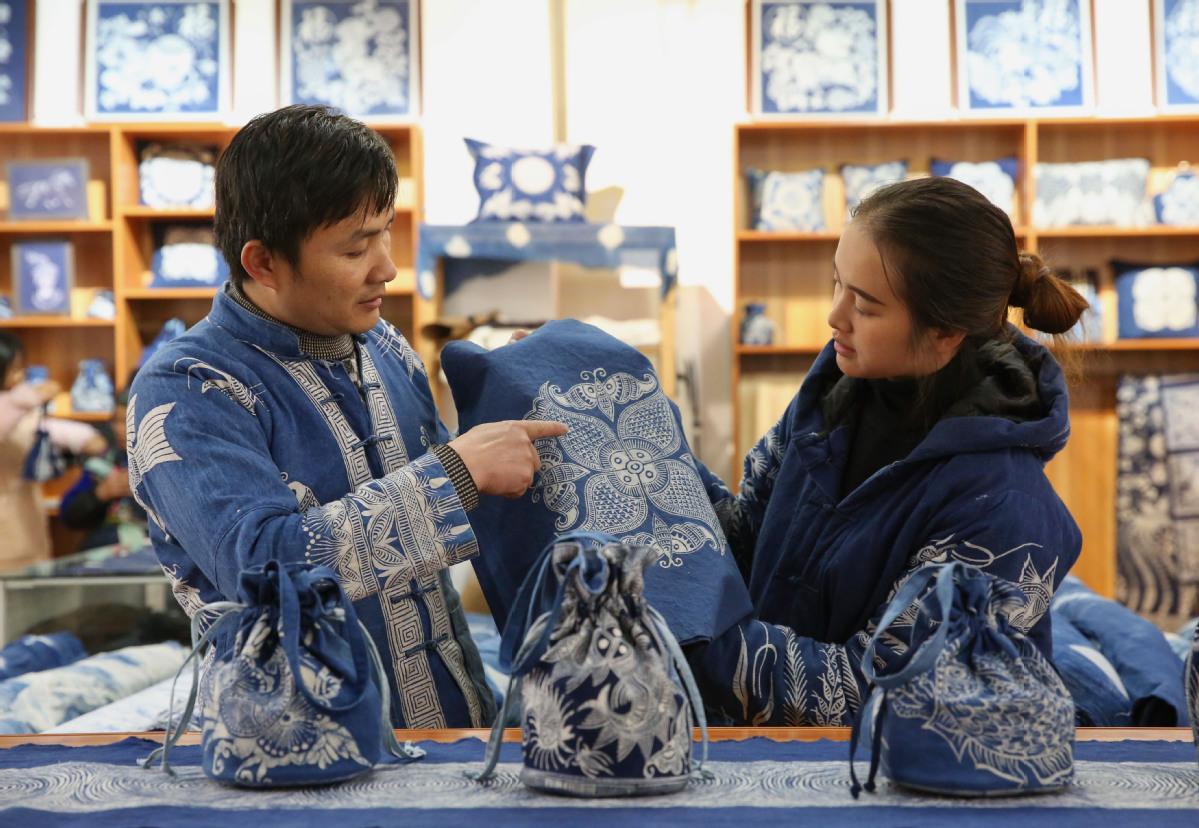 Wang Fangzhou (left) talks to his assistant at his workshop in Danzhai county, Guizhou province. Wang's shop hired 13 villagers from local resettlement areas. [Photo/Xinhua]
During that time, more than 600 billion yuan ($91.4 billion) was invested and 2.66 million houses or apartments built, with the average living area for each household reaching 80.6 square meters, Zhao Chenxin, secretary-general of the National Development and Reform Commission, said a news conference in Beijing on Thursday.

The project was carried out jointly by the National Development and Reform Commission, the State Council Leading Group Office of Poverty Alleviation and Development, and the finance, civil affairs, natural resources and human resources and social security ministries, with the purpose of relocating people out of places where the environment is too harsh for them to live.
Beneficiaries have been relocated to 22 provinces and regions, mostly in central and western China, including Guizhou and Shaanxi provinces and the Guangxi Zhuang autonomous region, Zhao said.
"People who used to live in shabby adobe houses, thatched cottages and dilapidated shelters are now living in new, bright, safe, solid houses," he said.
To make the grand relocation work more sustainable, 6,100 schools and kindergartens, 12,000 hospitals and clinics, 3,400 senior care centers and 40,000 spaces for cultural events and activities were also built or renovated, Zhao said.
The relocation has not only improved people's lives, but also has brought them more local job opportunities and higher incomes.
For people who faced difficulties landing jobs after relocation, the Ministry of Human Resources and Social Security joined hands with other government departments to create jobs for them, said Zhang Ying, director of the ministry's employment promotion department.
Measures have been introduced to hire newcomers for jobs in public sectors in the new communities-allocating more spaces in the communities for people to start their own businesses-and to encourage labor-intensive enterprises to build factories near the new communities.
"These measures combined have helped 3.85 million relocated people land jobs, making sure that each family has at least one person employed," she said.
Statistics showed that the average annual income of relocated residents has more than doubled from 4,221 yuan in 2016 to 9,313 yuan last year.
Zhao said that by the end of last year, 9.2 million relocated people have escaped poverty.
"The conditions of the remaining 400,000 are being assessed, and we are confident that they can shake off poverty," he said.
"By moving impoverished people out of their previous harsh living environment, the government can stop poverty from being passed down to future generations," he added.