More than 20 million people have been lifted out of poverty over the past five years thanks to environmental protection efforts and the development of green industries, officials from the National Forestry and Grassland Administration revealed on Tuesday.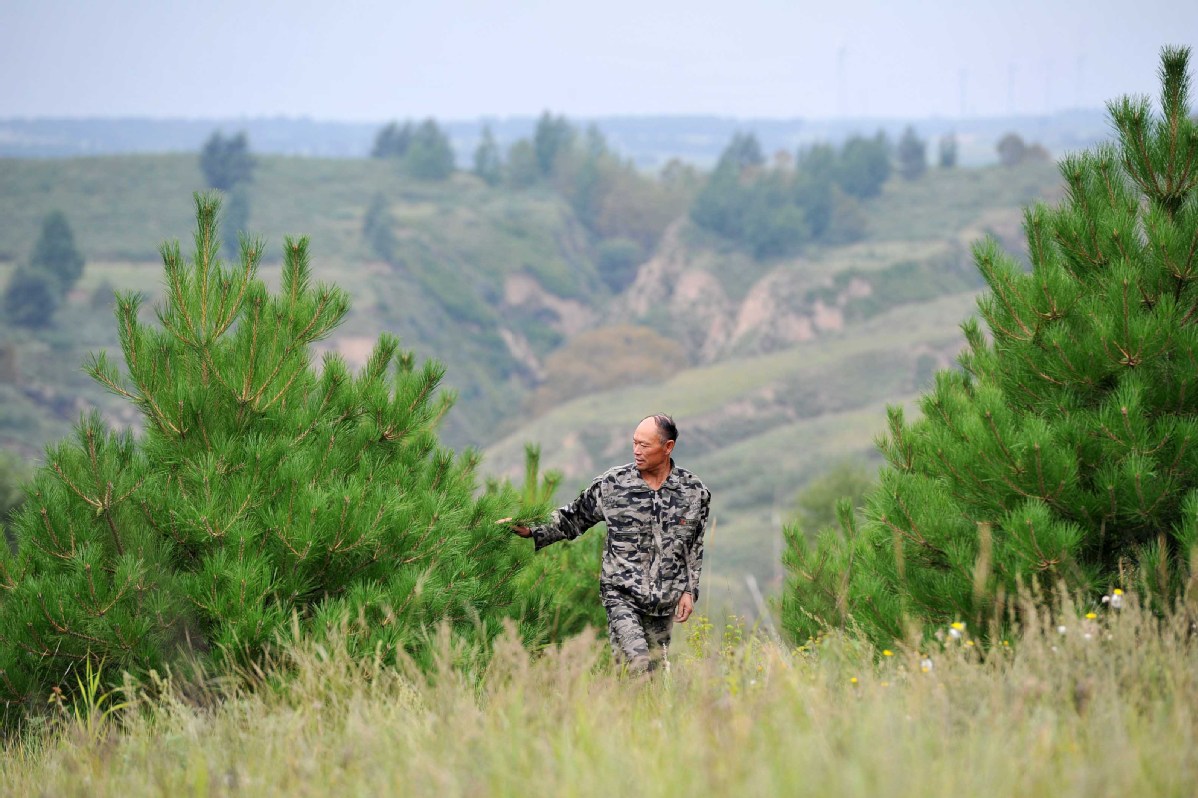 Li Yunsheng checks the trees he planted on Matou Mountain in Shuozhou, Shanxi province. Li started planting trees since 2002 to fight desertification and managed to make a profit out of it. [Photo/Xinhua]
During that time, multiple measures have been taken by the forestry administration to meet the country's poverty alleviation goal, including employing local residents to work as environment conservationists, planting trees with higher economic value and boosting forest tourism, according to Li Chunliang, deputy director of the administration.

Since 2016, more than 1.1 million people in 22 provinces and autonomous regions in central and western China have been recruited as environment conservationists and have protected 60 million hectares of forest and grassland, according to the administration.
In those regions, where the country's impoverished people are mainly distributed, forestry departments at all levels also encouraged villages to form cooperatives and bid for government-funded greening projects.
In those 22 provinces and autonomous regions, about 23,000 cooperatives have been established with more than 1.6 million impoverished people involved, raking in extra income of 3,000 yuan ($456) per person annually.
Eco-friendly industries, such as the planting of oil tea trees, traditional Chinese herbs, bamboo and rattan, have also lifted more than 16 million people out of poverty, Li said.
He said China now has 4.5 million hectares of oil tea trees, which produce 627,000 metric tons of oil and have significantly improved the incomes of 2 million impoverished people with an annual output value of 116 billion yuan.
"Furthermore, the country's forest tourism has become a booming trend in recent years, which contributed to the country's poverty alleviation efforts," said Huang Caiyi, spokesman of the administration.
In the past five years, he said forest tourism had witnessed a total of 6 billion visits with the number of tourists growing by 15 percent year-on-year.
A survey conducted by the administration last year showed that nearly 1.5 million poor people across the country had benefited from forest tourism, with each earning an extra 5,500 yuan in 2018 alone.
"China is a big country with amazing biodiversity and natural resources. As many of the country's low-income people are living in remote areas, the protection and rational use of natural resources will be the treasure that improves their lives," Li said, adding that the construction of forest parks and wetland parks have boosted the economies of many less-developed regions.
Li said eco-friendly industries enjoy a promising future with great employment capability and are also warmly welcomed by local people.
"Most green industries, such as planting of trees with higher economic value, are quite familiar to farmers. They contribute to economic growth and meet people's expectations for a better environment," Li said.
He emphasized that being lifted out of poverty is a catalyst for future efforts.