.Zhang Yong, a 37-year-old poverty alleviation cadre from southwest China's Yunnan province, had a good reason not to take a promotion back in his hometown.
Since last April, he has helped more than 2,000 villagers in Zhenxiong, a county in Yunnan once home to China's largest poor population, find jobs in Dongguan, dubbed the "world factory" in Guangdong province.
Zhang said that he could not just drag himself away when so many migrant workers still needed him, and he might help many more in the days to come.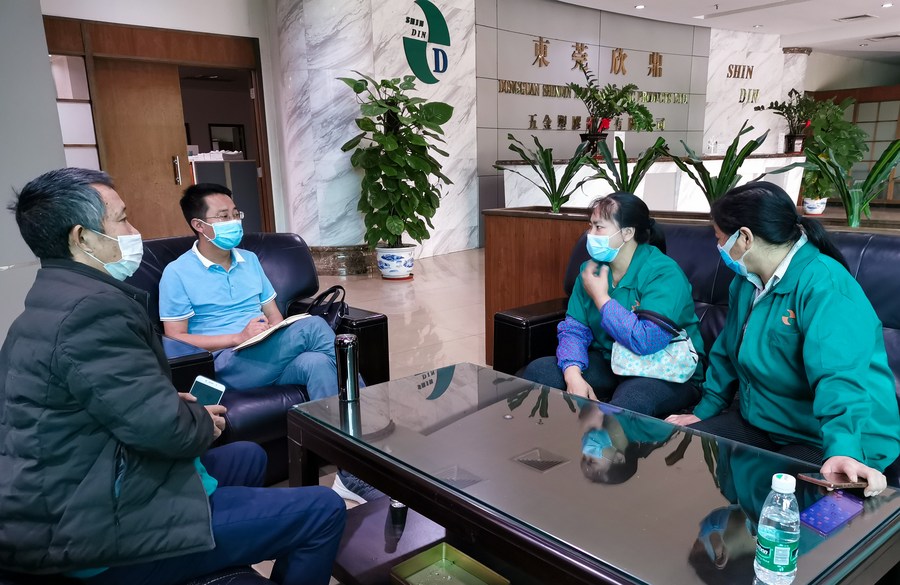 Zhang Yong (2nd L), head of a labor export workstation designated by Zhenxiong county in southwest China's Yunnan province to Dongguan city in south China's Guangdong province, visits the settled migrant workers from Zhenxiong, April 24, 2020. [Photo/Xinhua]
Located in the hinterland of the Wumeng Mountains, Zhenxiong, with a population of 1.71 million, used to see almost one in every three people living in poverty. There were still over 120,000 impoverished residents in the county by the end of last year.
"When one gets a job, the family shakes off poverty," Zhang said, noting that the export of labor has served as crucial support for poverty alleviation in Zhenxiong, one of the last nine counties in Yunnan delisted from the poverty-stricken county list in mid-November.
Zhang's job was much more than finding job opportunities for his fellow villagers. As the person in charge of one of the five labor export workstations set up in other provinces, he also collected recruitment information, settled labor disputes, and assisted migrant workers in asking for a salary as well as better working conditions and education for their kids.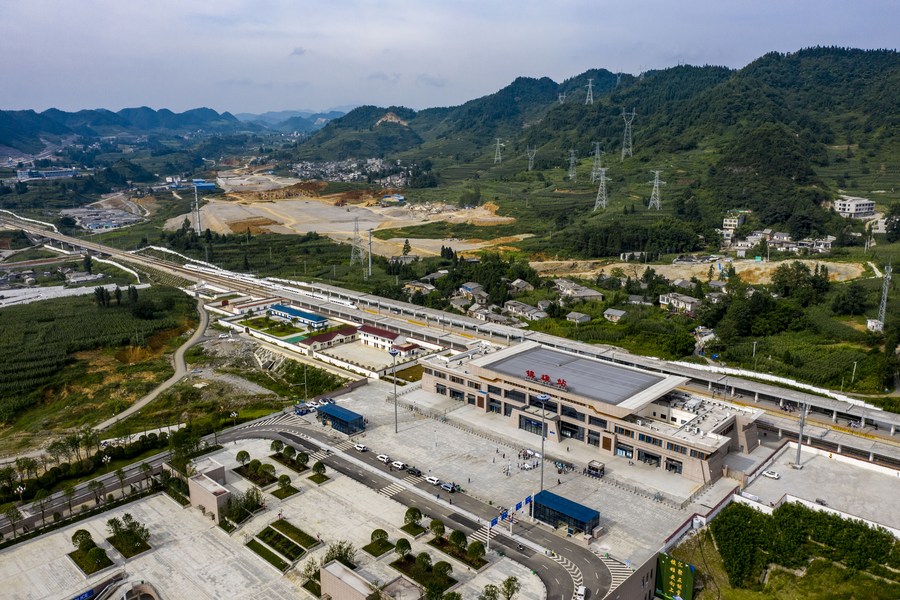 Aerial photo taken on Aug. 11, 2020 shows an overview of the Zhenxiong station along the Chengdu-Guiyang high-speed railway in Zhenxiong county, southwest China's Yunnan province. [Photo/Xinhua]
In recent years, more than 20 poverty alleviation cadres from Zhenxiong who were stationed outside Yunnan like Zhang have helped many people in poor, mountainous areas in the west get employed in developed coastal areas in the east.
Statistics show that 666,100 workers in Zhenxiong got support through employment transfers in 2020, accounting for 86 percent of the county's total labor force, and 264,400 of these people were from registered poor households.
Wang Chang'e, a villager from Pingshang Township in Zhenxiong who used to struggle to make ends meet by taking gigs, got hired as a furniture fitter at a company in Yongkang of Zhejiang province with a 4,000-yuan (about US$608) monthly pay.
"I was afraid of working far away from home in the past, but now I can count on those cadres at the workstation," she said.
According to Wang Wanhui, head of Zhenxiong's human resources and social security bureau, there are currently tens of thousands of local migrant workers working in Yongkang, and "the point-to-point labor export brings mutual benefits."
The county also helped the poor find jobs by organizing job fairs, inviting 153 recruiters from Guangdong, Zhejiang, Anhui, Shanghai, and Chongqing with some 50,000 vacant jobs.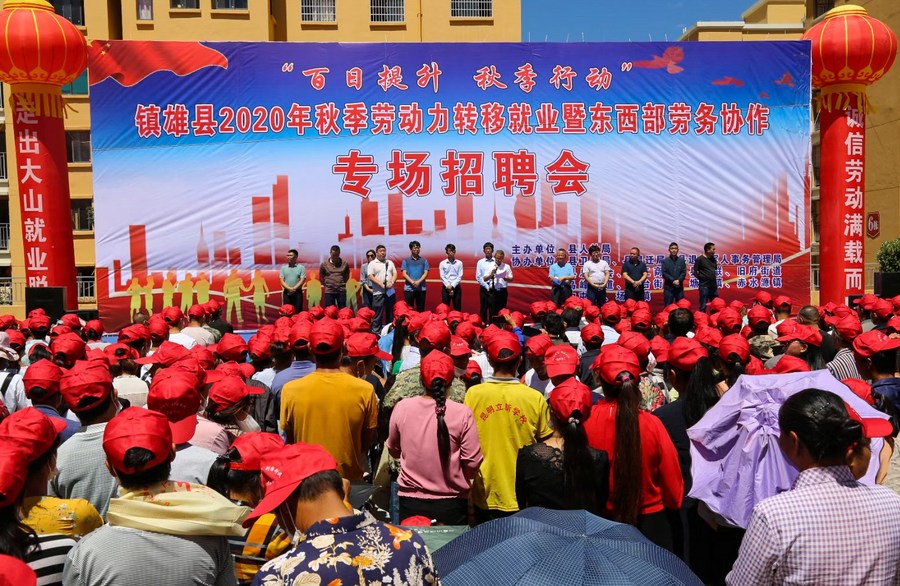 A special job fair for employment transfer and east-west labor export is held at a poverty-relief relocation site in Zhenxiong county, southwest China's Yunnan province, Aug. 25, 2020. [Photo/Xinhua]
Yang Chaoyou, 44, was among those who got a job through the fair. He is from a local poverty-alleviation relocation site and now works at a glass panel manufacturer in Dongguan where he can earn up to 7,000 yuan a month. He is thinking about buying a new TV set for the family as a Spring Festival gift.
While striving to send the labor force out for work, Zhenxiong authorities also encouraged more skilled people to return home with technologies and capital to start their own businesses.
Li Jun, who used to work in Zhejiang, returned and set up four garment-making poverty-alleviation workshops in the county, creating jobs for 537 locals, including 235 from poor households.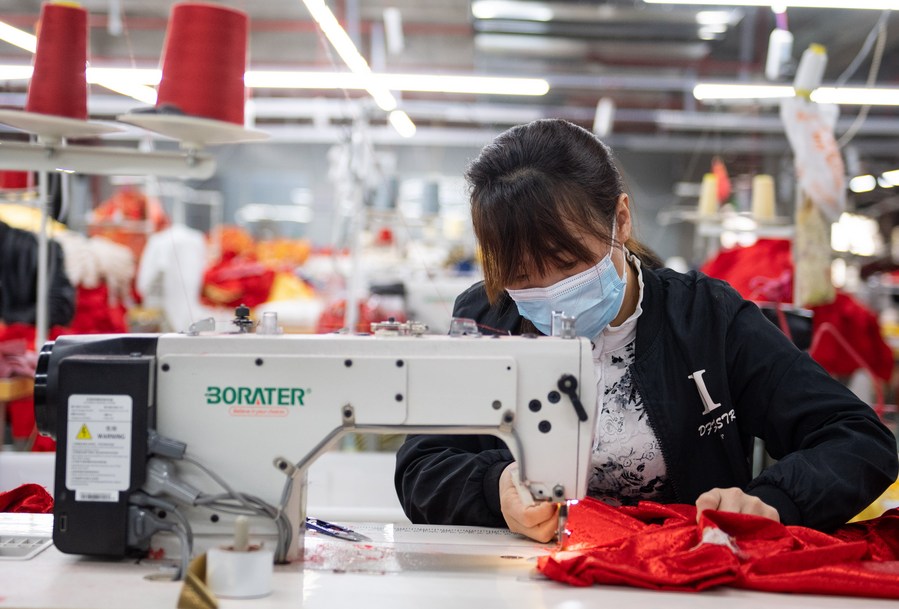 A woman works at a workshop of a poverty-relief relocation site in Zhenxiong county, southwest China's Yunnan province, Nov. 13, 2020. [Photo/Xinhua]
At present, a total of 5,741 people are employed at home in 97 poverty-alleviation workshops in Zhenxiong, according to Zou Xingyu, director of the county's employment bureau.
Zou added that with at least one able-bodied household member employed, stable income increases for poor households in Zhenxiong are ensured.
"The annual per capita income could exceed 10,000 yuan this year," he said.