The day before he heads to a war, an undefeated commander named Qi has a dream in which he loses a battle and dies. When he wakes up, Qi bids farewell to his wife and gets ready to go and fight. While gaining successive victories, Qi decides to celebrate, despite the fact that there is a final battle waiting for him. When he gets drunk and falls asleep in his tent, Qi's army is ambushed by the enemy and he is killed just as his dream predicted.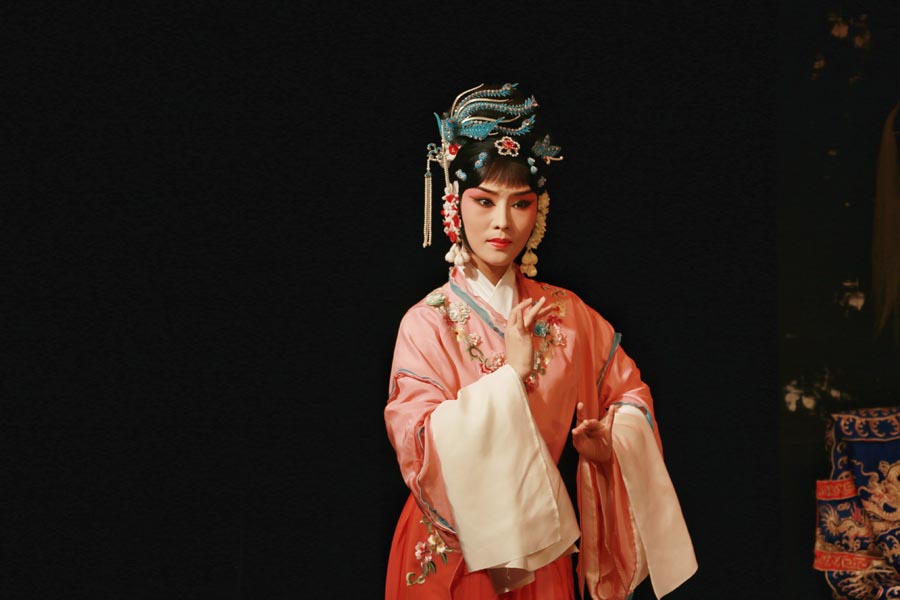 Actress Pan Xiaojia performs in the latest Kunqu Opera, A Commander's Introspective, produced by the Northern Kunqu Opera Theatre [Photo provided to China Daily]
This is the story that has inspired the latest Kunqu Opera production, titled A Commander's Introspection, performed and produced by the Northern Kunqu Opera Theatre.
It was premiered on Friday during the Festival OFF d'Avignon, the biggest performing arts showcase in France that forms part of the Avignon Festival, an annual arts festival held in the eponymous French city every summer.
After its French premiere, A Commander's Introspection will be staged in Beijing's Star Theater on July 19, before heading to Xichang in the Liangshan Yi autonomous prefecture in Sichuan province, this November, where it will be staged as part of the first Daliangshan International Theatre Festival.
"This is the first time that the Northern Kunqu Opera Theatre has premiered a show in France. It is a great platform to showcase the ancient art form of Kunqu Opera and to meet hundreds of theater troupes from around the world," says Yang Fengyi, director of the theater.
As one of the oldest of the traditional Chinese opera forms, Kunqu Opera, which is about 600 years old, combines singing, dancing, martial arts and lyrical recitation, performed in the melodic Suzhou dialect. UNESCO listed Kunqu Opera as an intangible heritage of humanity in 2001.
The Northern Kunqu Opera Theatre is the only professional theater in northern China dedicated to the style and was founded in Beijing in 1957.
Earlier this year, in order to keep the old art form alive, Yang initiated a plan of combining Kunqu Opera and traditional Chinese idioms, which would allow young Chinese directors and Kunqu Opera performers to collaborate. The young artists then began working on developing original scripts based on traditional Chinese idioms.
The first show released under the project, A Commander's Introspection, is co-written and directed by Hu Hanchi and based on the Chinese idiom, Fan Qiu Zhu Ji. It refers to self-reflection and trying to find fault in oneself rather than blaming others.
"We've revised the script about eight times. The story is simple, yet full of Chinese traditional philosophy and aesthetics. It's a Chinese story told with a twist of contemporary theater," says Hu, 27, who learned to perform Kunqu Opera from his parents, both of whom are actors with the Zhejiang Kunqu Opera Art Theater.
Hu graduated from the National Academy of Chinese Theater Arts with a major in directing, and premiered his debut theatrical production The Wheel of Time as a student back in 2014. The one-man show, which later toured nationwide, earned Hu a significant fan base and enabled him to further his theatrical experiments through a group, Xu Ge, which he set up in 2016 along with members of his team.
"All of the cast members are young actors and actresses of the Northern Kunqu Opera Theatre, but when we worked on the play, we didn't find it challenging since we realized that we had everything we needed. Every element of Kunqu Opera, from the singing down to the movements, each has its own rules. What we need to do is to tell a good story and put on a show based on the rules of Kunqu Opera," Hu says.
According to Yang, the Northern Kunqu Opera Theatre has about 100 performers, many of whom are young people looking to keep the tradition alive while revitalizing it with new ideas.
With theater venues blossoming in bigger cities of China, old art forms, like Kunqu Opera and Peking Opera, are garnering a younger fan base through smaller productions of simpler stories and performances that last about 60 minutes.
"Usually traditional art forms are mainly appreciated by older people, but we aim to cultivate young artists to pass on the tradition and get closer to younger audiences," Yang says.