Being an important worldwide platform to protect and carry forward Kunqu Opera, the Global Kunqu Opera Digital Museum opened at Cambridge University in the UK on August 25. According to the university, the museum will see cultural exchange between China and Britain, which will strengthen bonds.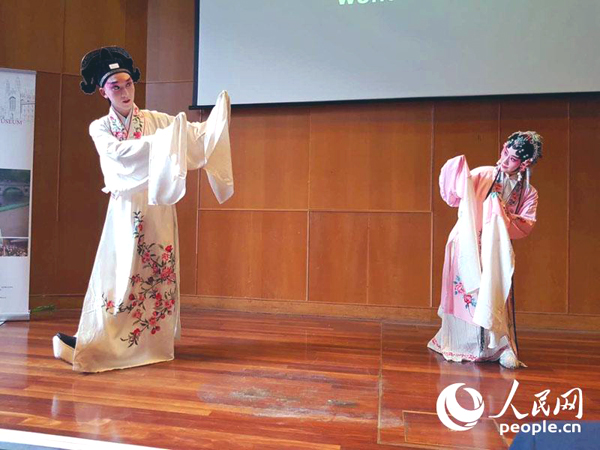 Two artists from China's Jiangsu province perform Kunqu Opera in Cambridge University in the UK. [Photo/people.cn] 
The world's first Chinese and English bilingual museum aims to study Kunqu Opera through cooperation between King's College of Cambridge University and Jiangsu Provincial Department of Culture. The museum has been included in Cambridge Rivers Project (CRP). After being implemented for more than 30 years, CRP has a complete set of analysis and study methods, which enable more people to know better about Kunqu Opera and promote exchange in operas.
The museum aims to collect, sort out and display cultural relics and video data related to Kunqu Opera preserved in various countries. Cambridge has set up a work team of 30 people and has translated related materials of more than 300,000 words. To date, the museum has more than 370 objects, over 100 performing and teaching video clips and 70-plus research books, with a total of 6 trillion bytes, or 6 terabytes of information.
Musical instruments, clothing, props and other collections preserved in Museum of Archaeology and Anthropology have been integrated with collections provided by Jiangsu Provincial Department of Culture. More collections from British Museum, Victoria and Albert Museum as well as in Europe and America will also be gathered.
Smart exhibition has been realized. It utilizes virtual reality (VR) technology to create multiple 360-degree real-scene effect for display in theaters, stages and gardens. High-definition 3D technology is also used to enlarge, rotate exhibit pictures. A batch of precious videos of Kunqu Opera performers in the 20th century has been successfully repaired with the help of the latest digital scan and repair technology.
The museum also serves as the Kunqu portal for global viewers. Cambridge University will endeavor to offer information on Kunqu Opera performances all around the world in the future.
On the opening day of the museum, King's College also held a preview called "Kunqu Opera in the Eyes of International Artists". Exhibitions of this activity originated from two performances of Kunqu opera in Cambridge in 2015 and 2016. University of Cambridge invited artists from Asia, Europe, Africa, South America and other countries to conduct impromptu painting themed by Kunqu Opera during the performances. Their artworks will be displayed at Jiangsu Art Museum at the end of 2017.