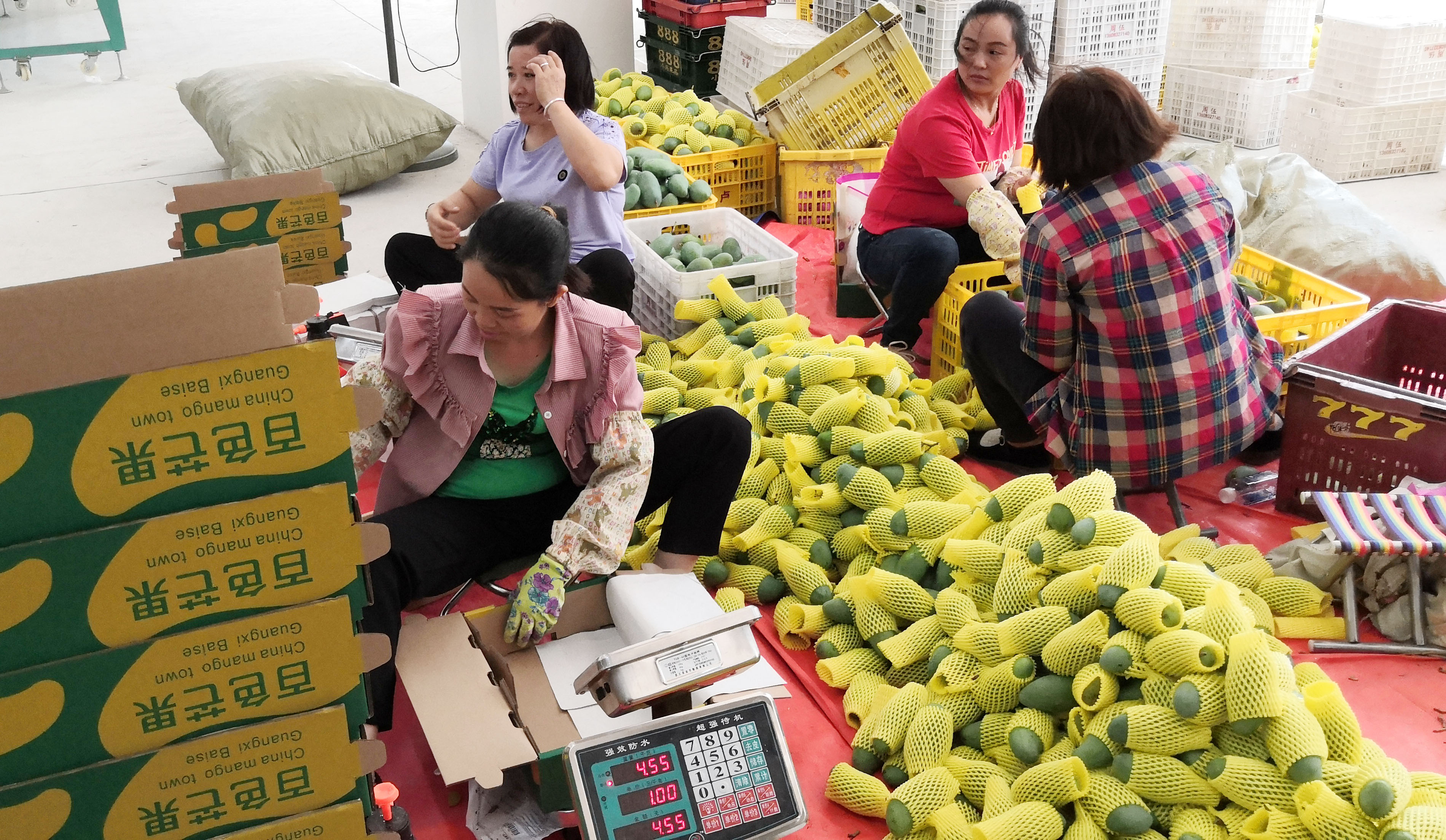 Workers pack mangos in Baise of the Guangxi Zhuang autonomous region in July. [Photo/Xinhua]

Learning advantage
Chen placed education at the top of Baise's poverty-alleviation agenda and raised 300 million yuan to build and improve 242 primary and middle schools as well as preschool facilities.
In 2012, Chen proposed establishing a Baise education fund and served as its honorary chairman. He took the lead in donating to the fund every year. So far, it has raised 260 million yuan, sponsored 52,000 students from impoverished families and awarded 6,200 outstanding teachers in mountainous areas.
Cheng Wanting, who was born in a poor family in Baise, enrolled in the high school Chen funded and completed university with his help.
"If not for his efforts, girls like me wouldn't get the chance to be educated," Cheng said.
She later became a teacher in the city to help students in need.
Chen retired from his position as chairman of the Guangzhou people's political consultative conference in 2005 and has since spent most of his time helping Guangxi.
On his 107th trip to the region in April 2019, Chen fell in the hotel where he was staying and cracked a part of his cervical vertebrae. He continued his mission after he recovered.
"Although China is set to meet its goal of eliminating extreme poverty by the end of 2020, that doesn't mean we can cease our work to improve people's livelihoods since poverty can return at any time for any reason," Chen said.
In 2012, President Xi Jinping, who is also general secretary of the Communist Party of China Central Committee, praised Chen's efforts in Guangxi during a visit to Guangdong.
Xi pointed to how Chen, as a Party member, continued to dedicate himself to poverty alleviation, even after retirement.
"I will fight poverty until the last few minutes of my life," said Chen, who now serves as vice-president of the China Foundation for Poverty Alleviation.
Baise, a revolutionary base where a Party-led uprising took place in 1929, is one of the places that Xi cares about and has visited on fact-finding trips.