.
For Nico Hansen, a 60-year-old retired Luxembourg policeman, a sightseeing trip to Hechi city in South China's Guangxi Zhuang autonomous region in 2015 was a life-changing experience.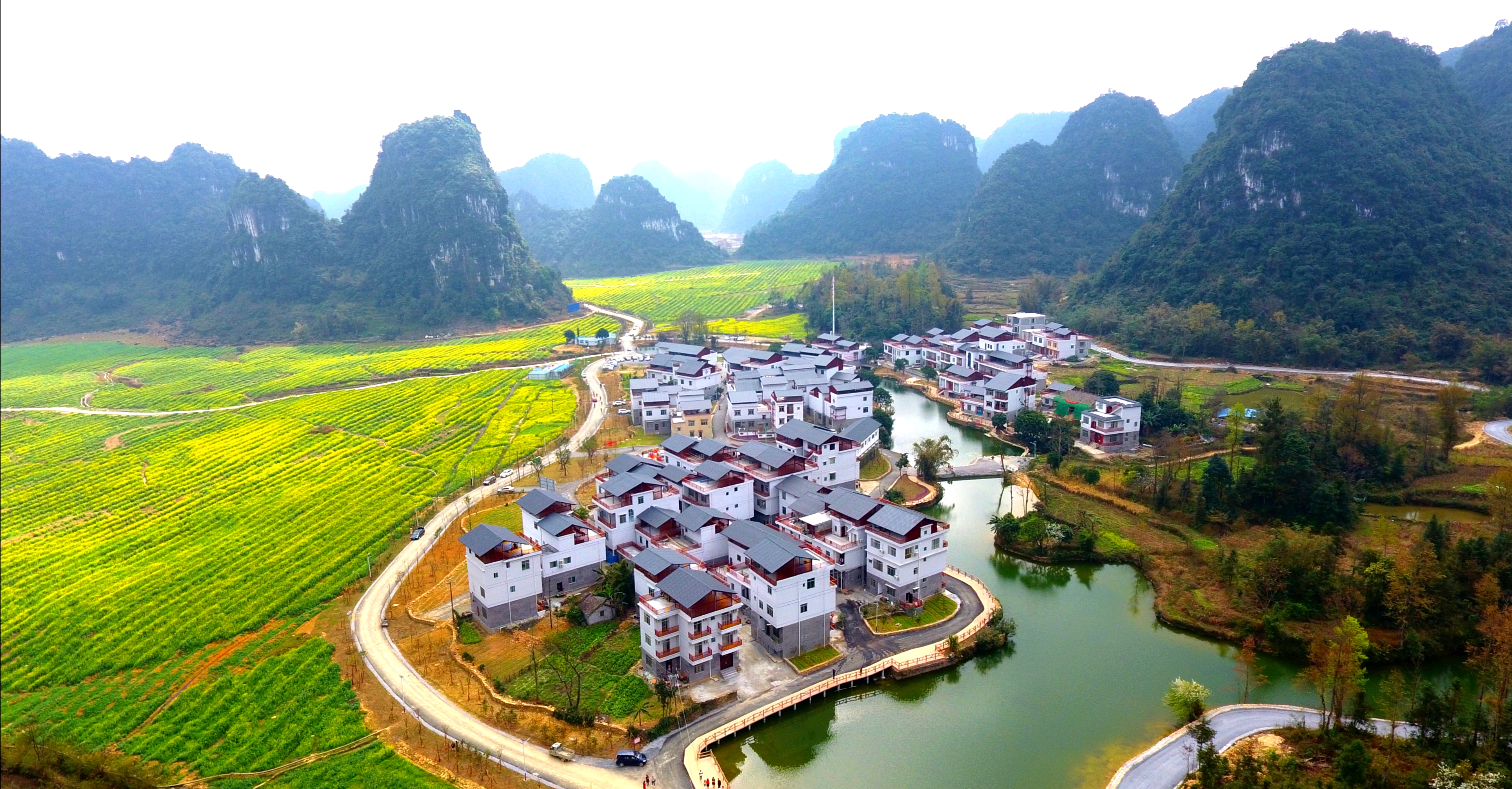 An aerial view of a village in Baise of the Guangxi Zhuang autonomous region in early 2019 showcasing improved housing and agricultural production amid rising standards of living in the area. [Photo/Xinhua]
Hansen said he was overwhelmed then by the unique karst landscape-and shocked by the poverty in some of its rural areas.

When a number of villages recruited volunteers amid local residents' fight against poverty, the retiree decided to stay in the city to lend a helping hand.
Over the years, he went back-and-forth from downtown Hechi where he lived to the rural places he wanted to help.
In order to stay in Hechi, Hansen had to apply for a tourist visa several times.
"The first time I came to Zhadong village, I was impressed by its natural beauty. The mud houses fit perfectly with the green environment," he said.
"But when we entered the houses, we found that people were so poor. There was a fireplace, a table and some chairs. No bathroom. Tap water and electricity were the only things to remind me that they were living in the second millennium."
Hansen volunteered to help plant passion fruit vines in Zhadong because many young villagers had left for towns and cities to find work. Hansen bought the village a grass cutter, a driller and a hydraulic hammer to build passion fruit trellises.
The village had no major links to the rest of the world. The locals were soon moved by Hansen's sincerity and became his friends. He became more involved in their work and lives.
"People in the village used to have an annual income of 2,000 yuan ($303) from growing corn and beans. By growing passion fruit, some villagers are earning 5,000 yuan a year," he said.
In 2018 the villagers, supported by local authorities and businesses, started laying out roads. When the vital transportation links were completed two years later, the villagers began to sell their produce to the outside world. People from other parts of Guangxi and the country also started visiting the scenic village, which tapped agrotourism as a new income source for the farmers.
"I've seen changes in the village in the past two years, with the mud houses being turned into brick ones and dirt roads becoming concrete ones," Hansen said.
"I never thought that I would take part in such meaningful work."
Like Hechi, other poverty-hit areas in Guangxi have also had support from the rest of China.
In 1996, when Chen Kaizhi was deputy mayor of Guangdong's provincial capital Guangzhou, he was assigned to help Baise city, one of the areas hit hardest by poverty.
During his first visit to Baise, Chen was shocked by how poor it was.
More than 600,000 people lived in extreme poverty and did not have enough to eat. Major transportation networks were unavailable to 1 million of the 3.57 million people living deep in the mountains. About 36,000 teenagers could not afford to go to school and stayed at home, while 800,000 residents lacked drinking water and had to collect rainwater to get by.
"I almost cried when I saw how two children with high fevers had to stay in their thatched cottage because they could not afford to see doctors," Chen said.
Baise, which borders Vietnam, is officially designated as one of China's 14 areas in extreme poverty. Nine of its 12 counties are below the poverty line, according to national standards.
In 1996, at a national poverty-alleviation conference, Chinese policymakers adopted a strategy that paired developed areas with underdeveloped ones to help the needy.
Guangdong was selected to assist Guangxi, which is a main battlefield of the country's poverty alleviation drive. Guangzhou worked with Baise under the arrangement.
In the first two years, Chen helped build roads and distribute water tanks, which local residents used to store rainwater.
But Chen's primary concern was educating the children in Baise.
"Knowledge is the key to changing a person's life. If we had solved only Baise's bread-and-butter issues, we would have failed to address the root of the matter," he said.