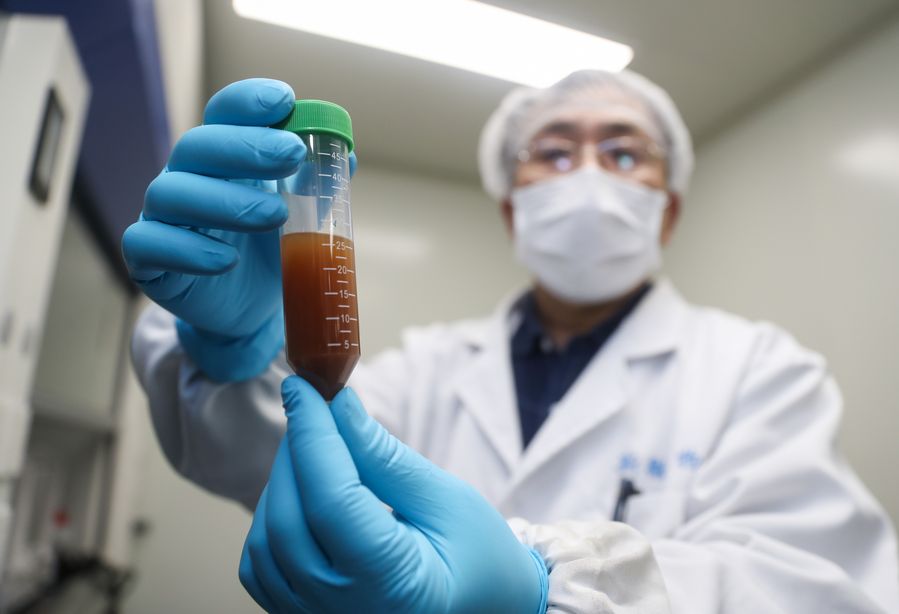 A researcher of Stermirna Therapeutics Co., Ltd. shows the experiment to develop an mRNA vaccine targeting the novel coronavirus in east China's Shanghai, Jan. 29, 2020. [Photo/Xinhua]
Openness, transparency
In this anti-epidemic fight, China has always adhered to the vision of a community with a shared future for mankind and adopted an attitude of openness, transparency and responsibility, Xi said late February in a telephone conversation with his Chilean counterpart Sebastian Pinera.
Indeed, since the beginning of the outbreak, China has shared promptly with the world not only such critical information as the whole genome sequence of the virus, but also its diagnostic and therapeutic experience.
Besides, it has established close technical-level communication mechanisms with international organizations such as the WHO, the European Union (EU), the African Union (AU) and the ASEAN.
It is important to step up communication and exchange with the WHO and carry out scientific research cooperation with other countries, especially those hit hard by the virus, Xi stressed earlier this month.
Last week, Chinese health authorities held a video conference with experts from Azerbaijan, Belarus, Georgia, Moldova, Armenia, Turkmenistan and the secretariat of the Shanghai Cooperation Organization to share China's experience.
According to China's EU mission, two video conferences on COVID-19 were held between officials and experts from China and the EU in February.
Massimo Galli, head of the infectious diseases section at the L. Sacco Hospital in Italy's Milan who had a conference call with Chinese researchers several days ago, said the researchers "are doing everything they can do to confront this problem, sharing the results of research and strategies with complete openness."
Chinese scientists and political leaders have made efforts to help the world understand the virus and contain its spread, said Fabrizio Pregliasco, a researcher at the Department of Biomedical Sciences for Health at the University of Milan.
China has been sharing experience on epidemic prevention and control with the world community in an open manner, setting an example for the world on united efforts against global challenges, Chairman of the Communist Party of Norway Runa Evensen and International Secretary Svend Haakon Jacobsen said in a joint message.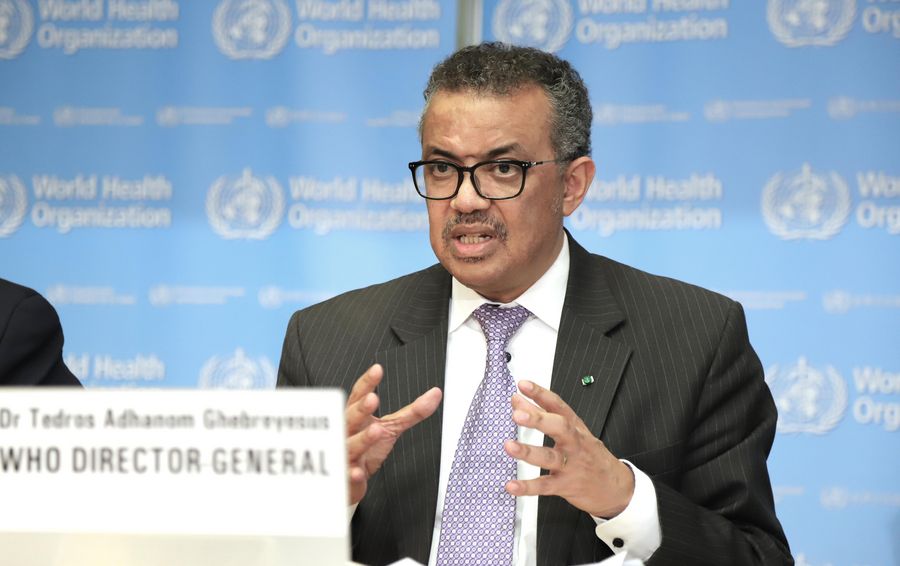 World Health Organization (WHO) Director-General Tedros Adhanom Ghebreyesus speaks at a daily briefing in Geneva, Switzerland, on March 9, 2020. [Photo/Xinhua]
Global cooperation
"Working together, we can write a new chapter in history of how we fearlessly have battled to defend humanity and won," said former United Nations Secretary-General Ban Ki-moon.
Indeed, with a shared goal of overcoming the epidemic and a common wish to jointly build a community with a shared future, cooperation between China and many other countries, big or small, have been an exemplar in hard times.
When China fought hardest against the virus, it received donations of much-needed supplies and heart-warming well-wishes from many countries around the world.
To date, leaders of over 170 countries and heads of more than 40 regional and international organizations have expressed sympathy and support for China via various means.
A total of 62 countries and seven international organizations have pledged epidemic prevention and control supplies to China as of March 2.
A Chinese-language poetic verse on the boxes of mask donations by the Japanese HSK Bureau read "although we are in different places, we are under the same sky." To show support for China, British pupils performed a Chinese song named "Fill the World with Love." The Burj Khalifa Tower in the United Arab Emirates was also lit up in red in solidarity with China.
And now, China is giving back as a real friend in need to others.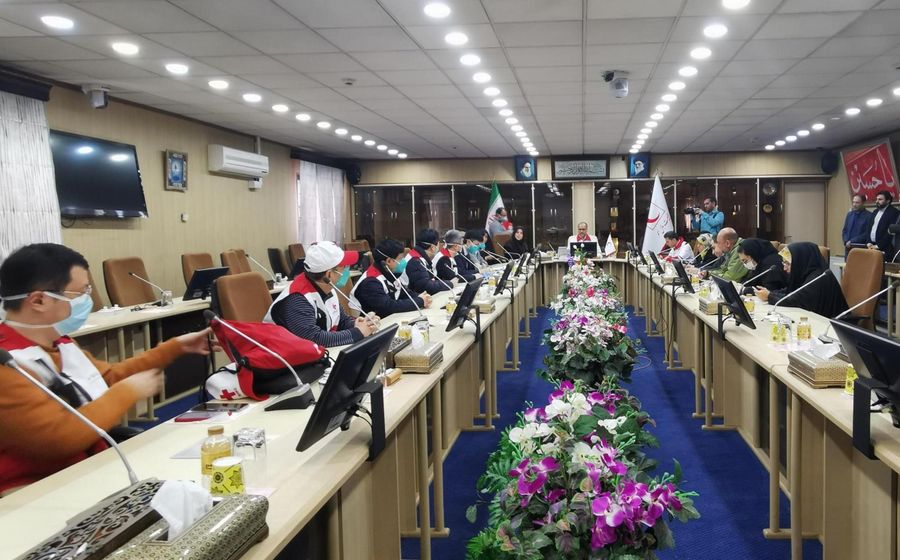 Chinese medical team members meet with Iranian Red Crescent Society officials in Tehran, Iran, on March 2, 2020. [Photo/Chinese Embassy in Iran/Xinhua]
Before sending experts to Iraq, China has already dispatched a group of five health experts to Iran. Upon arrival, these experts began learning the epidemic situation on the ground, exchanging experience with the Iranian side, and promoting bilateral cooperation on medicine and health.
It sets "an excellent example of 'peer to peer' experience sharing," said Maria van Kerkhove, technical lead for the WHO's Health Emergencies Program, adding the WHO is looking forward to seeing more direct interaction of that kind.
Besides, China has also conducted active international cooperation by providing badly needed materials such as test kits and masks to countries and organizations like Iran, Pakistan, Japan, South Korea and the AU.
In its latest move to push for global cooperation on fighting the outbreak, China announced on Saturday its decision to donate 20 million dollars to the WHO.
"When we help these countries, it is to help them fight the virus, and also to repay their kindness," said Chinese Vice Foreign Minister Ma Zhaoxu.
"With regard to the international cooperation, China will not be absent," he said.