The night of March 7 was quite special for Iraq's Baghdad International Airport. Soon after an Iraqi Airways flight landed, seven men in red and white, each carrying a black backpack, stepped off the plane and were warmly welcomed by local health officials.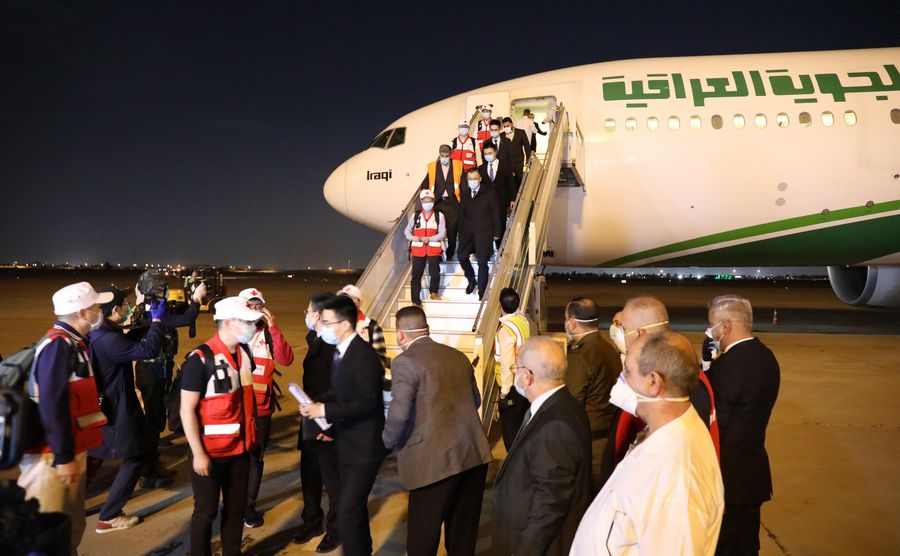 Chinese medical team members arrive at Baghdad International Airport in Baghdad, Iraq, on March 7, 2020. [Photo/Xinhua]
These special passengers, it turned out, were a group of Chinese health experts who will stay in Iraq for a month to help the country fight against COVID-19. They have also brought with them enormous medical equipment and a red banner with the words "Help each other. Stay together."
"We really appreciate the support of the government and the people of China at this very specific time," Iraqi Deputy Health Minister Jasim al-Falahi said at the airport.
The battle against COVID-19 has arrived at a critical stage. World Health Organization (WHO) Director-General Tedros Adhanom Ghebreyesus said Monday as the virus has got a foothold in so many countries, the threat of a pandemic has become "very real."
Amid a hike in global caseload, China, which has made remarkable progress in its anti-virus fight, is also working closely with the international community. Its endeavor, widely recognized by the world, has set an example of how to build a community with a shared future for mankind.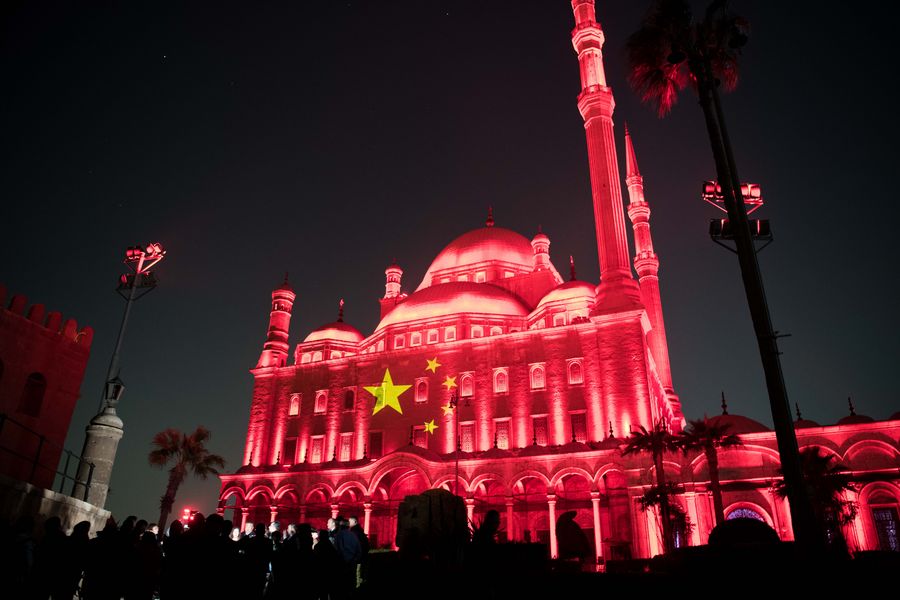 Photo taken on March 1, 2020 shows Saladin Citadel in red and golden stars to resemble the national flag of China as a sign of solidarity in combating the novel coronavirus in Cairo, Egypt. [Photo/Xinhua]
Making frontline fortress
Ever since the disease broke out in China's central city of Wuhan, the whole country has been waging a united battle against the virus under the leadership of Chinese President Xi Jinping.
Some 41,600 medical personnel from across the country have been dispatched to Hubei province. Wuhan, the worst-hit city in Hubei, has been locked down and renovated and built 86 designated hospitals and 16 temporary hospitals with more than 60,000 beds.
Chinese scientists have been dedicated to advancing research, and some vaccines against the disease are expected to undergo clinical trials by mid-April or even earlier.
With all-out efforts, the number of new cases in China dropped to double-digit figures on Friday for the first time since Jan. 20.
The spread has been basically curbed, Xi said Tuesday during an inspection of the epidemic prevention and control work in Wuhan, while stressing the need to continue to take epidemic prevention and control as a task of paramount importance.
"China has rolled out perhaps the most ambitious, agile and aggressive disease containment effort in history," said a report released in late February by the China-WHO joint mission on COVID-19.
As the team leader of the mission, Bruce Aylward told The New York Times that he feels he has been to "the mountaintop" and seen "what's possible" after the nine-day field study trip to China.
"Every person you talked to has a sense that they're mobilized like in a war against the virus and they are organized," he said.
In Tedros' eyes, China's decisive measures have limited the spread of the virus both home and abroad, thus setting a new standard for outbreak response.
China's experience "holds three important lessons -- to talk to the public, to slow the transmission of the disease and to prepare health systems for a spike in demand," said the Economist magazine in a leading article.
As China has bought governments worldwide time to prepare, "they should use it," it said.