.
Authorities in southwest China's Guizhou Province announced Monday that they have completed a large-scale program of relocating some 1.88 million poor residents to places with better living conditions, marking an important step forward in China's fight against poverty.
China has long been dedicated to eradicating poverty, contributing to more than 70 percent of global poverty reduction. It aims to eradicate absolute poverty in 2020, fulfilling the first goal of the United Nations 2030 Sustainable Development Agenda 10 years ahead of schedule.
To fulfill the mission of eradicating absolute poverty, China has been helping impoverished people move from mountainous regions to resettle in places with better natural environments and living conditions.
"Relocation is an important way to realize the goal of eradicating absolute poverty, as well as building a moderately prosperous society by 2020," said Wei Houkai, head of the Rural Development Institute at the Chinese Academy of Social Sciences.
"Moving a large number of people out of environmentally-vulnerable mountainous regions helps achieve the dual objectives of winning the anti-poverty campaign and restoring the ecological environment," said Wei.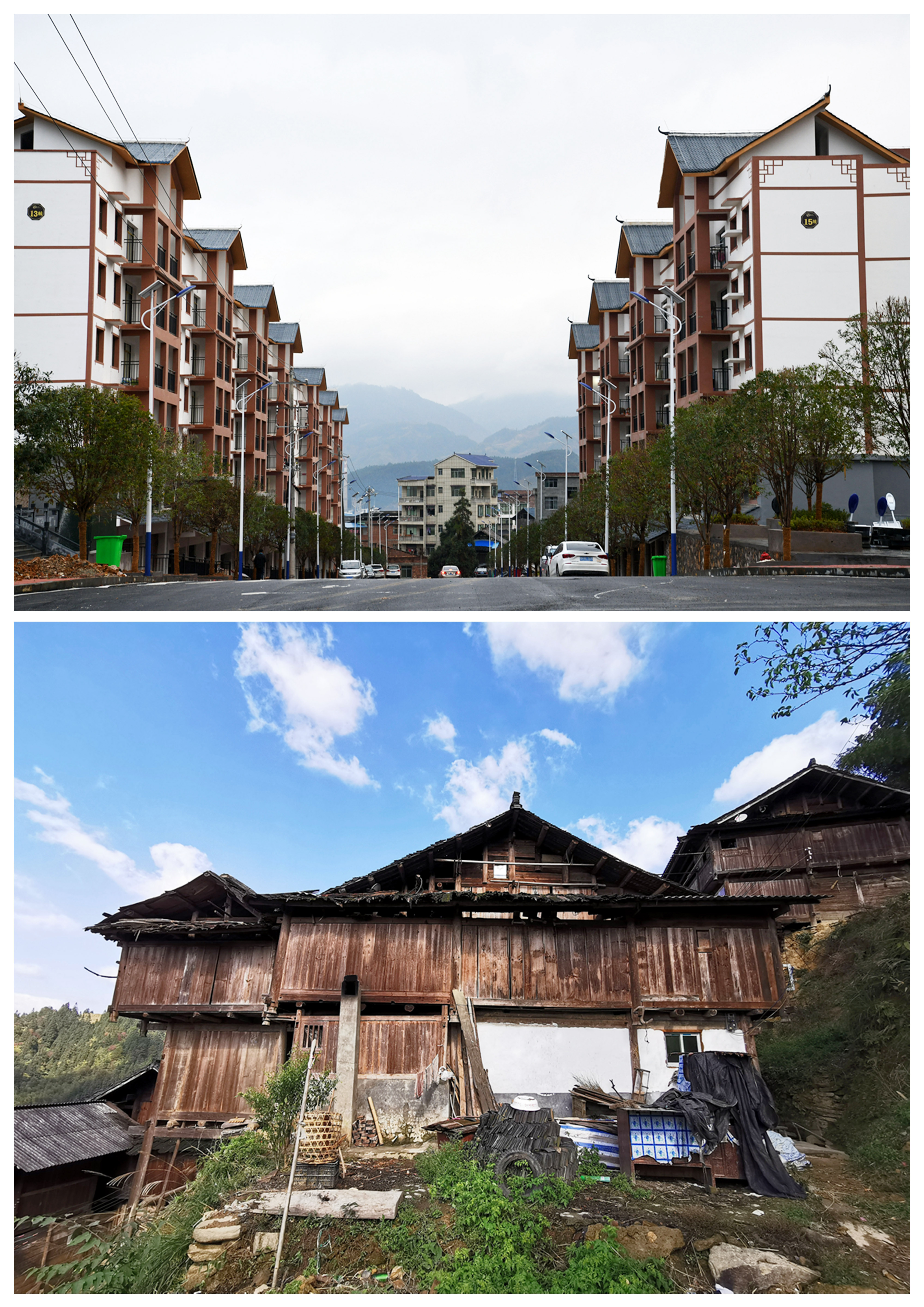 Combo photo taken on Dec. 21, 2019 by Yang Wenbin shows the new residential buildings at a relocation area (up) and photo taken on Dec. 2, 2019 by Wu Dejun shows the former houses of relocated people (down) in Congjiang County, southwest China's Guizhou Province. [Photo/Xinhua]

Experts said how to improve the livelihoods of new settlers and help them better adapt to the new life is as daunting a task as the relocation program itself.
"The key to the success of the relocation programs is how to promote the capabilities of sustainable development among poor people," said Wei, stressing the importance of employment and the need for the government to help increase their incomes.
In Guizhou, the provincial government has moved most of the impoverished people to townships or counties to make it easier for them to find new jobs.
The relocation programs have greatly driven the development of the construction and service sectors, providing new settlers with more contracted jobs, said Chen Jiayou, an associate researcher with Guizhou's Academy of Social Sciences.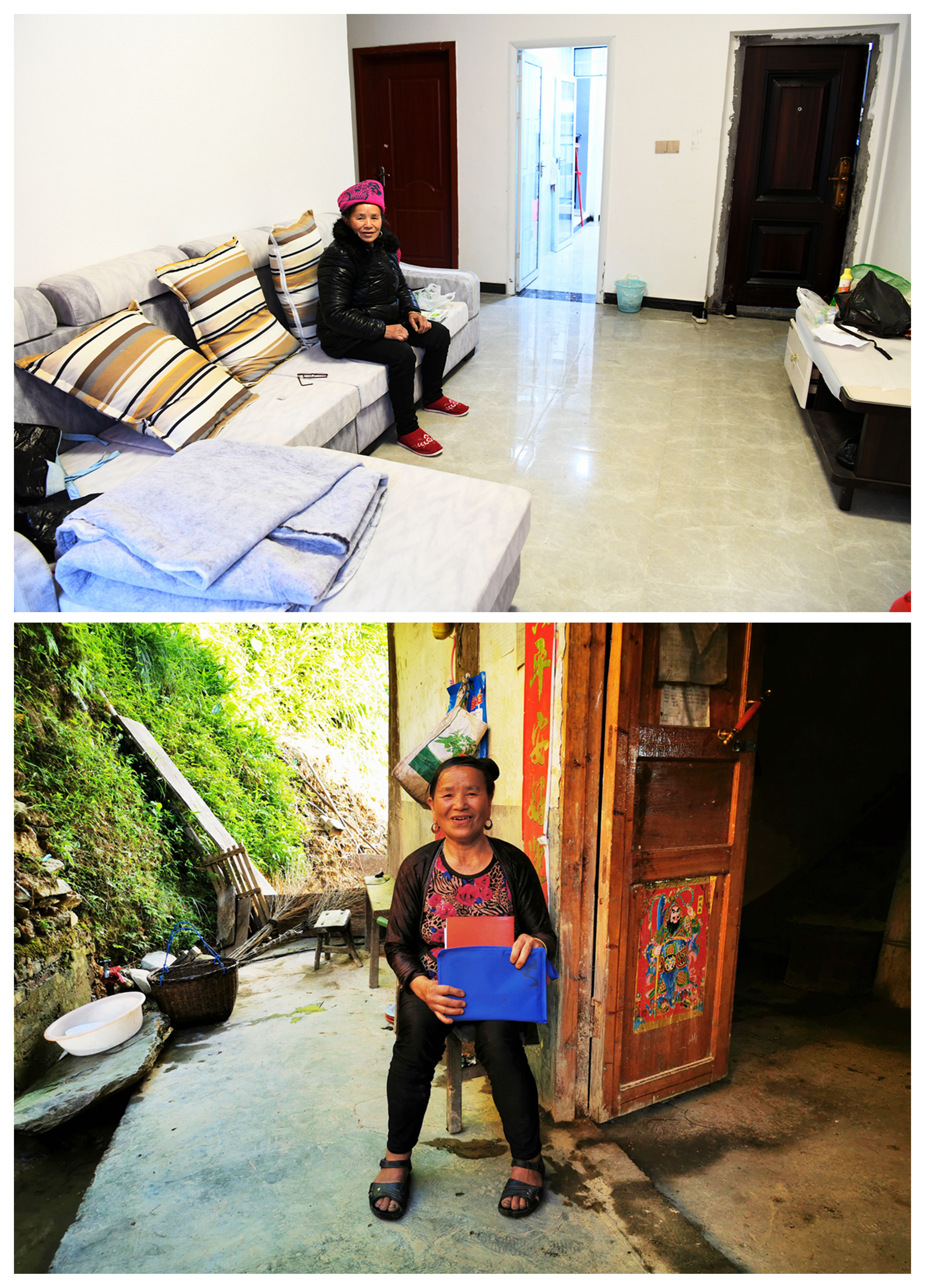 Combo photo taken on Dec. 21, 2019 by Yang Wenbin shows a woman sitting in her new house at a relocation area (up) and photo taken on July 24, 2019 by Wu Dejun shows the woman sitting in front of her former house (down) in Congjiang County, southwest China's Guizhou Province. [Photo/Xinhua]

"In the past, I resisted the idea of moving to the cities for fear of not being able to make a living there," said 34-year-old Chen Yonghui. "Now, I don't want to go back to the rural area anymore."
In Qinglong Township where Chen and her fellow villagers have moved to, authorities provide vocational training programs such as online retailing, cooking, construction and embroidery, and 2,000 square meters of free rental estate for them to start businesses.
After moving to her new home in April last year, Chen opened a small traditional clothing workshop in a free-of-charge rental plant and received preferential loans and subsidies for equipment purchase. She now makes 50,000 to 60,000 yuan (about 7,142 to 8,571 U.S. dollars) a year.
"As long as you are hardworking, there are more opportunities to make money in urban areas than in rural areas," said Chen.
Officials in charge of the relocation programs have also paid special attention to the needs of elderly migrants, who are more likely to feel nostalgic about the old way of life than younger generations. In many new settlers' communities in Guizhou, day-care centers and hobby groups have been set up to offer the elderly a place to socialize and entertain themselves.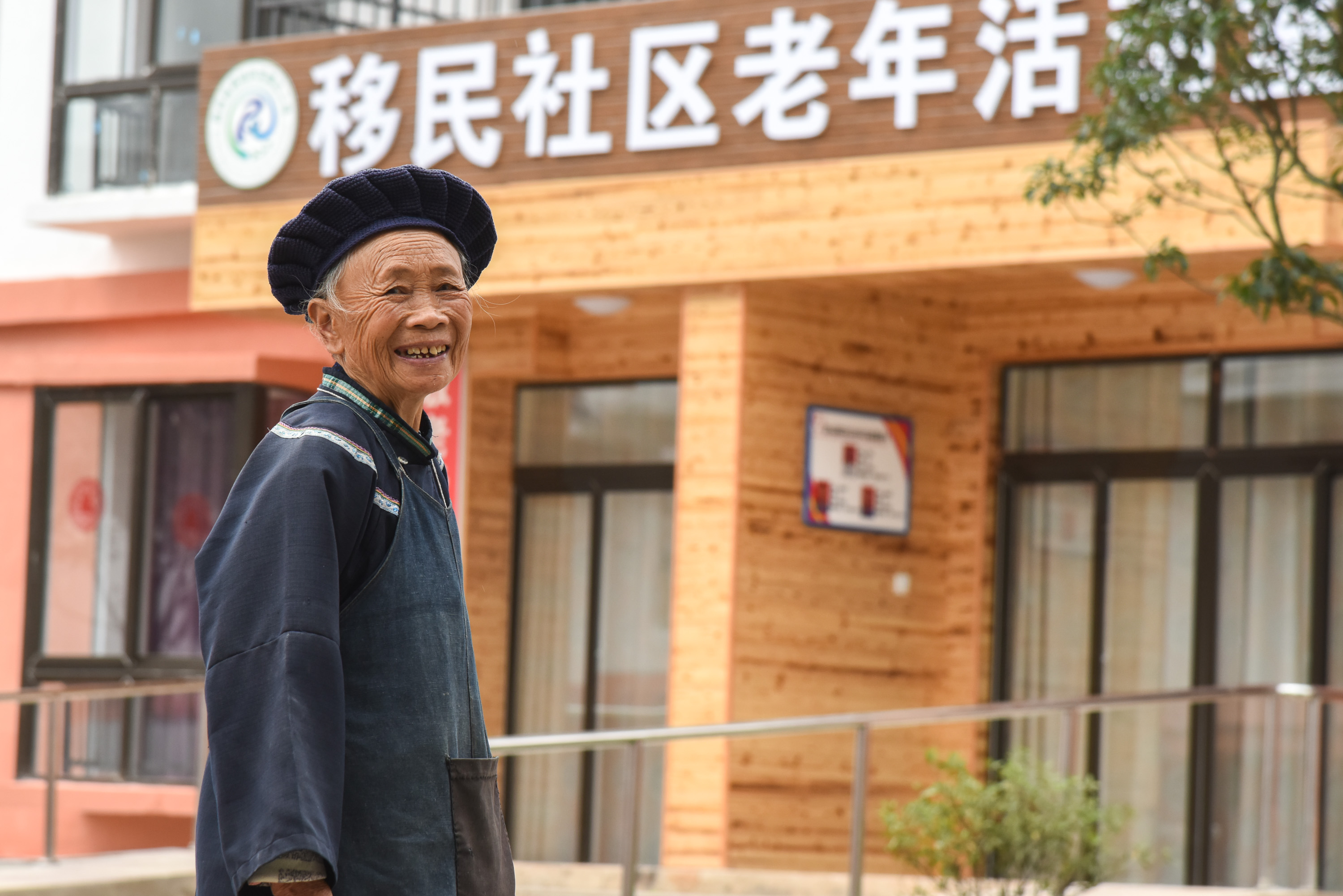 A senior villager of Buyi ethnic group walks past an activity center for elderly people at a relocation community in Huishui County, southwest China's Guizhou Province, Sept. 10, 2016. [Photo/Xinhua]

Other provincial-level regions in China have also proceeded with poverty-relief relocation programs.
Northwest China's Xinjiang Uygur Autonomous Region set the goal of relocating a total of 169,400 people to new houses built with government subsidies in five years from 2016 to 2020. The last batch of residents was relocated in early December.
In neighboring Tibet Autonomous Region, some 248,000 people had moved into 910 new settlements by the end of August, according to the region's poverty-relief headquarters.