China is expected to achieve considerable progress in modernizing its agriculture and rural areas in the next five years, with residents seeing significantly improved basic public services and living conditions, according to the "No 1 central document" for 2021 released by central government authorities on Sunday.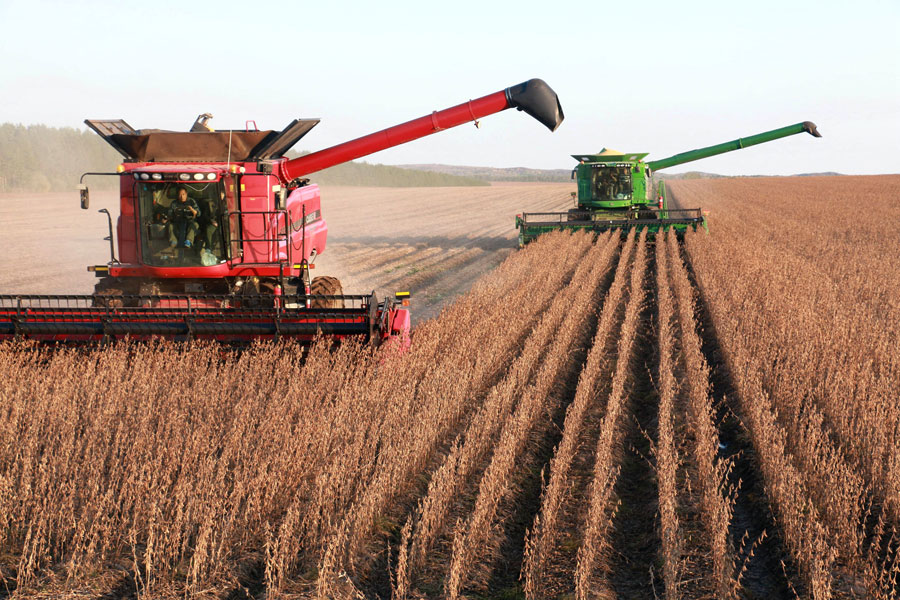 Soybeans are harvested in Heilongjiang province. [Photo by Lu Wenxiang/Xinhua]
As the first policy statement jointly released by the Communist Party of China Central Committee and the State Council each year, the document is seen as an indicator of policy priorities. Work on agriculture and rural areas has been high on the agenda since 2004.
The document clearly lists the targets and tasks concerning agriculture and rural areas for 2021, as well as a broader vision for the period up to 2025.
Modernization in these areas is crucial to achieve the rural rejuvenation strategy and the overall rejuvenation of the nation, and utmost efforts will be made to hit the target, the document said.
Agriculture and rural area will get priority in development during the 14th Five-Year Plan (2021-25) period, and various measures will be taken to promote the development of industries, talent, culture, governance and ecological conservation in rural areas, said the guideline.
Total grain production this year is expected to remain at above 650 million metric tons, equivalent to last year's harvest, and food safety is expected to keep improving, it said.
By 2025, there will be considerable achievements in modernizing agriculture and rural areas, including infrastructure, conveniences, supply of agricultural products and equity in access to basic public services between rural and urban areas. Basic agricultural modernization will be achieved in places where conditions are met. Poverty alleviation will also be solidified, and the income gap between rural and urban residents will continue to fall.
Agricultural production and people's lives will become greener, with a sustained decrease in the use of synthetic fertilizers and pesticides, and living conditions in rural areas will see significant improvement, the guideline said.
Rural areas have been lagging behind urban area in social and economic development in China, resulting in great gaps in many aspects including basic infrastructure and access to public services such as education and healthcare. Greater efforts have been made in recent years to emphasize the development of agriculture and rural areas to reduce the gap.
China removed the last rural counties from its poverty list last year, a key part of the goal of building a moderately prosperous society in all respects.
In October 2017, the top leadership put forward the rural rejuvenation strategy, which aimed at essentially modernizing China's agriculture and rural areas by 2035, and achieving all-around prosperity in rural areas by 2050.
Over the next five years, measures will help with the development of counties that recently got rid of poverty to prevent residents from falling into poverty again, the document said.
Other major tasks include improving the supply of major agricultural products, boosting seed cultivation, intensifying protection of farmland, accelerating planning and development of villages and improving sanitary conditions in rural areas.