Adjei Peter Junior banged an African drum and danced to the exciting rhythm, with the surrounding crowd drawn to the intriguing musical instrument.
It was not the scene of a party. Rather, the manager of Ghana Opace Group was using the dance to promote the company's products such as drums and wooden handicrafts at the ongoing Fifth Silk Road International Exposition in Xi'an, capital of northwest China's Shaanxi Province.
"We can go all round China for business, and it is a huge market for our products," he said.
Themed "Interconnection, Contribution and Shared Benefits," the expo has attracted more than 1,900 envoys and guests from 98 countries and regions such as Slovakia, Belgium, the Republic of Korea, Tajikistan and Zambia. Joint efforts to push for deeper Belt and Road (B&R) economic cooperation are high on the agenda.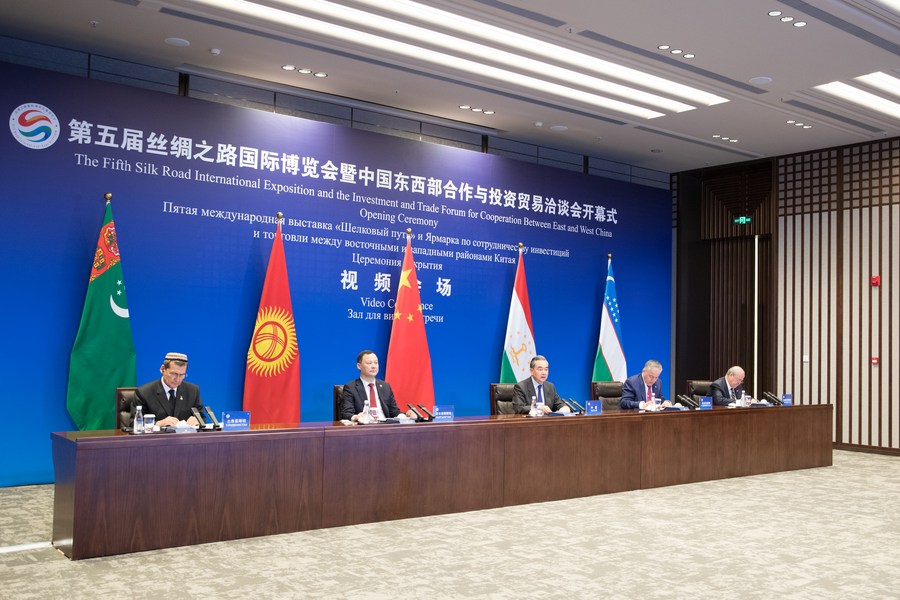 Chinese State Councilor and Foreign Minister Wang Yi addresses the opening ceremony of the Fifth Silk Road International Exposition and the Investment and Trade Forum for Cooperation between East and West China via video link in Xi'an, capital city of northwest China's Shaanxi Province on May 11, 2021. (Xinhua/Wei Xiang)

Participants at the expo said that with the COVID-19 pandemic still raging across the globe, the enthusiasm of the international community in jointly promoting high-quality B&R cooperation is tantamount to a resounding vote of confidence in the program.
"It reflects the great and growing interest of countries in achieving the goals of the Belt and Road Initiative (BRI) and re-establishing the links of the ancient Silk Road," said Uzbek Foreign Minister Abdulaziz Kamilov.
"We must work together to find new development drivers and growth points," he said, adding that active participation in the B&R is needed to realize these goals.