Samuel, from Ethiopia, has been living and working as a foreign trader for 15 years in Yiwu, eastern China's Zhejiang Province. "I love this city, not only because of the ease of doing work here but also because of the convenient living environment," he said.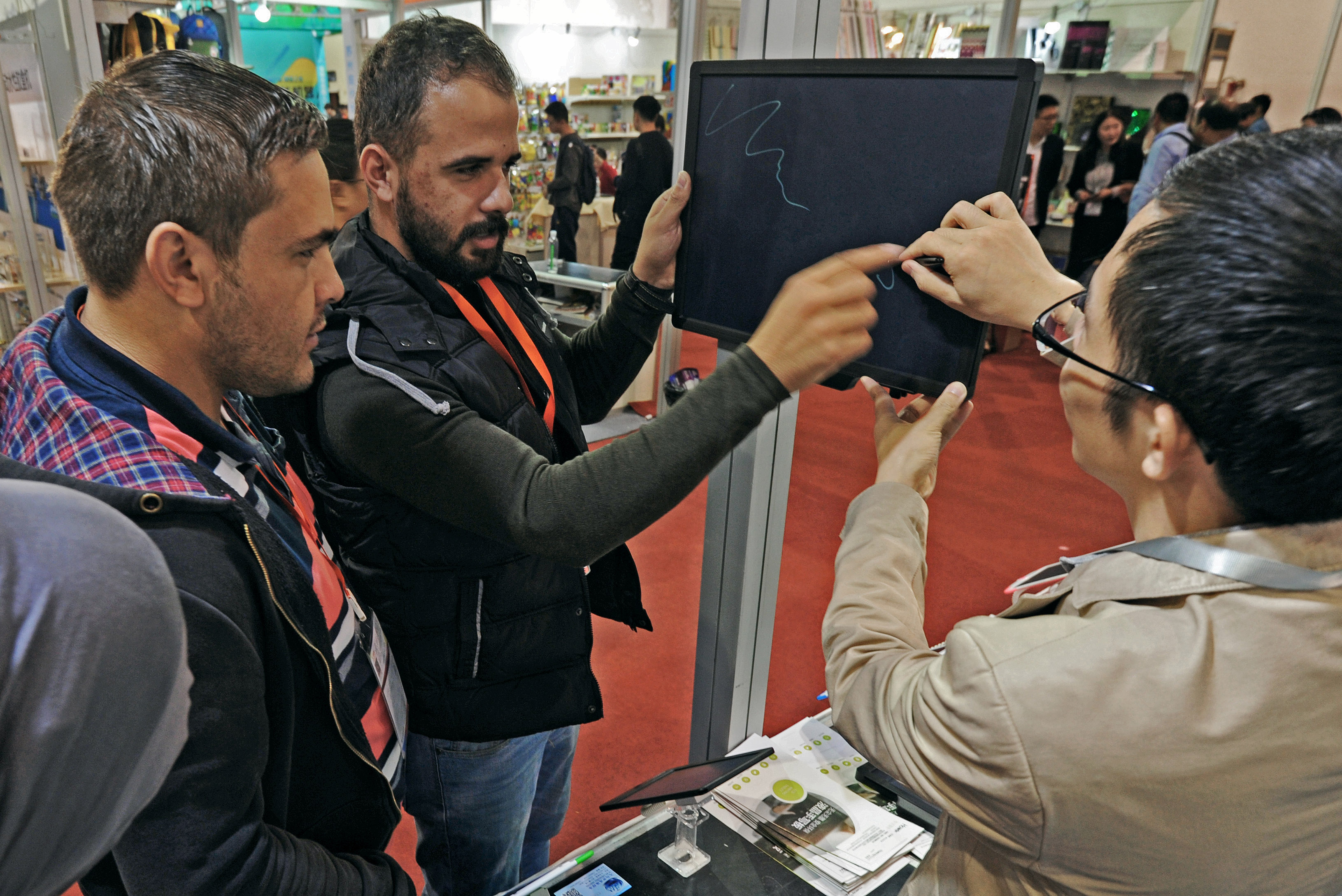 Indian businessmen try out an electronic board at the Yiwu International Trade City in Yiwu, a city famous for selling small goods in east China's Zhejiang province, Oct. 21, 2018. [Photo/Xinhua]
As a city of small commodities that has attracted 15,000 foreign resident businesspeople from more than 100 countries, Yiwu enjoys unique superiorities in strengthening foreign trade exchanges.
In 2018, the total export volume of Yiwu reached 252.516 billion yuan (US$37.25 billion), an increase of 985.02% from that in 2011.
In addition to living and working in the city, foreign traders are also becoming part of the community.
An official with Yiwu Municipal Commerce Bureau showed us many photos of foreign traders participating in Yiwu's social activities, such as helping local elderly and energetic performances in football games.
"We organize foreign traders, via mutual help, to weave them into Yiwu's social tapestry," he said.
In the office of The People's Mediation Committee of Foreign-related Disputes in Yiwu City, several foreigners are voluntarily mediating trade disputes. "Our aim is to re-engage trade cooperation on the level of civil mediation," said Chen Jinyan, director of the committee.
"The inclusive, open and enabling governance has brought us more confidence in doing business here," said Kuo Chifu, a foreign businessman in Yiwu.
In 2018, Yiwu was approved as a cross-border e-commerce comprehensive zone, a new trade model that boosts easier transactions. Yiwu customs shortened clearance time and strengthened the protection of containers by adopting the 'paperless' customs clearance.
"The prosperity of foreign trade has come as a result of favorable local service policies, and foreign traders experience respect, fairness and better treatment," explained Lan Jianping, dean of the Zhejiang Institute of Industry and Information Technology.
As the Yiwu Exit and Entry Service Hall gives priority to simplifying procedures and launching preferential policies, Sam, from Sudan, said the incomparable convenience process is the biggest advantage for Yiwu in attracting foreign traders.
According to Samuel, the Belt and Road initiative is a major player in promoting Yiwu's continuous internationalization. "The internationalization of Yiwu is diversified in all respects, which brings us a broader market for import and export trade."
As more and more countries have joined the construction of the Belt and Road, Yiwu, in 2018, exported 124.293 billion yuan in products to countries along the Belt and Road, an increase of 6.01% year on year, accounting for 49.29% of the city's total exports.
A few years ago, Juliana, from Brazil, started a clothing brand from the ground up in Yiwu. Currently, her brand is trending in both China and Brazil. Speaking of the Belt and Road, she said excitedly: "This great initiative invigorates more foreign young people to show their can-do attitude in China."
"In the future, product trade will continue to be a prominent feature in Yiwu's development. The city will also provide more plans for the world's development," said Lan.