An electronic SIM service for cellphones aimed at users in the Association of Southeast Asian Nations, or ASEAN, is helping advance efforts to create a "digital Silk Road" with China, according to sources close to the project.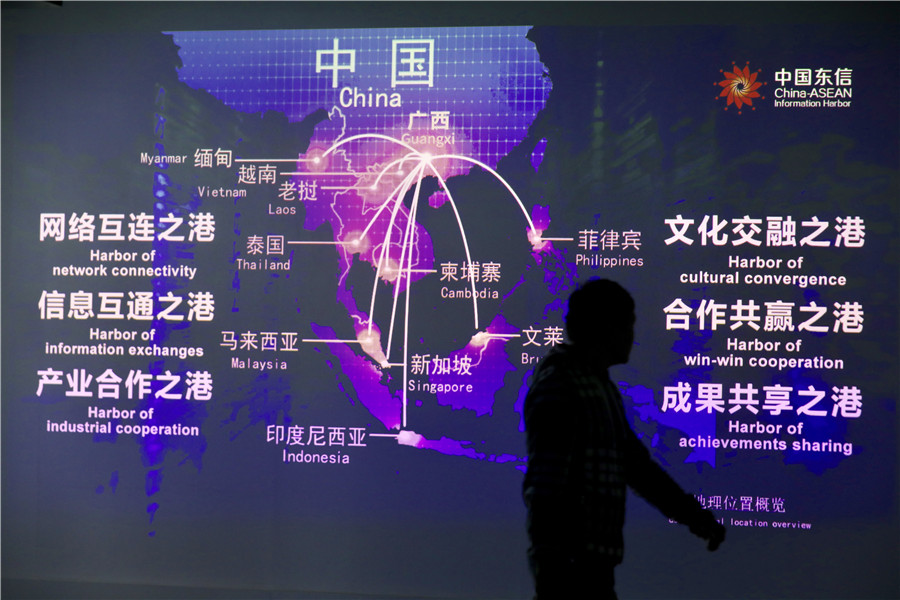 Big screen at the China-ASEAN Information Harbor in Nanning touts the Guangxi Zhuang autonomous region's connection with Southeast Asia. [Photo/China Daily]
Electronic SIM services remove the need for physical SIM cards in mobile phones, allowing users to sign up with operators over the internet.
The eSIM was launched in July and is a flagship program of the China-ASEAN Information Harbor, an initiative proposed in 2014.
The harbor is expected to facilitate infrastructure construction, trade, economic cooperation, information sharing and technical exchanges, while achieving a closer China-ASEAN community with a shared future.
To accelerate the initiative, the China-ASEAN Information Harbor Co was established in 2016 with approval from the State Council, China's Cabinet. It is based in Nanning, capital of the Guangxi Zhuang autonomous region, which shares a land border with Vietnam.
"Our mission is to make Guangxi an information hub by building a digital Silk Road to ASEAN countries; therefore most of our products target the ASEAN market," said Li Ying, the company's general manager of overseas cooperation.
Dubbed Elinking, the company's eSIM service is already available in Malaysia and Myanmar and is expected to be launched in Cambodia, the Philippines and Indonesia.
"Our eSIM has gained popularity in Malaysia as people can obtain a phone number over the internet instead of having to visit a telecom service center," said Qin Qian, a product manager at China-ASEAN Information Harbor Co, whose largest shareholder is telecommunications giant China Unicom.
She declined to disclose how many people use the service.
For tourists from the Chinese mainland, the eSIM is a cheaper alternative to global roaming charges as it allows them to access the internet at local rates, according to Qin.
"Chinese telecom operators charge about 15 yuan ($2) for 300 megabytes a day for global roaming, while local operators (in Malaysia) charge the equivalent of 6 to 7 yuan," she said.
Li added, "Since eSIM technology is not yet popularized on a large scale, we're still exploring the market, but it's an inevitable trend that will benefit both sides."
In addition to its Elinking, the company also aims to make joint efforts with Singapore on a single window for trade - a tool that allows exporters and importers to apply for government authorizations, permits, certifications or approvals electronically - to further boost China-ASEAN trade.
"We'll make all efforts to promote internet coverage and information-sharing on the economy, science, logistics and finance, as well as firmly implement the Belt and Road Initiative," Li said.