Zhang Yundi was pretty happy when her family moved from a mudbrick house in Wanfushan village to a new apartment building in Laoxian town in 2017, but it was not long before she started worrying about increased expenses: food, water, electricity, and other daily necessities were costing the family of six 3,000 yuan a month.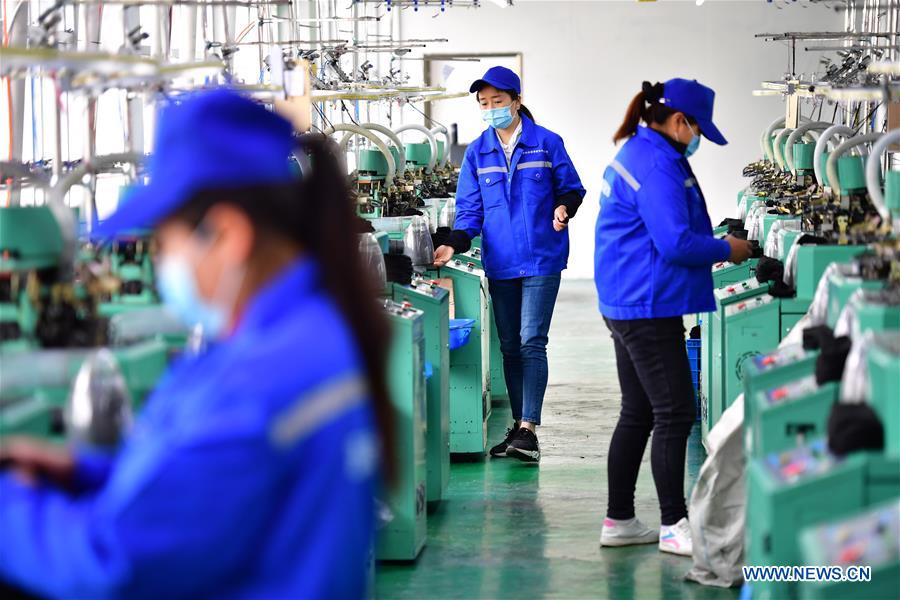 Workers produce socks at a community factory in Pingli county, northwestern China's Shaanxi province, on April 22, 2020. [Photo/Xinhua]
In December 2018, a factory opened close to Zhang's home, and she did not hesitate to apply for a job. She now works at the factory making fluffy toys, earning over 2,000 yuan a month. Combining it with her husband's 3,000 yuan a month earned at a paint factory, Zhang felt much more at ease.
Laoxian town belongs to Pingli county, previously an impoverished county in Ankang city, northwestern China's Shaanxi province. It is located in the Qinling-Bashan mountainous region, one of China's 14 contiguous areas of extreme poverty. Over the past decade, the county relocated 96,700 people away from hilly, geological disaster-prone, and poverty-stricken areas.
Employment became a big thing after the relocation. The local government thus rolled out various follow-up measures, with one being the community factories like the one Zhang works in.
Through years of efforts, community factories in Pingli have prospered. They received compliments from the State Council Leading Group Office of Poverty Alleviation and Development, which named them one of the 10 best role models of targeted poverty alleviation in China. The National Development and Reform Commission also included community factories in its policy guidelines for post-relocation poverty alleviation.
However, Pingli did not become what it is now in days, or even months.