II. Prosperity Through All-Round Development
All-round development is essential to moderate prosperity. In pursuing moderate prosperity, China emphasizes balanced, coordinated and sustainable progress in the economic, political, cultural, social, and eco-environmental fields. It aims to meet people's growing needs in all areas and at all levels and to promote their well-rounded development. Moderate prosperity makes China a strong and prosperous country striving for national rejuvenation and people's wellbeing.
1. Sustained and Healthy Economic Growth
A sound economy underpins moderate prosperity in all respects. The CPC considers national development to be its top priority in governance and the key to tackling all the challenges facing China. Under its leadership, the Chinese people have focused on economic development and expanded the productive forces, and have made every effort to steer China's development towards higher quality and efficiency, as well as greater equity, sustainability and security. China's economic power, scientific and technological capabilities, and its composite national strength have significantly increased.
Economic strength has increased significantly. China's GDP soared from RMB67.9 billion in 1952 to RMB101.6 trillion in 2020. As the world's second largest economy, it accounts for over 17 percent of the global total (Chart 1). With per capita GDP rising from less than US$100 in 1952 to over US$10,000 in 2020, China has achieved a historic transformation from a low-income country to an upper-middle-income country (Chart 2). For years it has ranked first in the world in terms of added value in the manufacturing sector and output of over 220 major industrial products. It has also been the world's largest manufacturing country for the past 11 years.
China ranks first in terms of trade in goods and foreign exchange reserves, and ranks second in terms of its trade in services and consumer market. In 2020, it was the largest recipient of foreign direct investment. The vitality, potential and staying power of its economy have been nurtured by a population of over 1.4 billion in pursuit of common prosperity, including a middle-income group of over 400 million people that keeps expanding – offering a supersized market growing faster than any other place in the world.
In 2020, China was the first country to bring Covid-19 under control and reopen its economy. It was also the first economy to shift back from negative to positive growth. This reflects the resilience of China's economy.
Chart 1 China's GDP (1952-2020)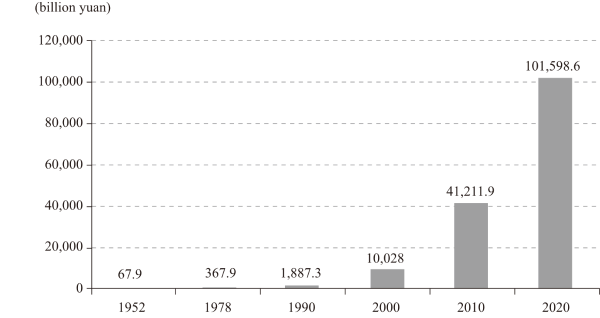 Chart 2 China's per capita GDP (1952-2020)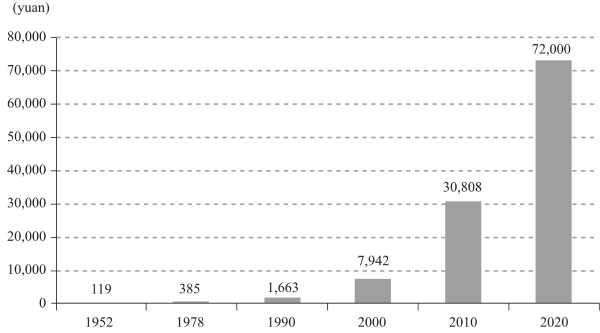 Exponential advances have been made in science and technology. The dream of moderate prosperity has been realized with the support of science and technology.
In the early years of the PRC, even matches and nails had to be imported. Now great successes have been achieved in quantum information, iron-based superconductors, neutrinos, stem cells, brain science and other frontier fields. Major breakthroughs have been made in a large number of strategic high technologies, including manned space flight and lunar exploration, the BeiDou Navigation Satellite System, manned deep-sea submersibles, high-speed railways, 5G mobile communications, and supercomputing. China is now a leader in innovation, building greater strengths in science and technology (Panel 1).
Panel 1 Technological Advances and Strategic Innovations
More R&D spending
In 2020, China spent RMB2.4 trillion on R&D, ranking second in the world. Its R&D intensity (ratio of R&D to GDP) reached 2.4 percent. A total of 1,345,000 utility patent applications were filed with domestic agencies and 441,000 were granted. In addition, 69,000 international patent applications were submitted through the Patent Cooperation Treaty. China ranked 14th on the Global Innovation Index in 2020 and was the only middle-income economy in the top 30 on this list.
More innovation centers
By the end of 2020, China had established 533 key national labs, 350 national engineering research centers (also known as national engineering labs), 1,636 national enterprise technology centers, 212 mass entrepreneurship and innovation bases, 1,287 national technology enterprise incubators, and 2,251 makerspaces approved by the Ministry of Science and Technology.
The central government is supporting efforts to build Beijing, Shanghai and the Guangdong-Hong Kong-Macao Greater Bay Area into international centers for science and technology innovation, and is developing comprehensive national science centers in Huairou of Beijing, Zhangjiang of Shanghai, the Greater Bay Area, and Hefei of Anhui Province.
Major breakthroughs in basic research and strategic high technology
The quantum communication satellite Mozi, the Hard X-ray Modulation Telescope satellite Insight, the dark matter probe satellite Wukong, and the Tianwen-1 Mars probe were successfully launched. The moon probe mission landed Chang'e-4 on the far side of the moon – the first probe ever to do so.
China completed its BeiDou Navigation Satellite System, inaugurated the Five-hundred-meter Aperture Spherical Radio Telescope (FAST), and developed a broad spectrum of deep-sea exploration equipment such as the underwater glider Haiyi, the deep-sea submersible Qianlong, the research vessel Tansuo, the unmanned submersible Haidou, and the underwater robot Haixing. The manned submersible Fendouzhe completed a test dive to a depth of 10,000 meters. In such fields as C919 airliners, high-speed railways, third-generation nuclear reactors, and renewable energy vehicles, China's progress attracted worldwide attention.
Science and technology are widely applied in manufacturing. Innovation-driven development has made serious headway. Advances in science and technology have contributed to over 60 percent of economic growth.
Science and technology have also raised the capacity of governance by a substantial margin. The application of digital technology is fast expanding in government, the countryside and society at large, in forms such as smart cities and internet-based government services. A grid-based social management network and smart governance are gradually penetrating daily life.
Life has changed significantly because of science and technology. As more people turn to online education, shopping, food ordering, mobile payments, ride hailing, bike sharing, telecommuting, remote medicine, and smart homes, they now enjoy greater convenience, more choices, and a fuller life.
The industrial structure has been continuously upgraded. China has built the world's most complete industrial system and is moving up the value chain. In 1952, the shares of added value from the primary, secondary and tertiary sectors in China's GDP were 50.5 percent, 20.8 percent, and 28.7 percent. In 2020, the figures were 7.7 percent, 37.8 percent and 54.5 percent, marking the transformation of China from a traditional agricultural country to a country with large manufacturing and service industries (Chart 3). China's economy has shifted from relying mainly on the primary sector to being driven by a combination of the primary, secondary and tertiary sectors.
Significant headway has been made in agricultural modernization. The wider application of machinery, digital and green technologies as well as functional and community-shared farming has reduced the need for manual labor, and rural productivity has risen sharply. Grain production capacity has steadily increased, to the extent that China has now achieved basic self-sufficiency in grain supply, which ensures the country's food security.
An independent and complete modern industrial system with a whole range of sectors has been built. The integration of industrialization and IT application has expanded in depth and extent. "Made in China" is being replaced by "smart manufacturing in China". Industrial and supply chains have been further modernized. Strategic emerging industries represented by the new generation of information technology, biotechnology, high-end equipment, and green technology are growing fast, serving as a key engine for high-quality development.
Chart 3 Shifts in China's economic structure (1952-2020)
The digital economy has unleashed the vigor of businesses. Digital transformation of traditional industries and growth of the digital industry are both making headway. Modern service industries are picking up speed. New forms and models of business based on the internet continue to emerge. The platform economy and the sharing economy are booming. Producer services have become more specialized and moved up the value chain, while consumer services are better targeted and of higher quality.
The steady improvement and upgrading of the industrial structure has promoted balanced and extensive economic development. Consumers' needs for individualized, high-quality and diverse supply are being met.
Modern infrastructure networks have been improved. Thanks to efficient information networks and an extensive network of roads, railways and bridges, temporal distance inside China has been significantly shortened, and it has become much easier to travel across the country, even on difficult terrain (Panel 2). An integrated transport network encompassing five north-south corridors and five east-west corridors connects the whole country. China leads the world in the total route length of high-speed railway, urban rail transit and expressway, and in the number of deep-water berths. For many years, its civil aviation sector has ranked second in the world in terms of total traffic turnover.
The country is quickly building itself into a leader in transport. Its extensive network has had a huge impact on the configuration of China's cities, and on its population distribution, economic activities and even the life and work perimeters of the residents.
Energy supply capacity, development technology, and efficiency have continued to improve. A diversified high-quality energy production system has been established, concurrently driven by coal, oil, natural gas, nuclear power, and renewable energy.
Thanks to the constantly improving water resource management and infrastructure, China is able to support around 20 percent of the world's population and 17 percent of the global economy with only 6.6 percent of the planet's fresh water.
Progress in internet infrastructure has brought about wider service coverage, lower prices, faster internet speed, and easy connection anytime and anywhere. The information highway enabled by the internet has improved people's lives.
Panel 2 Achievements in Infrastructure
China's infrastructure network is among the largest in the world.
The country has built the most advanced railway and high-speed railway networks in the world. In 2020, it had 146,000 km of railway routes in operation, including 38,000 km of high-speed railways. China has the world's largest expressway network, with a total length of 161,000 km.
China now has 22,142 quay berths in service, including a world-leading 2,592 berths of 10,000 tonnes or above. It also has the world's longest navigable inland waterway system, reaching 127,700 km, and the highest inland waterway cargo transport volume. China has the world's highest liner shipping connectivity index, with eight of the world's top 10 ports based on cargo throughput, and seven based on container throughput. As a world leader in intelligent ports, China is renowned for the efficiency of its specialized terminals in major costal ports.
China has 241 civil airports nationwide.
The route length of China's urban rail transit with high and medium passenger capacities is close to 6,700 km. More cities in China are opening metro services than in any other country in the world. The total network length of postal and express delivery service (one way) reached 52.8 million km.
Internet penetration has risen fast. By June 2021, China had put 960,000 5G base stations into service, and 5G terminal connections had surpassed 365 million. Fixed broadband penetration reached 96 percent, mobile broadband use was 108 percent, and the number of internet users topped 1 billion.
2. Expanding People's Democracy
By achieving moderate prosperity in all respects, China has better ensured the economic and political rights of its people. The CPC leads the Chinese people on the socialist path of political advancement with Chinese characteristics. It upholds the unity of the Party's leadership, the people's position as masters of the country, and law-based governance, and is committed to developing whole-process people's democracy. Democracy has thus grown from a set of values into a system, a governance mechanism, and a way of life rooted in the land of China. The Chinese people have become true masters of their country, society and future, and enjoy extensive, full and genuine democracy.
The people enjoy broad democratic rights. In China, all power of the state belongs to the people. The people engage in democratic elections, consultation, decision-making, management and oversight in accordance with the law (Panel 3).
The principles that apply in China's direct and indirect elections are universal suffrage, equal rights, multiple candidates, and secret ballot. All citizens of the PRC who have reached the age of 18 – with the exception of those persons deprived of political rights in accordance with the law – have the right to vote and stand for election.
Socialist consultative democracy has experienced broad-based, multilevel and institutionalized development. Through various means and channels, the people are involved in extensive consultations on matters concerning reform, development and stability, especially those related to their vital interests, to reach the broadest convergence on the aspirations and expectations of society as a whole.
In making and implementing major decisions, the Party and the state solicit advice from all sectors of society, take account of public opinion, and pool the wisdom and strength of the people, in order to ensure democratic and sound decision-making.
The people participate extensively and directly in managing social issues, and local residents run their own affairs by serving the community and exercising self-education and public scrutiny.
In accordance with the Constitution and laws, the people have the right to offer criticism and make suggestions regarding any government office or employee. They have the right to level complaints, charges, or accusations against any government office or employee for violations of the law or dereliction of duty.
Democratic elections, consultation, decision-making, management and oversight are closely linked and integrated. There is a unity of democratic processes and democratic results, procedural democracy and substantive democracy, and direct democracy and indirect democracy, and the people's rights to be informed, to participate, to express views, and to supervise the exercise of power are protected.
Panel 3 Whole-Process People's Democracy
Among the deputies to the 13th National People's Congress (NPC), frontline workers and farmers account for 15.7 percent, and all 56 ethnic groups are represented; in the 13th National Committee of the Chinese People's Political Consultative Conference (CPPCC), non-CPC members account for 60.2 percent.
More and more women are participating in the decision-making and management of state affairs. There are 742 female deputies to the 13th NPC, accounting for 24.9 percent of the total; there are 441 female members in the 13th CPPCC National Committee, representing 20.4 percent of the total.
Since the 18th CPC National Congress in 2012, public opinion has been solicited on draft laws on 187 occasions, and more than 3 million comments from about 1.1 million people have been received, many of which have been adopted. During the drafting of the Civil Code, 10 rounds of public opinion solicitation were conducted, resulting in over 1 million comments from 425,000 people. During online solicitation for the preparation of the 14th Five-year Plan, over 1 million suggestions were received in two weeks. The NPC Standing Committee has established 10 local legislative outreach offices. By June 2021, these outreach offices had conveyed nearly 6,600 pieces of advice on 109 draft laws and legislative plans, many of which had been accepted.
The CPC Central Committee has organized or entrusted relevant departments to organize more than 170 consultative forums since 2012. On these occasions, it engaged in consultation with the other political parties and prominent individuals without party affiliation (non-affiliates) and solicited their opinions on matters of great importance such as the reports to the CPC national congress and plenary sessions of the CPC Central Committee and the formulation of the 14th Five-year Plan. The central committees of the eight non-CPC political parties and the non-affiliates have made more than 730 written proposals, many of which have turned into major state policies. From March 2018 – when the First Session of the 13th CPPCC National Committee was held – to June 2021, the CPPCC National Committee received 23,089 proposals.
In the fight against poverty, the CPC Central Committee entrusted central committees of the other eight political parties to monitor the process in eight central and western provinces and autonomous regions that faced onerous work in poverty alleviation. These parties made 36,000 interventions in democratic scrutiny over poverty alleviation actions, offered over 2,400 pieces of written advice to CPC committees and governments of the eight provinces and autonomous regions, and submitted more than 80 reports of various types to the CPC Central Committee and the State Council.
The Chinese people enjoy extensive democratic rights. They have the best understanding of China's democracy, and they have the final say as to whether it works or not.
The CPC keeps attuned to the situation of the people, understands their needs, addresses their concerns, pools their wisdom, solicits their opinions, and asks for their advice. These are important means for the Party and the government to govern the country. In China, democracy is healthy, the people live in contentment, and society is full of vitality. On various matters including necessities of daily life, transport, health care, education, community management, social governance, state policies and development planning, the people can have their voices heard through democratic channels. Popular and original practices and forms of primary-level democracy continue to emerge, such as democratic discussions, hearings, online political deliberation, remote consultations, local legislative outreach offices, community councils and neighborhood meetings. This represents a general trend whereby matters concerning the core interests of the people are discussed and dealt with by the people themselves, and they make the decisions.
China's democracy ensures that the people have channels to express their expectations, wishes and requests, to have their voices heard, and to receive feedback. This process effectively addresses the problems faced by the people, and conveys the aspirations of the whole of society, so that the whole nation unites as one and works together for common goals.
People's democracy has an institutional guarantee. It mainly includes such systems as people's congresses – which form the fundamental political system of China – CPC-led multiparty cooperation and political consultation, regional ethnic autonomy, and grassroots self-governance. Ensuring the people's principal status as masters of the country, these systems have laid a firm institutional foundation for protecting the people's interests.
The people exercise state power through the NPC and the local people's congresses at all levels, which are responsible to the people and subject to their oversight. State organs are created by people's congresses at each successive level and are responsible to them and subject to their oversight. People's congresses at all levels are constituted through direct or indirect democratic elections. Their responsibility is to faithfully represent the interests and will of the people and to participate in the exercise of state power in accordance with the law.
Multiparty cooperation and political consultation under the leadership of the CPC is a new type of political party system, in which the CPC is the ruling party and the other parties participate in governance. It has realized unity between governance and participation in governance, leadership and cooperation, and consultation and oversight. It ensures that the people's rightful claims are honored through a procedure guaranteeing the people's status as masters of the country.
The system of regional ethnic autonomy guarantees the nation's unity and solidarity, and ensures that all ethnic groups participate in governance. It fully protects the equal rights of all 56 ethnic groups and the power of self-governance in ethnic autonomous areas, underpins development in ethnic minority areas, and reinforces ethnic unity.
The system of grassroots self-governance enables the people to directly exercise democratic rights through multiple channels such as villagers committees and urban residents committees. This improves the effectiveness of community-level governance. The system of democratic management through employees congresses in enterprises and public institutions plays a positive role in protecting the lawful rights and interests of employees. It ensures they run their own affairs, brings vitality to these organizations, and helps them flourish and prosper.
The socialist legal system with Chinese characteristics, with the Constitution at the core, is improving, providing a solid legal guarantee for the people to play their role as masters of the country.
Social equity and justice prevail. The fundamental strategy of governing the country by rule of law has been fully implemented. China has succeeded in coordinating law-based governance, exercise of state power, and government administration, and in integrating rule of law for the country, the government, and society. Reform of the judicial system and mechanisms has advanced. The rule of law plays a greater role in representing the people's interests, reflecting their wishes, protecting their rights and interests, and improving their wellbeing.
Social equity and justice – goals of the rule of law – are manifest in the whole process and every aspect of legislation, law enforcement, judicature, and law observance. The principle that judicial activities must serve the people is applied in full, and judicial credibility has seen a notable improvement. People can see for themselves that China is moving closer to the goal that equity and justice are served in every judicial case.
3. Flourishing Cultural Sector
In a moderately prosperous society in all respects, material progress should go hand in hand with advances in culture and ethics. The country's economic strength and its cultural soft power should increase together. The people should have sufficient food and other daily needs, but they should also conduct themselves with dignity and a strong sense of morality.
Under the leadership of the CPC, the people have followed a socialist path of cultural development with Chinese characteristics, raising their awareness of and reinforcing their confidence in Chinese culture. The development of a great socialist culture has reshaped China's national psyche. Chinese people now have richer cultural activities and greater inner strength, and they have changed their outlook in profound and positive ways.
The ideological foundations of collective endeavor are growing stronger. Socialism with Chinese characteristics and the Chinese Dream are heartily embraced by the nation. Popular support for the CPC, socialist system, and reform and opening up is running high; love of the country and ethnic unity resonate deeply with the people. The public has more confidence in the path, theory, system and culture of Chinese socialism. The core socialist values and the spirit of patriotism, reform, innovation and hard work are taking root among the people. Qualities of a mature citizenry prevail, including openness, inclusiveness, rationality, dignity, and the desire to excel.
The people's heroes, role models, and iconic figures are the brightest stars of our time, and members of the public are more inclined to admire such individuals and become pioneers of progress. China's revolutionary heritage has been carried forward, and revolution-themed tourism is gaining momentum. By revisiting their revolutionary past, people are motivated to refine their character and carry on the revolutionary faith.
The press, films, television programs, publishing, literary and artistic works, and cyberspace maintain the right tone in public communication, showing the enterprising spirit of mainstream society, creating a positive atmosphere for social development, unity and progress, and filling society with uplifting energy. All this has reinforced the cultural bonds shared by the Chinese and created a stronger sense of national identity among the people.
People are enjoying richer cultural activities (Panel 4). Public cultural facilities, ranging from rural reading rooms and cultural stations to urban libraries, museums, cultural centers, and art galleries, have been steadily improved, and are mostly open to the public free of charge or at a minimal cost. Public cultural services have become more diversified, equitable and convenient. With the appearance of digital libraries, cloud platforms and cloud museums, people can enjoy good-quality public cultural services in the comfort of their own homes.
Panel 4 Progress in the Cultural and Tourism Sectors
Public cultural services are more accessible. At the end of 2020, China had 3,212 public libraries, 618 art galleries, 5,788 museums, 3,327 cultural centers, 32,825 township-level cultural stations, and more than 575,000 village-level cultural service centers. All public libraries, cultural centers/stations, and art galleries and more than 90 percent of museums are open to the public free of charge. Radio and TV covered 99.4 percent and 99.6 percent of the population. There were 3.7 million sports venues in China, with a total floor area of 3.1 billion sq m (2.2 sq m per capita). The rural fitness program covered almost all villages.
The cultural sector is experiencing strong growth. At the end of 2020, China had 60,000 enterprises of designated size1 in the cultural industry, whose revenues for the year approached RMB9.9 trillion. Of this figure, 32 percent came from new business forms. There were 19 national-level cultural industry demonstration parks across the country. The added value of the cultural and related industries reached RMB4.5 trillion in 2020, accounting for 4.4 percent of GDP.
The supply of tourism products has increased. By the end of June 2021, China had opened more than 13,000 scenic areas of Grade A to Grade 5A (including 306 rated as 5A), 45 national and 583 provincial vacation resorts, 300 revolution-themed tourism destinations, and 1,299 towns and villages oriented to rural tourism.
The cultural sector is undergoing sustained, sound development, with new types of enterprise, new forms of business, and new models of consumption emerging at a faster pace. The online cultural industry is growing in strength. Stylish cultural venues, fine cultural products, and creative cultural events meet the demand for greater individuality and diversity, higher quality, and closer connections with the wider world.
The film, television and publishing sectors are booming. Blockbusters jostle for attention during the summer vacation, National Day and Chinese New Year holidays, and bestseller books hit the shelves in a steady stream, regaling citizens with a cultural feast. Effective measures have been taken to foster a wholesome social environment in the cultural and entertainment industries by combating undesirable phenomena. Cultural exchanges with other countries are expanding, enabling people to watch the best artistic performances from around the world without going abroad.
The cultural and tourism industries are more integrated and varied. Sightseeing trips, leisure tourism, farm tours and revolution-themed tourism meet people's varying cultural and entertainment needs, and at the same time promote core socialist values. They introduce travelers not only to China's beautiful landscape but also its splendid culture – an experience that both pleases the eye and nourishes the mind.
Public fitness programs are sweeping the country, in the form of both competitive sports and mass leisure activities. Competing for medals at international events or group dancing in parks – these programs help build healthier bodies as well as stronger bonds among the people. China is becoming a growing power in international sport.
Traditional Chinese culture is preserved and carried forward. Creative evolution and development have injected new vitality, continuing China's cultural traditions, reinforcing its national spirit, and illuminating life in the new era.
More classics and classical arts such as Chinese operas, music, dancing, painting, and calligraphy have made their way into classrooms and become popular among the youth. From old artifacts in museums, historical sites, and texts of ancient books, to intangible cultural heritage passed down through generations, traditional culture is reviving and finding new appeal. Directly felt and experienced, it is becoming more accessible and comprehensible.
Archeological findings have produced more evidence of the origin and evolution of the Chinese civilization and its remarkable achievements. People are increasingly captivated by China's classical arts and awed by its cultural treasures, which speak volumes about the deep roots of the Chinese civilization and the splendor of Chinese history. Celebrations of traditional holidays, including the Chinese New Year, the Lantern Festival, the Dragon Boat Festival, and the Mid-Autumn Festival, continue to observe old customs but also adopt contemporary elements adapted to modern life.
The concepts, values and moral norms of fine traditional culture are still espoused and practiced. They include benevolence, the people-centered approach, honesty, justice, harmony, unity in diversity, filial piety, love for one's family, pursuit of progress, dedication to work, friendliness, advocating what is good and righteous, helping those in difficulties or danger, and acting bravely for a just cause. Rallied by traditional values, including patriotism, collectivism, unity and diligence, the Chinese people are standing stronger together.
The international appeal and influence of Chinese culture is growing. Traditional Chinese medicine, martial arts, Peking Opera, the tea ceremony and China-made films are now found in more countries. Chinese food, scenic sites, TV dramas, variety shows, online literature, and pop music are enjoyed globally. The 56 UNESCO world heritage sites in China are windows to understand the country's past and present.
4. Improving People's Wellbeing
A moderately prosperous society in all respects puts people first and places their wellbeing above anything else. The people are at the center of the philosophy of the CPC. Improving people's lives and wellbeing is the Party's goal as it continues to address their issues of major and immediate concern, and raise their sense of fulfillment, happiness and security. The Chinese people are now leading the decent life to which this nation has aspired for several thousand years. Their rights to subsistence and development are well protected. They have access to childcare, education, employment, medical services, elderly care, housing and social assistance.
People's lives have been notably improved. Personal incomes have grown steadily, with the average per capita disposable income up from RMB171 in 1978 to RMB32,189 in 2020 (Chart 4). Quality of life has improved, with the Engel coefficient of urban residents down from 57.5 percent in 1978 to 29.2 percent in 2020, and that of rural residents down from 67.7 percent to 32.7 percent (Chart 5). Once their basic need for food and other daily necessities has been satisfied, people want a better life, including better food, clothes, housing, and travel facilities. Subsistence-based consumption is gradually giving way to a model directed towards greater fulfillment and comfort. People regard clothes not only as something that can protect them from the elements, but also as something that can make them look more attractive. Food serves not only to fill an empty stomach, but also to provide better nutrition and good health. People also aspire to live in bigger homes and better neighborhoods, and have faster and more comfortable transport. They are fully supplied with daily necessities and own a range of home appliances; car ownership is increasing rapidly. Consumption of services such as catering, health care, education, tourism, culture and entertainment has continued to surge, and now represents approximately half of China's per capita consumer spending. More people have sufficient time and money to explore their dreams away from the hustle and bustle of daily life. Traveling no longer requires lengthy preparation and has added to the pleasures of life. China has entered the era of mass tourism.
Chart 4 Growth in per capita disposable income (1978-2020)
Chart 5 Engel coefficient of urban and rural residents (1978-2020)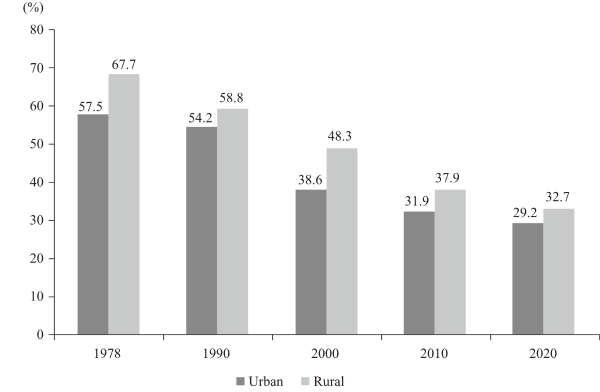 The job market remains stable and the quality of employment is rising. China's employed population rose from 180 million in 1949 to 750 million in 2020. In the past, most working people were farmers. The employment structure has improved to the extent that 47.7 percent of the workforce are now employed in the tertiary sector (Chart 6), and 61.6 percent are working in cities (Chart 7). The working-age population, once mostly illiterate and semi-literate, now has an average of 10.8 years of schooling, and a higher-quality workforce is reflected in the fact that the number of skilled workers has reached about 200 million. Millions of people have found work they enjoy and work that can bring greater happiness to their lives. In the past, people were assigned to jobs. Now they can choose their career freely, based on market needs, or even start their own business. New forms of employment have emerged alongside traditional ones. This has brought a profound change to the mindset of the workforce, broadened their choices, and expanded the forms of employment available. Individuals can tie their interests, hobbies, skills and talents more closely to their job expectations, and to social demand and national needs. This has helped people to realize their personal values and further raised their initiative and their passion for creativity. The employed have seen their lawful rights and interests protected, their pay increased, and their incomes secured. More and more people can find work from which they can draw happiness and dignity. They are creating a better life with their own hands.
Chart 6 Changes in employment of primary, secondary and tertiary sectors (1952-2020)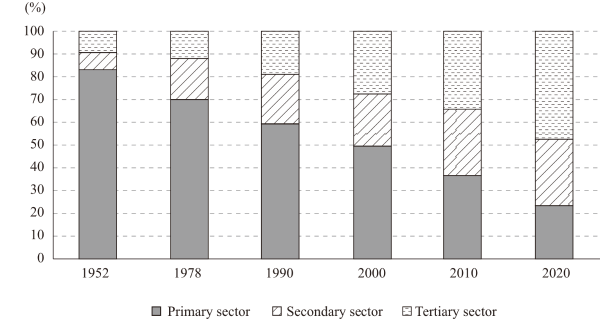 Chart 7 Changes in the urban and rural workforce from 1949 to 2020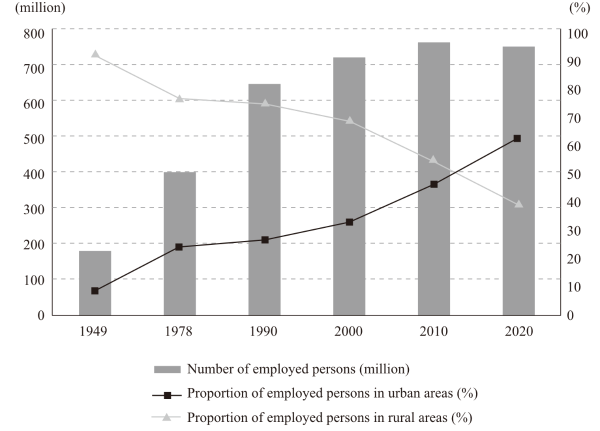 China's policy has progressed from one day off to two days off per week and from the "golden week holidays" to paid annual leave. The rights of working people to rest and leisure are better protected, to help them balance work and life. The idea that work is a most honorable and noble activity has been welcomed, and is practiced by the great majority of the people, who believe that hard work is essential to success in life. The prevailing trend is to advocate, respect and value work.
Education is thriving. China has evolved from a populous country where a vast majority of people were illiterate or semi-illiterate, through one with significant education resources and a huge workforce, to one with high-quality education and human resources. It has established the world's largest education system that spans preschool, primary, secondary, and higher education, ranking in the upper-middle category worldwide in terms of modern education (Panel 5 and Table 1). The enrollment rate in preschool education and the coverage rate of affordable preschool education have surpassed 84 percent, the completion rate of nine-year compulsory education has exceeded 95 percent, and senior secondary education is universally available across the country. Gaps in education between different regions, urban and rural areas, and different schools have all diminished. China's basic education has progressed from providing access to schools and teachers to ensuring the quality of both, and a good and equitable education for all children is becoming a reality.
China's universities and colleges have trained nearly 100 million high-caliber professionals. Enrollment in higher education is surging and the education level now ranks in the upper-middle category worldwide. Its vocational education institutions have trained a large number of highly skilled personnel and craftspeople. In the past, there was no provision of special education; now people with disabilities are guaranteed equal rights to education. A system for lifelong learning is under construction, augmented by internet and digital technologies and offering wide personal choices, and as self-improvement comes to be an everyday activity, a learning society for all is taking shape. Education in China has opened up paths for people to pursue a better life, changed their destiny, turned their dreams into reality, and presented them with more possibilities in life.
Social security covers all people. China has established the world's largest social security system, comprising social insurance, social assistance, social welfare, and support for entitled groups – components of an inclusive, multi-tiered, and sustainable system that guarantees basic living needs. By the end of June 2021, the number of people covered by basic old-age insurance was 1 billion; unemployment insurance, 222 million; work-related injury insurance, 274 million; basic medical insurance, more than 1.3 billion. The law provides that maternity insurance covers all employers and employees.
Panel 5 Achievements in Education
In 2020, China had 537,100 schools at all levels and of various types, with 289 million students and 17.9 million full-time teachers. The gross enrollment rate in preschool education reached 85.2 percent, and the completion rate of nine-year compulsory education 95.2 percent. The net enrollment rate in primary education was just under 100 percent, the gross enrollment rate in junior secondary education 102.5 percent, and compulsory education realized balanced development in 96.8 percent of the counties nationwide. The gross enrollment rate in senior secondary education reached 91.2 percent, and that in higher education 54.4 percent. All primary and secondary schools in China had access to the internet, and 98.4 percent already had multimedia classrooms.
Table 1 Enrollment rate in education at different levels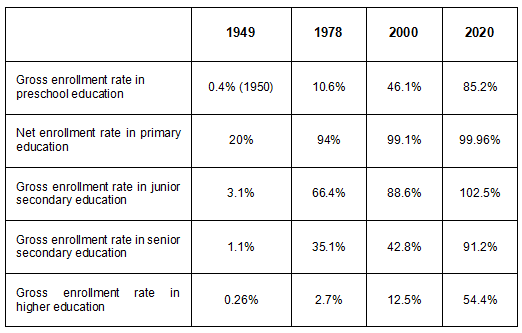 The country has strengthened housing security by building more than 80 million units of government-subsidized housing and housing for people displaced by urban transformation. It has also improved the housing conditions of more than 200 million poor people. Now, the vast majority of households with housing difficulties, either those entitled to subsistence allowances or those with low incomes, are covered in the system, and households with lower middle incomes have seen notable improvements in their housing conditions.
China has implemented a national strategy for addressing population aging, and is developing an old-age service network that coordinates home, community and institutional care, and combines medical care with maintaining good health. Most urban communities have provided home care services available within 15 minutes, which typically include meal preparation and delivery, medical services, and cleaning. More rural neighborhoods have built eldercare facilities such as nursing homes and day care centers. Affordable eldercare services and mutual-aid eldercare saw further development in both urban and rural areas. The elderly can now access professional eldercare in their homes or villages and have access to assistance, leisure, and places to settle.
China has ensured that the 85 million people with disabilities share the benefits of moderate prosperity as it steps up efforts to protect their rights and interests. The system for child welfare and the protection of minors has also improved, providing an effective shield for their healthy all-round growth.
The social security system is becoming more inclusive and offering people sustained guarantees at work, in life, and for their future.
Health care is ensured for all. In its early days the PRC was ravaged by disease and plagued by inadequate medical resources, but it is now capable of effective disease prevention and control, and of providing satisfactory medical services to its people. It has shifted its medical insurance policy from local reimbursement only to trans-regional settlement, and extended its medical services from hospitals only to care provided by growing numbers of contracted family doctors. These represent components of a sound medical and health care system with better allocated medical resources, and help to address the problems of difficult and expensive access to medical treatment (Panel 6).
Panel 6 Achievements in Medical and Health Care Services
Based on its national conditions, China constantly refines its three-level medical service network covering urban and rural areas, with disease prevention remaining the priority. It has given better access to medical services to one fifth of the world's population. In 2020, the number of medical and health institutions in China exceeded 1 million, with 9.1 million beds and 10.7 million health professionals. A basic public health service system is in place, providing disease prevention and control, health education, maternal and child health care, and mental health care, among other professional services.
Equal access to basic public health services is supported by a per capita government subsidy that has increased from RMB15 in 2009 to RMB74 in 2020. Nineteen services including endemic disease prevention and treatment have been added to the 12 categories of basic public health services, provided to the public free of charge.
The average life expectancy in China rose from 67.8 years in 1981 to 77.3 years in 2019; infant mortality declined from 37.6 per 1,000 at the end of 1970s to 5.4 per 1,000 in 2020; and maternal mortality dropped from 43.2 per 100,000 in 2002 to 16.9 per 100,000 in 2020.
Medical technologies and service capabilities have risen as internet applications boost the sector. As part of its endeavor to ensure affordable and effective medical services, China has brought drug prices down to reasonable levels and regularly adds common drugs and life-saving drugs to the medical insurance list. There is no letup in the drive to provide equal access to basic public medical services in both urban and rural areas. A better medical and health care service system and a sound medical insurance system in rural areas have guaranteed medical services for rural residents, and helped prevent people from falling into, or back into poverty due to ill health.
The Healthy China initiative is part of the country's effort to pursue fitness for all and health for all. The results can be seen in the form of lifestyles, approaches to work, and models of social and economic development and governance that are conducive to public health. In public health, China has steadily risen from an average world rating to the front ranks among middle-income countries. China's fight against Covid-19 safeguards the life and health of the people, and its achievements in this battle bear witness to the strengths of China's medical and health care system.
The public enjoy a greater sense of security. From "social management" to "social governance", from "forming a well-designed and effective social management system" to "establishing a social governance model based on collaboration, participation, and common interests", China has refined social governance within the framework of law by encouraging more public participation and applying the latest information technology to provide professional services.
The Peaceful China initiative has yielded remarkable results. Crime prevention and control is stronger, and measures extending to the "last kilometer" have given the public a greater sense of security and satisfaction. An intensified campaign has curbed organized crime, and the "protective umbrellas" that shelter them. The public welcomes a safe and stable environment backed by the authority of the rule of law.
Dispute prevention and problem solving at community level has significantly improved, with an approach under which trivial matters are handled at village level, major problems are settled at township level, and all disputes are addressed locally before they are passed up to the higher authorities. The open and IT-based system has been constantly improved, with grid-based management providing better service to the public and giving rise to a new style of community-level governance. Social governance in urban areas has also made steady progress.
China's overall improvement in social management lifted the public's sense of security to an impressive 98.4 percent in 2020. China maintains long-term social harmony and stability, allowing its people to live in peace and contentment in a country widely recognized as one of the safest in the world.
5. Historic Changes to the Eco-Environment
A sound eco-environment is the most inclusive contributor to people's wellbeing, and a salient feature of moderate prosperity in all respects. To further the interests and wellbeing of both current and future generations, and guarantee China's sustainable development, the CPC has decreed that lucid waters and lush mountains are invaluable assets. It has adopted a basic national policy of resource conservation and environmental protection, and worked hard to build a Beautiful China. Its endeavors have made the skies bluer, the lands greener, and the waters more lucid across the vast and beautiful landscape of the country, and added more green touches to the planet that is home to us all.
China has formulated and enforced stringent systems for eco-environmental protection. It applies the principles and methods of the rule of law into practice in promoting eco-environmental progress. By enacting the strictest Environmental Protection Law in its history, and formulating or amending a range of other laws and regulations, it has created a legal framework on the eco-environment that covers all environmental factors in major fields.
China has established a series of eco-environmental protection systems in areas such as efficient use of resources, conservation and restoration, lifelong accountability for damage, responsibility for and performance evaluation of targets, and central government supervision. The most rigid possible constraints imposed by these stringent systems have resulted in better outcomes in changing the development model, fostering eco-friendly habits among the people, and promoting environmental protection and governance.
China has implemented the system of "river chiefs", "lake chiefs", and "forest chiefs" across the country, managing its river courses carefully as if they were sub-districts in urban areas, and protecting its reservoir areas with the same care as scenic resorts. As a result, designated personnel are in place to tend mountains, plant trees, protect forests, and take on related responsibilities, thus establishing lasting governance of the eco-environment.
China has involved the whole of society in eco-environmental protection. A better system has been established for public participation, including decision-making, scrutiny, and reporting on environmental violations; environment-related information has become more transparent; and public awareness of environmental protection has been raised. The people have therefore benefited from green development while contributing to eco-environmental progress.
China has made strong headway in preventing and controlling pollution. In its drive to keep the skies blue, the waters clear, and the land pollution-free, China achieved the following in 2020:
• In cities at or above prefecture level, 87 percent days reached good or excellent air quality.
• In cities at or above prefecture level that fell short of the national standards, average PM2.5 concentrations decreased by 28.8 percent from 2015.
• The proportion of excellent and good-quality surface water reached 83.4 percent.
• Up to 94.5 percent of the drinking water sources serving urban communities reached the required standards.
• Black and foul water bodies in urban built-up areas at or above the prefecture level were largely eliminated.
• Approximately 90 percent of polluted farmland and more than 93 percent of polluted land plots were rendered safe for use.
• The target of bringing down the imports of foreign solid waste to zero was achieved as scheduled.
In a more beautiful living environment with fresher air, cleaner drinking water, and safer food, the people have enjoyed the pleasures brought by environmental improvements, and registered greater satisfaction with the improved eco-environment and a stronger sense of gain. In 2020, 89.5 percent of Chinese people were satisfied with the eco-environment.
China has improved the health and stability of its ecosystems. Prioritizing resource conservation and environmental protection, and letting nature restore itself, the country has protected and managed its mountain, river, forest, farmland, lake, grassland, and desert ecosystems with a holistic approach. It has improved its management and inspection systems for nature reserves and eco-environmental protection zones, thereby strengthening eco-environmental security and ensuring China's sustainable development (Panel 7).
Panel 7 Examples of Eco-Environmental Progress
Saihanba Mechanized Forest Farm
Since its inception in 1962, the Saihanba Mechanized Forest Farm in Hebei Province has created a miracle from wasteland to woodland, thanks to the hard work and dedication of generations of local people. Compared with the early years, its forest area has risen from 16,000 ha to 77,000 ha, its forest stock has surged from 330,000 cu m to 10.4 million cu m, and its forest coverage rate has soared from 11.4 percent to 82 percent. The farm can conserve and purify 274 million cu m of water, sequestrate 814,100 tonnes of carbon, and release 570,600 tonnes of oxygen every year. Since its founding, the forest farm has accumulated RMB20.6 billion in total assets from an investment of RMB1.8 billion, and elevated its annual revenues from less than RMB100,000 to RMB160 million. Its employees now earn an average annual income of RMB100,000. The forest farm also benefits more than 40,000 people in its community, and has helped 22,000 people move out of poverty. It received the Champions of the Earth award from the UN in 2017.
Shelterbelts in northeastern, northern and northwestern regions
China launched this project in 1978 as a fundamental action to counter the sandstorms and soil erosion in these regions. The project spans 13 provinces and autonomous regions covering a total area of close to 4.1 million sq km, or 42.4 percent of China's land mass. It is scheduled to continue for 73 years through 2050, and plans to develop 35.1 million ha of forests, of which 26.4 million ha, or 75.1 percent, are earmarked for man-made forests. The largest forestation project in the world, it will increase forest coverage in these regions from just over 5 percent to just under 15 percent, effectively curbing sandstorms and containing soil erosion. By the end of 2020, the area of planted trees had increased to 30.1 million ha, and the project areas had seen a rise in their forest coverage to 13.6 percent, and a boom in their forestry, fruit industry and ecotourism, among many other environmental, economic, and social benefits.
Zhejiang's Green Rural Revival Program
It has taken the concept that lucid waters and lush mountains are invaluable assets and put it into sound practice in rural areas. The province started the overhaul of its rural environment in 2003, with a major effort to improve the quality of work and life of rural residents, and especially the eco-environment. The target was to thoroughly improve the environment in approximately 10,000 of its total 40,000 administrative villages in five years, and develop around 1,000 of them into demonstration zones for moderate prosperity in all respects. Through resolute efforts, the program has delivered remarkable outcomes – building up thousands of beautiful villages and making Zhejiang Province the best in the country in terms of rural living environment. It received the Champions of the Earth award from the UN in September 2018.
Through wide motivation and four decades of continuous effort, China has turned forestation and greening into a voluntary activity involving the whole of society. Extending its man-made forests to a total area of 79.3 million ha nationwide, China has transformed deserts into oases, and carpeted the Loess Plateau with greenery. The country has the highest growth in forest resources and the largest area of man-made forests in the world. By the end of 2020, it had raised its forest coverage to 23 percent of its land mass and the vegetation coverage of its grasslands to 56.1 percent, and brought over 50 percent of its wetland areas under protection.
In addition, China has set up a system for eco-environmental protection zones, safeguarding its biodiversity with natural reserves at different levels and of various types now covering 18 percent of the country's land mass. The people can experience more picturesque natural scenes with beautiful mountains, clear waters, green grass, colorful flowers, singing birds, and buzzing insects.
The effort to build national forest cities continues to intensify, turning "forests in cities" into a reality. A total of 468 cities have been part of the greening movement, and vigorous steps to this end have raised the green space to 38.2 percent of urban built-up areas, and the per capita urban park green space to 14.8 sq m. All of this heralds a Beautiful China where the people take care of and live in harmony with nature.
China is embracing a green path to development and a green way of life. As the concept that lucid waters and lush mountains are invaluable assets gains more public support, the whole country has gradually shifted to a path of prioritizing eco-environmental conservation and pursuing green and low-carbon development. It is now moving faster towards an energy-conserving society, with a configuration of land use, an industrial structure, a production model, and a way of life that underpin resource conservation and environmental protection. The economic structure and the energy mix are undergoing constant adjustments, the use of territorial space is improving, eco-friendly sectors such as environmental protection, clean energy, and clean production are thriving, the transition to green and low-carbon development is accelerating, and economic and social development is advancing in parallel with eco-environmental protection.
China tops the world in terms of new energy use and progress in energy conservation. Between 2015 and 2020, its energy consumption per unit of GDP fell by 13.2 percent and carbon emissions dropped by 18.8 percent. Through a range of initiatives including the "toilet revolution" in villages, domestic waste disposal and sewage treatment, domestic waste sorting, treatment of black and foul water bodies in cities, and construction of urban parks, green spaces, and greenways, people in both urban and rural settings now live in a cleaner, more comfortable, and more beautiful environment.
Urban public vehicles, mainly buses and subways, carry over 200 million passengers every day. Roads and facilities friendly to cycling and walking are expanding in urban areas, and more people are favoring green and low-carbon modes of transport. In addition, tens of thousands of households are practicing thrift through actions such as saving food, water, paper, and energy, choosing eco-friendly materials for home decoration, and saying no to over-packaging and disposable products. The nation is turning towards a thrifty, green, low-carbon, and healthy lifestyle.