V.Responding to Global Humanitarian Challenges Together
Public health risks, natural disasters, migrant and refugee crises, and many other humanitarian issues represent an ever greater threat to the whole world today. Pursuing common, comprehensive, cooperative and sustainable security, China always renders assistance to the best of its ability to countries in need, and contributes its strength to tackling major global challenges and improving the global governance system.
1. Providing Emergency Disaster Relief
Actively responding to the calls of the international community, China provided emergency humanitarian aid, including relief materials, rescue teams, and funds, to Indonesia, Mexico, Chile, the Solomon Islands, the Bahamas, El Salvador and other countries that had been struck by earthquakes, hurricanes or other devastating natural disasters.
In 2015 when Nepal was hit by an 8.1-magnitude earthquake, China rushed three batches of materials and more than 1,000 people to Nepal's aid. The China International Search and Rescue Team was the first foreign heavy search and rescue team to arrive in Nepal to help with the relief work. In 2016, after a 7.8-magnitude earthquake jolted Ecuador, China promptly delivered emergency humanitarian aid to the country, with five chartered flights loaded with relief materials to Quito, capital of Ecuador. When Cyclone Idai caused catastrophic damage to Southeast Africa in 2019, China also provided immediate emergency humanitarian aid in the form of goods to Zimbabwe, Mozambique and Malawi, and sent a rescue team to Mozambique.
2. Responding to Public Health Emergencies
China provided emergency aid to the countries struck by Ebola, yellow fever, Zika, plague and other epidemics. It sent five rounds of emergency humanitarian aid worth US$120 million to 13 African countries immediately after Ebola broke out in West Africa, and dispatched nearly 1,200 medical workers and public health experts to Guinea and other affected countries. Standing together with African people through these tribulations, the medical teams quarantined and treated more than 900 cases, conducted tests on nearly 9,000 samples, and trained 13,000 local health workers. China built more than 10 laboratories and treatment centers in Ebola-hit countries. The Ebola treatment center in Liberia was finished in around 20 days, and the Sierra Leone-China Friendship Biological Safety Laboratory was designated as a national reference lab for viral hemorrhagic fever and a national biosafety training center.
In 2020, Covid-19 broke out in many places around the world and spread quickly. China not only ensured its own effective response and sufficient supplies, but also did all it could to aid and assist more than 150 countries and international organizations based on the severity of the outbreaks, their medical and supply capabilities, and their actual needs. This was China's most intensive and largest-scale emergency humanitarian assistance mission since 1949.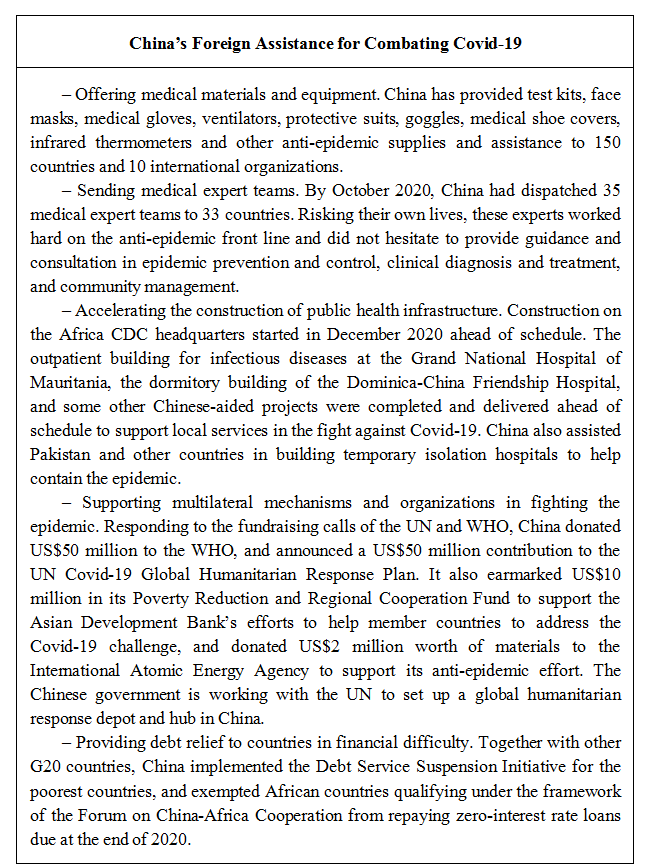 3. Providing Food Aid to Cope with Famine
Extreme weather and military conflicts are threatening global food security. Strong El Niño events have caused famines in many places around the world. To help feed countries with poor crop yields, China has provided emergency food aid to over 50 countries in Asia, Africa and Latin America since 2016, which has benefited over 10 million people. In cooperation with the World Food Programme, by the end of 2019 China had provided food aid to 24 countries in Asia, Africa, Latin America and the Caribbean through the South-South Cooperation Assistance Fund, to protect the most vulnerable populations from food shortage.
4. Assisting Post-Disaster Recovery and Reconstruction
China plays an active role in international emergency response to natural disasters, and continues to offer its assistance in post-disaster recovery and reconstruction after the emergency rescue phase. Following its relief operations in the Philippines responding to Typhoon Haiyan in 2013, China helped build 166 temporary buildings for 20 severely-stricken schools in the devastated city of Tacloban. It assisted Dominica in a rehabilitation project for the West Coast Road and a roof restoration project for the Dominica-China Friendship Hospital, and rebuilt six local schools after the passing of Hurricane Maria in 2017. China also cooperated with the UNDP in the Recovery Project in Federally Administered Tribal Areas and Balochistan of Pakistan, which benefited almost 10,000 families and 20,000 school children.
China emphasizes the importance of comprehensive recovery schemes for disaster-affected countries, providing systematic reconstruction support. In 2015, it developed a package of medium- and long-term aid plans for Nepal's post-quake rehabilitation, covering infrastructure repair, support for people's daily needs, cultural relics restoration, disaster preparation and response capacity, and other fields.
5. Improving Disaster Preparation and Mitigation
China has assisted many countries to overcome obstacles in funding and technology to help them improve their disaster response capacity. China's support takes the form of building disaster management facilities, providing materials for their disaster relief reserves, supporting local communities in disaster preparation projects, offering response capacity training, and devising policies and plans for coping with disasters.
To strengthen the capacity for disaster monitoring and alerting, China established the Working Mechanism for the Belt and Road Earthquake Risk Reduction Cooperation together with 22 countries and international organizations, helped to build earthquake monitoring stations and networks in Nepal, Laos and Kenya, and established the China-ASEAN Earthquake and Tsunami Monitoring and Early-Warning System. In cooperation with the UNDP, China helped Maldives to use drones to monitor rising sea levels and floods to enable better disaster preparation and response in the country. Working with the United Kingdom and UNDP, China implemented the Community Based Disaster Management in Asia Programme, to reinforce the comprehensive disaster mitigation capability of Nepal and Bangladesh.
6. Easing Migrant and Refugee Crises
China always pays close attention to countries and peoples affected by wars, turmoil, hunger, or poverty, and renders selfless assistance to them. In cooperation with the UNHCR, UNICEF, WHO, International Organization for Migration, International Committee of the Red Cross, and other organizations, it has provided emergency humanitarian relief materials such as food, daily necessities, power generators and temporary housing to refugees from Syria and other countries and displaced people in many places, in order to help countries concerned to overcome their difficulties. China also donated anti-epidemic supplies to assist refugees through the United Nations Relief and Works Agency for Palestine Refugees in the Near East.
China supports the efforts of countries affected by migrant and refugee crises to restore their economic and social order and to address deep-rooted causes of the crises through development. It has funded the rehabilitation of an activity center for Palestinian refugees in Iraq to improve their living environment, and opened two schools in Lunda Norte Province of Angola to give refugee children access to education there.