Chinese President Xi Jinping met with Indian Prime Minister Narendra Modi in central China on Friday, saying he expected their two-day informal meeting will open a new chapter in bilateral ties.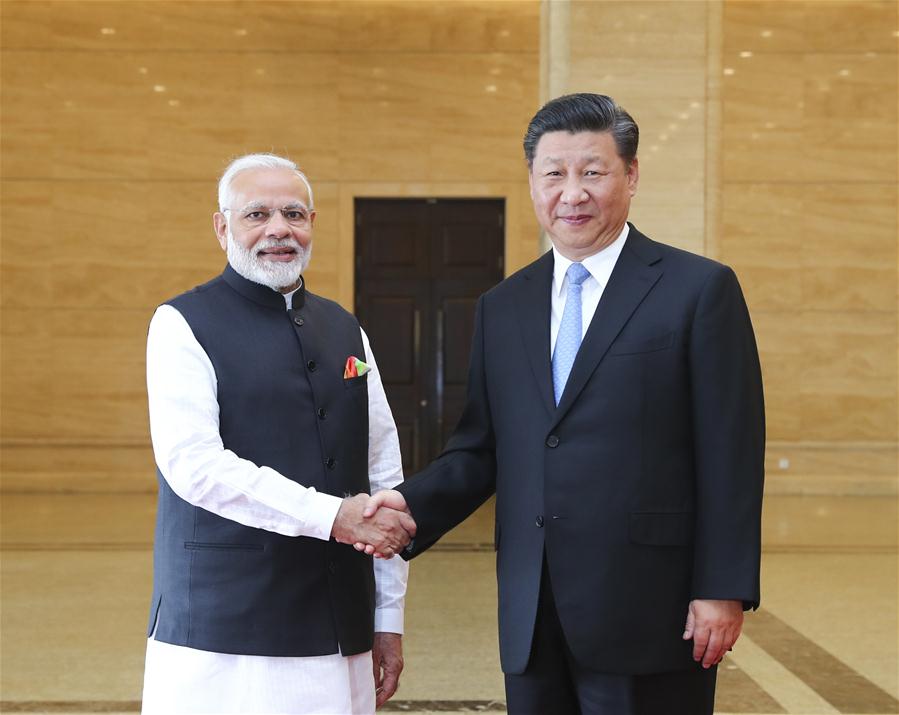 Chinese President Xi Jinping (R) and Indian Prime Minister Narendra Modi visit an exhibition of cultural relics at Hubei Provincial Museum in Wuhan, capital of central China's Hubei Province, April 27, 2018. [Photo/Xinhua]
Welcoming Modi's visit to Wuhan, capital of central China's Hubei Province, Xi said in the past three years, he and Modi have established a good working relationship through mutual visits and meetings at multilateral events.
The two leaders have reached many important consensuses via these meetings, which have sent the world a positive signal on China-India friendship and reflected the strong will of the two emerging economies to enhance mutually beneficial cooperation and achieve common development, according to Xi.
"The great cooperation between our two great countries can influence the world," Xi said.
Xi suggested that both sides should look at the complete picture of Sino-Indian ties from a strategic perspective, so as to ensure that relations between the two countries always proceed in the right direction.
He called for continuous strengthening of friendly relations between the two countries so that their friendship will continue to flow forward like the Yangtze and Ganges rivers.
China stands ready to work with India to establish a closer partnership of development, so as to promote all-round progress in exchanges and cooperation between the two countries in various sectors, Xi said.
Modi said that the informal meeting, which will run until Saturday, has a historic significance.
The prime minister said that maintaining frequent high-level exchanges and strategic communications between India and China is conducive to enhancing mutual understanding and cooperation, which is in line with the common interests of development and prosperity of the two countries and the region. India is willing to work with China to this end, he said.
During their visit to an exhibition of cultural relics at Hubei Provincial Museum on Friday afternoon, Xi said that the culture that rose around the region of Hubei Province in ancient times was an important part of and played a decisive role in the development of the Chinese civilization.
Both China and India are countries with a splendid history and culture, and there are many similarities between cultures of the two countries, Xi said.
The president said that China and India should conduct exchanges in wider areas and at a deeper level, commit themselves to the revival of Eastern civilizations, advocate the respect for diversity of civilizations and promote harmonious coexistence of different civilizations.
Modi said that India and China are both countries that grew from ancient civilizations, and share similarities in the historical development of their civilizations. Cultural exchanges between the two countries go back to ancient times.
Modi called on the two sides to increase mutual understanding, and work together to deal with global issues and challenges using the wisdom of the two countries.
Chinese Foreign Ministry spokesperson Lu Kang said ahead of the meeting on April 24 that the two sides agreed that an informal meeting would be a good idea so that the two leaders can have in-depth exchanges on major issues of common concern in an appropriate atmosphere.