A team of 1,075 firefighters has been honored as role models by the Publicity Department of the Communist Party of China Central Committee for rescuing more than 13,000 people from flooding in Jiujiang, Jiangxi province.
Qin Xuhua, a member of the Jiujiang Fire and Rescue Team that took part in flood relief along Poyang Lake in the province in July, said the disaster this year was more severe than the previous six flood rescues he participated in.
On July 7, Qin's team received phone calls from the city's three counties-Hukou, Duchang and Pengze-at nearly the same time, asking for rescue assistance.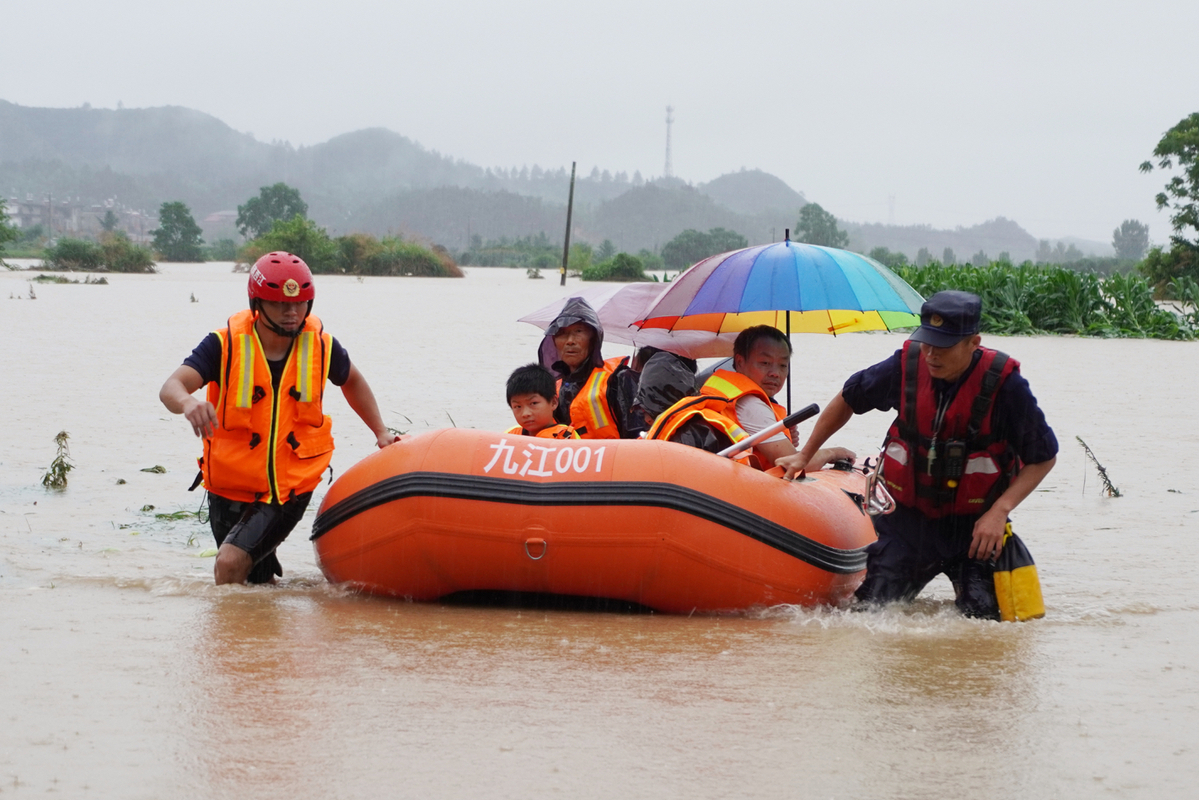 Members of the Jiujiang Fire and Rescue Team take part in flood relief along Poyang Lake in Jiangxi province in July, 2020. [Photo provided to chinadaily.com.cn]
Qin went to Gulou village, Pengze county, where flooding had submerged the first floors of residential buildings. He and another team member evacuated about 240 villagers from the buildings and brought them to shelters in the county with a motorboat that could hold eight people at a time.

Four other members were standing by in two motorboats in the Xiuhe River in case Qin's boat needed emergency assistance.
The river connects with Poyang, China's largest freshwater lake, which was dealing with rising water levels due to heavy rainfall.
On July 12, the water in Poyang reached a record 22.6 meters, more than 3.6 meters above the warning level.
"It was the most challenging flood rescue task ever," Qin said. "We could not work in rotation like before because the limited number of staff members went to several places at the same time."
For nearly the whole month, Qin and his teammates worked for about 15 hours a day, and they consumed only bread and bottled water.
"The river current was as fast as 1.5 meters per second, double the previous flood flow speed on average," he said. "Boats would be hit on the side and could not go straight across the river. I drove against the current and took a detour to arrive in the village."
Qin used a rope to fasten the boat to the houses and a ladder to rescue stranded villagers from roofs or second floors.
Some people asked Qin to evacuate their belongings as well. Qin needed to persuade them to leave as soon as possible without wasting time.
"In swift currents, the boat had the risk of overturning, and we also needed to reassure frightened villagers that we would send them to safety," he said.
"We won't risk anyone's life, and for every task, we prepare for the worst situation."
The confidence comes from their team's hard daily training, top rankings in competitions with counterparts in the province, accumulated experience in disaster relief and skill exchanges with teams from foreign countries.
"All in all, our team's goal is to achieve more efficiency under the premise of guaranteeing each rescuer's safety," he said.
It is normal for Qin to be on call 24 hours a day and be away from home on duty for a month. He said he felt sorry for his wife and two sons, aged 8 and 4.
"Other children have parents play with them in parks on weekends, but my sons usually don't," he said. "However, I don't regret devoting myself to the glorious mission and feel rewarded every time that people I rescue smile and clap for me."
Meanwhile, clusters of petrochemical enterprises in Jiujiang raise the risk of fire disasters, which requires more attention from the city's fire and rescue team.
However, for 15 consecutive years, no serious fires have occurred in the city under the protection of the team.
In 2017, a warehouse at a chemical plant in the city caught on fire. The team dispatched 90 firefighters and five robots to the scene. Team members put out the fire, in which nobody was injured, and prevented waste water from going into the Yangtze River.
Xiang Weiqiang, a 23-year-old team member, said their work was as ordinary as any one else's.
"I don't worry about my safety during my tasks, although I may panic upon hearing about deaths of firefighters. It is my job and I am getting used to it," he said.
"My parents also support my job. And to maintain the honor of our team, I am planning to equip myself with more skills."