An exhibition titled "The Development of China's Human Rights in the New Era" was launched in Geneva on Monday at the UN Geneva headquarters.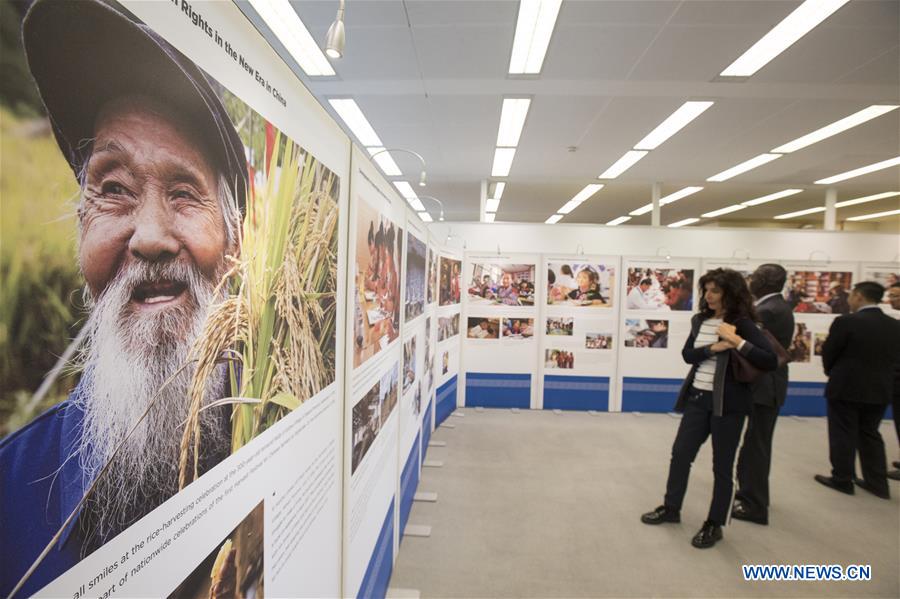 People visit "The Development of China's Human Rights in the New Era" exhibition at the UN Geneva headquarters, in Geneva, Switzerland, on Nov. 6, 2018. [Photo/Xinhua]
The exhibition, jointly sponsored by the Permanent Mission of China to UN in Geneva and the State Council Information Office of China, features more than 100 pictures and 10 micro-videos on progress in China's human rights situation.
China's Vice Foreign Minister Le Yucheng said at the opening ceremony of the exhibition that the cause of China's human rights protection is moving forward to a new era.
Over the past five years, China has taken development as its top priority and contributed to more than 30 percent of world economic growth, Le said.
What's more, China has launched more than 1,500 reform measures to effectively protect citizens' rights in various areas such as politics, the rule of law, health, and education, he added.
Le told the audience that China has participated in international cooperation on human rights and made positive contributions, and China is willing to conduct constructive dialogue on the basis of equality and mutual respect in the field of human rights.
Lu Guangjin, director general of the Department of Human Rights of China's State Council Information Office, said that after years of efforts, China has successfully found a path of human rights development in line with its own reality.
According to Lu, the development of human rights in China adheres to a people-centered principle, and takes the aspirations of the people to live a better life as its major goal.
China has also attached greater importance to the protection of human rights as defined by the rule of law, and laid greater stress on promoting the realization of common rights of all mankind, Lu added.
Around 500 diplomats, representatives from international organizations and non-government organizations were present at the opening ceremony.