An exhibition on ending poverty and hunger and securing the right to food was held at the U.N. Food and Agriculture Organization (FAO) headquarters in Rome, Italy, on June 6.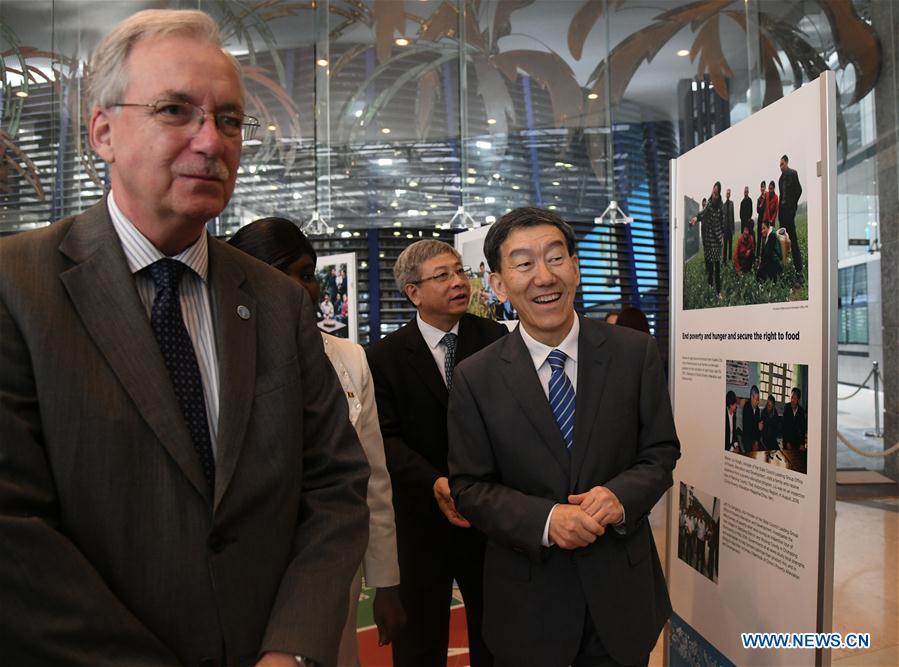 Chinese Ambassador to the U.N. Food and Agriculture Organization (FAO) Niu Dun (1st R) briefs guests on the content of the exhibtion titled "End poverty and hunger and secure the right to food" at the UN Food and Agriculture Organization (FAO) headquarters in Rome, Italy, on June 6, 2018. [Photo/Xinhua]
The initiative was organized by the State Council Information Office of China (SCIO), the Ministry of Agriculture and Rural Affairs, and the FAO. It attracted about 300 representatives from over 100 countries and international institutions.
Ren Xiangqun, deputy director of the Human Rights and Affairs Department of the SCIO, said in her speech that striving for poverty and hunger relief is our common goal and basic human right, and that China has taken respecting and protecting human rights as an important principle of governance.
China will continue to implement targeted poverty reduction and alleviation measures and ensure that, by 2020, all rural residents living below the current poverty line are lifted out of poverty, Ren said.
Chinese Ambassador to FAO Niu Dun said in his speech that, as the largest developing country in the world, China has actively taken part in the global cooperation efforts in poverty relief while addressing the issue within its own border.

He added the FAO South-South and Triangular Cooperation provided the necessary platform for mutual support.
"This kind of innovative model of cooperation will further build a bridge between countries and regions so they can learn from each other, and make exchanges," said Niu.
In his opening remarks, FAO Deputy Director General for Programs Daniel Gustafson said that China is moving fast towards its goal of eradicating poverty 10 years ahead of the SDGs deadline (2030), and that the country has a lot of experience to share with the international community.
The photo exhibition presented China's efforts to advance poverty and hunger eradication, as well as an in-depth look at its successful work through global cooperation to secure the right to food.