The government will adopt more targeted measures to benefit China's foreign trade enterprises and ensure stable growth and higher quality trade, government officials said on Wednesday.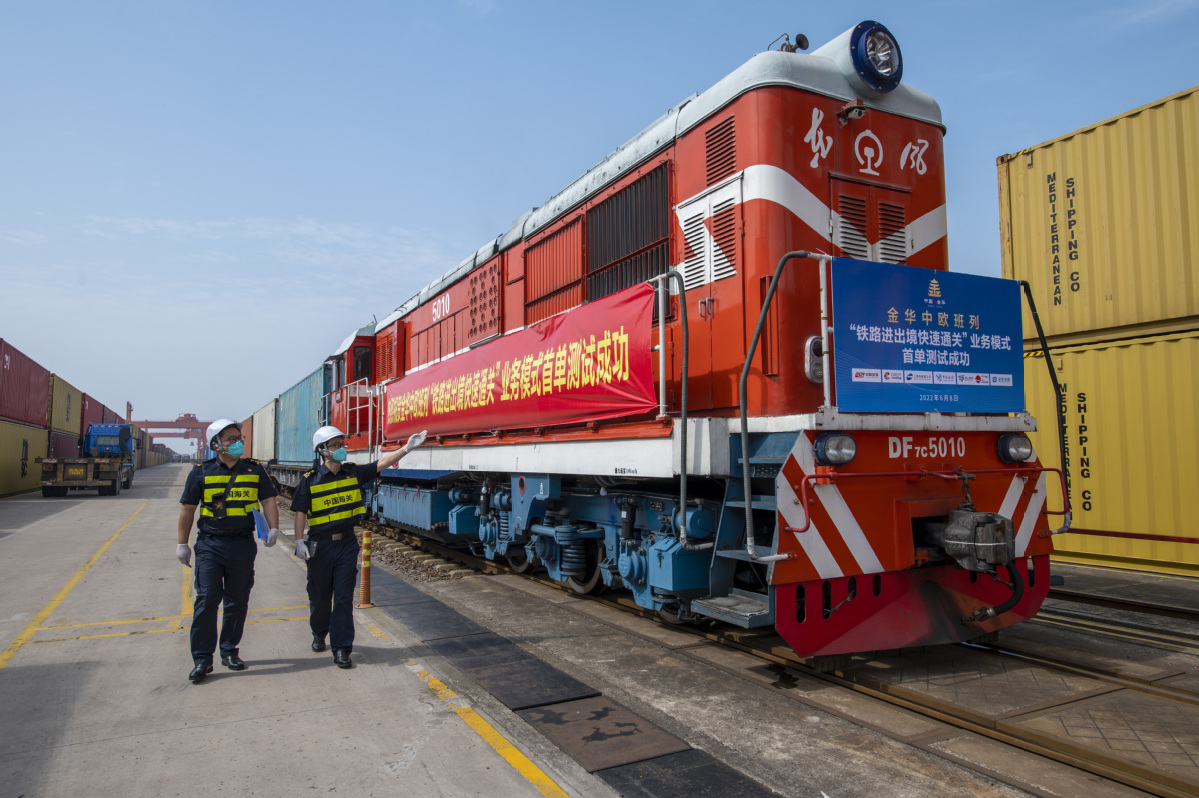 A freight train is ready to leave Jinhua, Zhejiang province, for Central Asian countries on Wednesday. [HU XIAOFEI/FOR CHINA DAILY]
The planned measures will seek to resolve major problems faced by such enterprises so that they could meet challenges arising from the current difficult situation, they said.

Wang Shouwen, vice-minister of commerce who is also China's deputy international trade representative, told a news briefing that the Commerce Ministry will initiate action to further lower costs for the country's foreign trade enterprises.
To inject new development impetus into the nation's foreign trade, the ministry will roll out measures to improve foreign trade enterprises' profitability and smooth transportation and logistics, and help enterprises cultivate new clients and clinch new orders.
The ministry will also facilitate the development of new foreign trade formats like cross-border e-commerce and overseas warehouses.
"We are confident and also capable of ensuring expansion and upgrade of foreign trade," Wang said.
From January to April, China's foreign trade expanded 10.1 percent year-on-year to $1.98 trillion. But in the same period last year, foreign trade grew by 38.7 percent year-on-year, official data showed.
Wang said external and internal uncertainties like the weak global economic recovery, softer demand, high-level global inflation, performance decline in domestic logistics, some clogs in industrial and supply chains, and elevated raw material prices have all piled pressure on the foreign trade sector.
Jin Hai, director-general of the Department of General Operation in the General Administration of Customs, said Customs authorities will continue to enhance regulations and services to guarantee smooth export and import logistics.
They will also fine-tune specific measures at local levels to ease burdens of enterprises and stabilize their expectations.
Facing domestic and external uncertainties and complexity, the Chinese authorities have been making diligent efforts to ease burdens of foreign trade enterprises, facilitate import and export expansion, and upgrade foreign trade.
A guideline the State Council, China's Cabinet, unveiled on May 26 specified 13 targeted measures, requiring fine-tuned services for foreign trade enterprises and unimpeded cargo logistics.
It also said the country should boost development of cross-border e-commerce; strengthen financial support; accelerate the application of hedging tools to manage exchange rate risks; promote online platforms to expand imports and exports; encourage the firms that make value-added products to go overseas; and guide relocation of process trade-related labor-intensive industries to interior regions.
Zhou Yu, an official with the international department of the People's Bank of China, the country's central bank, said at the news briefing the PBOC will continue to reduce financing costs of the real economy, including stepping up financial support for foreign trade enterprises.
The PBOC is instructing its subordinate branches and financial institutions to issue specific implementation plans of the 23 measures it released jointly with the State Administration of Foreign Exchange on April 18, to bring real benefits to foreign trade enterprises, Zhou said. The 23 measures aim to support the businesses and people affected by the COVID-19 outbreaks.
Analysts said the resurgence of domestic COVID-19 cases in some key manufacturing and export hubs such as Shanghai and Shenzhen in Guangdong province since March has affected the growth momentum of foreign trade in April and May.
April is estimated to have endured the most severe impact, while starting from May, the disruption is believed to have gradually faded, they said.
Wang said as the epidemic is coming under better control, and with the orderly resumption of production and business operations coming, the advantages of China's complete foreign trade industrial chain will be better unleashed and ensure the nation's competitiveness in foreign trade.
The newly released policy measures as well as the tariff cuts and trade facilitations made possible by the free trade agreements that China signed will also help foreign trade to develop, he said.
Gao Lingyun, a senior research fellow at the Institute of World Economics and Politics, which is part of the Chinese Academy of Social Sciences, said he believes China will realize this year's goal of expanding foreign trade and upgrading the quality of trade.
That is because Chinese products are expected to have greater competitiveness in global markets, thanks to the ongoing industrial upgrade in China-and the implementation of the continuously fine-tuned domestic policy measures will also shore up foreign trade growth, said Gao.