More support will be given to the development of industries to promote the rejuvenation of China's rural areas and shore up the achievements of the country's poverty alleviation campaign, a senior agricultural official said on Wednesday.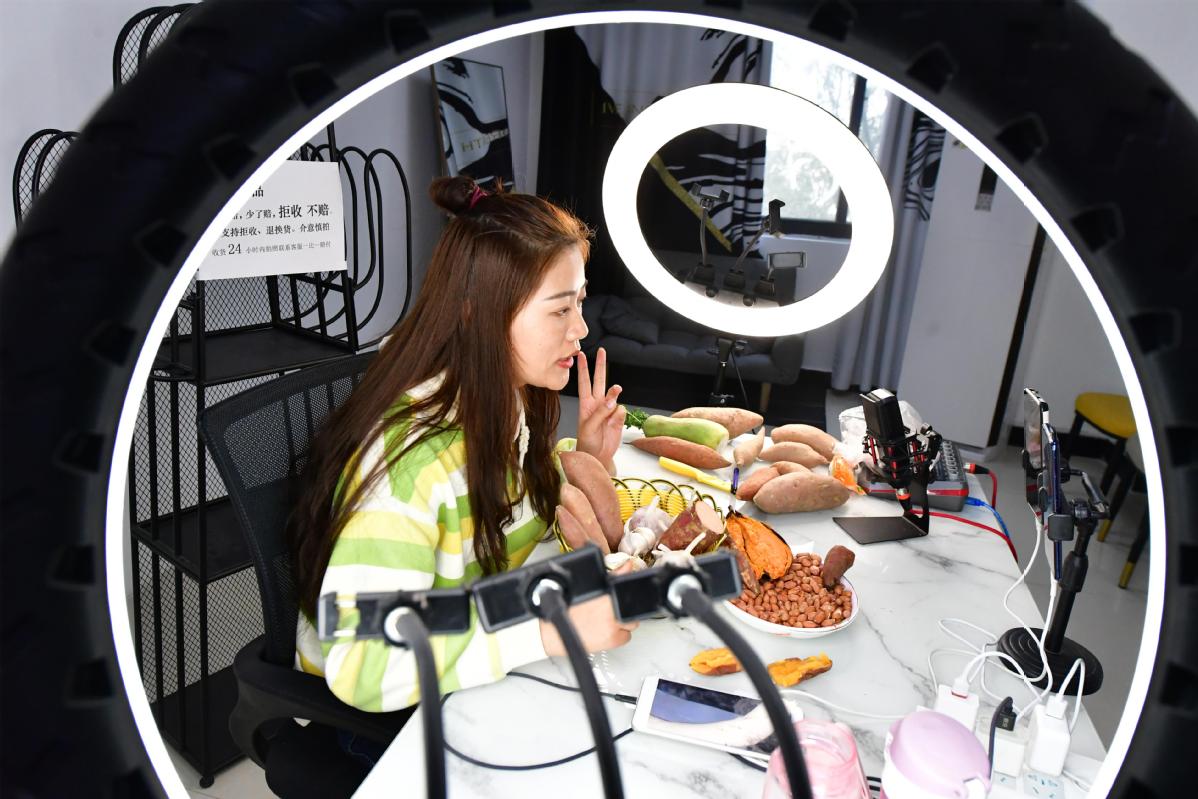 A seller introduces farm products during a livestream in Qixian county, Henan province, on Oct 29. The county has promoted online business models in recent years to create jobs, reduce poverty and increase people's incomes. [Photo/China Daily]
The Ministry of Agriculture and Rural Affairs will organize authorities in areas that have recently shaken off poverty to formulate plans for the development of suitable industries over the next five years, Liu Huanxin, vice-minister of agriculture and rural affairs, said.
China removed the last rural counties from its poverty list in the past month. The achievement is a key part of the goal of building a moderately prosperous society in all respects by next year's centenary of the founding of the Communist Party of China.
More support will be provided to promote sales of agricultural products, including accelerating the building of basic infrastructure such as storage and cold-chain logistics, and promoting the establishment of stable partnerships between rural areas and sales and distribution companies and e-commerce platforms, Liu told a news conference in Beijing.
The ministry will increase support in areas including finance, insurance, land use and talent cultivation to support the high-quality development of leading agricultural companies and rural cooperatives, he said.
It will also expand technical and talent support to rural areas in developing agriculture-related industries, and improve the training of farmers and technicians so they can contribute more to the overall prosperity of rural areas.
Various agriculture-related industries, including agricultural production and processing, have developed rapidly in poorer parts of China in recent years. The ministry said they have played an important role in alleviating poverty.
Such industries have benefited almost all people previously living in poverty in rural areas. The ministry said that as a result, the average per capita income of residents who benefited from the industries was 9,808 yuan ($1,500) last year, up from 3,416 yuan in 2015 and representing an average annual increase of 30 percent.
Xie Hui, chief of Yunnan's Provincial Department of Agriculture and Rural Affairs, said 26 leading industries for poverty alleviation had taken shape in the province over the past five years, benefiting nearly 1.7 million households who had been living in poverty.
In recent years, government investment in such industries in Yunnan, a mostly mountainous area in southwestern China, has exceeded 10 billion yuan a year, and major industries such as tea and fresh flower production have gained national fame, he said.
Wei Baigang, chief economist at the Ministry of Agriculture and Rural Affairs, said sales of agricultural products in some areas were temporarily interrupted at the beginning of the year due to COVID-19 outbreaks, and various relief measures were taken to minimize the impact.
In general, sales of agricultural products grown in poorer parts of China have been smooth this year, he said, adding that agricultural authorities will take more measures to ensure that continues and farmers' incomes increase steadily.