With China in the final stretch of a nationwide poverty-relief campaign, it has beefed up surveying and assistance measures to guarantee that people who have just got out of poverty stay above the nation's poverty line, a senior official said on Wednesday.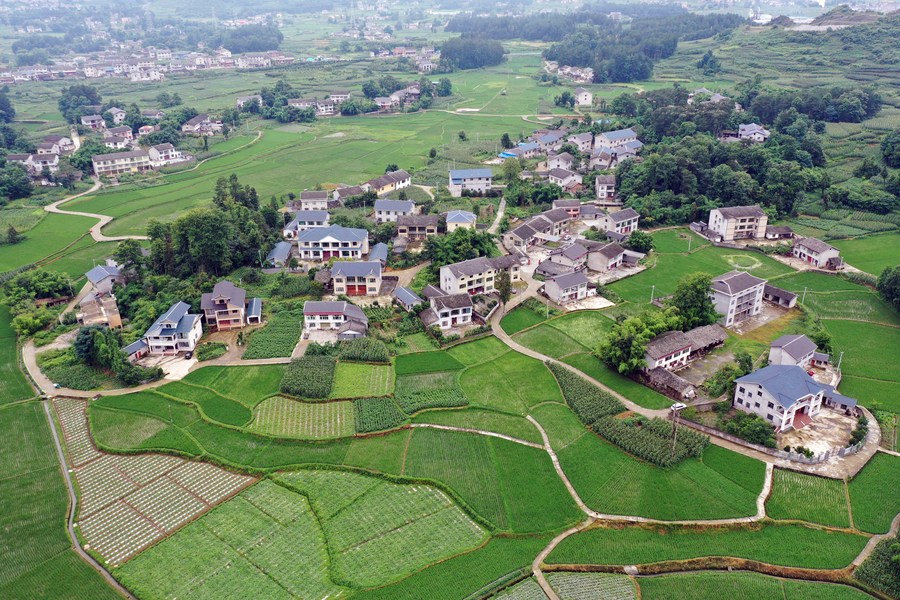 Aerial photo taken on July 1, 2020 shows a view of Fenghua Town of Suiyang County, southwest China's Guizhou Province. [Photo/Xinhua]
While all 832 counties designated by the government as poverty-stricken in 2013 had shrugged off absolute poverty phase by phase by last month, "judging from the current situation, all poverty-stricken people will be out of poverty by this year's end," Ou Qingping, deputy head of the State Council Leading Group Office of Poverty Alleviation and Development, said at a news conference on Wednesday.

The milestone is expected to be achieved thanks to the government's mobilization of a large amount of resources, helping to address many thorny and historical issues.
"The conclusion of the campaign and the eradication of absolute poverty, however, don't necessarily mean that our work will come to an end," Ou told the conference organized by the State Council Information Office.
Ou said a transitional period will be set to help consolidate all achievements, during which policies and support will still be kept in place for counties that have just been taken off the absolute poverty list, he said, meaning resources mobilized to support the poverty-reduction campaign will generally be maintained.
Continuous financial support is still needed, especially for the millions of people who have been relocated to improve their situations, according to him.
Ou said by consistently surveying people who may return to poverty, his office will also further improve the support mechanism.
A screening conducted by the poverty relief office last year found that about 5 million people are at risk of being affected by new poverty.
As the office further optimizes the survey effort and endeavors to improve the poverty relief information system this year, another 300,000 people who were lifted out of poverty but have inadequate income-or whose income is not stable or only slightly higher than the national poverty line-have also been identified, it said.
China's poverty line was set at an annual income of 4,000 yuan ($609) this year. The exact number is adjusted based on respective regional purchasing power parity.
The survey will prioritize families that have shaken off poverty but whose incomes are not stable and households whose per capita disposable income is less than 1.5 times the national poverty line, Ou said.
More attention will also be given to families whose expenditures this year are remarkably higher than their incomes due to sickness, disabilities, disasters or the COVID-19 pandemic, he said, adding that families who see sharp income decreases will be covered in the survey, too.