China's economic recovery continued picking up steam last month, with major economic indicators further improving as the country's efforts to boost growth amid the COVID-19 slowdown gradually paid off.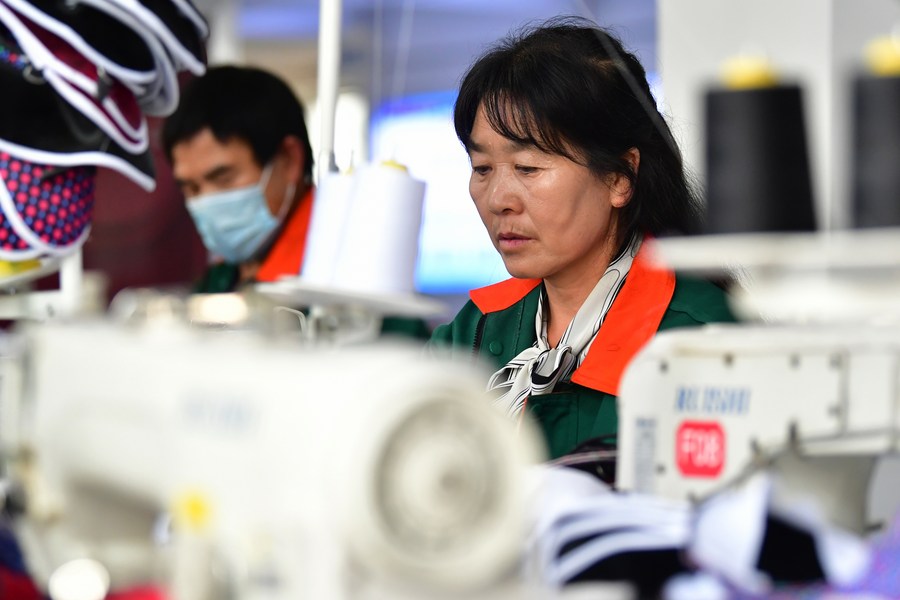 Workers work at a cloth shoes factory in Tuqiao township of Linxia county, Linxia Hui autonomous prefecture, northwest China's Gansu province, Aug. 11, 2020. [Photo/Xinhua]
Industrial output increased 5.6 percent year on year in August, accelerating from the rise of 4.8 percent registered in July, according to data from the National Bureau of Statistics (NBS).
On a month-on-month basis, industrial output rose 1.02 percent in August, also quickening from July's 0.98-percent increase.
In the first eight months, industrial output expanded 0.4 percent from one year earlier, compared with a decline of 0.4 percent in the January-July period, NBS data showed.
The output by the equipment manufacturing and high-tech manufacturing sectors increased 10.8 percent and 7.6 percent, respectively, both markedly outpacing the overall growth in industrial output.
Industrial output is used to measure the activity of designated large enterprises with an annual business turnover of at least 20 million yuan (about US$2.93 million) from their main operations.
Tuesday's data also showed improvements in other economic indicators. The country's fixed-asset investment edged down 0.3 percent year on year in the first eight months, further narrowing from a fall of 1.6 percent posted in the January-July period.
Retail sales of consumer goods, a major indicator of consumption growth, rose 0.5 percent year on year in August, the first annual increase this year, the NBS data showed.