Motorists will soon be able to cross faster between Binondo and Intramuros in Manila City when the China-funded bridge opens this year.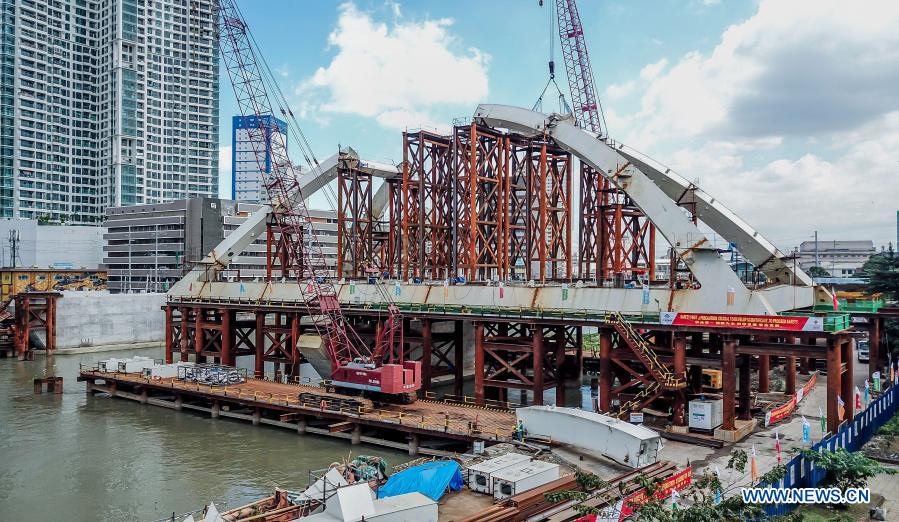 Photo shows the building site of the Binondo-Intramuros Bridge in Manila, the Philippines, Feb. 4, 2021. The construction of the China-funded bridge started in July of 2018. (Xinhua/Rouelle Umali)
The Binondo-Intramuros (BI) Bridge is a steel bowstring arch bridge in Manila City that will connect the Intramuros side and Binondo side over the Pasig River.
Chinese Ambassador to the Philippines Huang Xilian said on Thursday the bridge is 90 percent complete and will open this year.
Huang said over 30,000 motorists will benefit from the project every day. "(It) will substantially relieve the traffic congestion along the river," he said while touring the building site of the bridge.
"The attractive arch design of the bridge will become a new iconic landscape in the region," he added.
Huang and Philippine Public Works and Highways Secretary Mark Villar visited the beautifully designed bridge on Thursday.
The BI bridge is among the China-funded projects in Metro Manila under the Philippine government's multi-billion "Build, Build, Build" infrastructure program.
Another bridge project is the Estrella-Pantaleon (EP) Bridge that connects the cities of Makati and Mandaluyong in the capital city of Manila over the Pasig river.
Huang said the EP bridge is 79 percent complete and is "on track" to open in the first half of 2021.
Huang said the construction of three more China-funded bridges is due "to kick off in June this year."
All the five bridges are important components of the Twelve Priority Bridges Under the Pasig-Marikina River and Manggahan Floodway Bridges Construction Project of the Department of Public Works and Highways which aims to improve the road network and increase the transportation capacity in Metro Manila, Huang said.
"The China-Philippines government-to-government cooperation projects "are entering a new stage of implementation in 2021," Huang said.
With the close cooperation between the neighbors, Huang said the two countries have completed 11 projects, adding that "Twelve projects are being implemented or are about to be implemented."
These include the BI Bridge and EP Bridge Projects, the Philippine-Sino Center for Agricultural Technology-Technical Cooperation Program Phase III, and the Chico River Pump Irrigation Project.
"(These) are expected to be completed by the end of this year," he said, adding there are 10 additional projects that are "under active negotiation."
Huang reiterated China's willingness "to further deepen the synergies of the Belt and Road initiative (of China) and the Build, Build, Build program (of the Philippines to) push forward the cooperation projects according to the needs of the Philippines to help the (Philippine economy recover)."
Villar said that, with the bridge's completion, the traffic condition in Metro Manila will substantially improve.
"Filipinos would enjoy more benefits from China-Philippines friendly cooperation," the embassy quoted Villar as saying.