Under the strong leadership of the Lao People's Revolutionary Party (LPRP) Central Committee, the party's 11th congress will certainly provide new and important guidance and driving force for the development of Laos' socialist cause, said the Central Committee of the Communist Party of China (CPC) in a congratulatory message to the LPRP on the opening of its congress on Wednesday.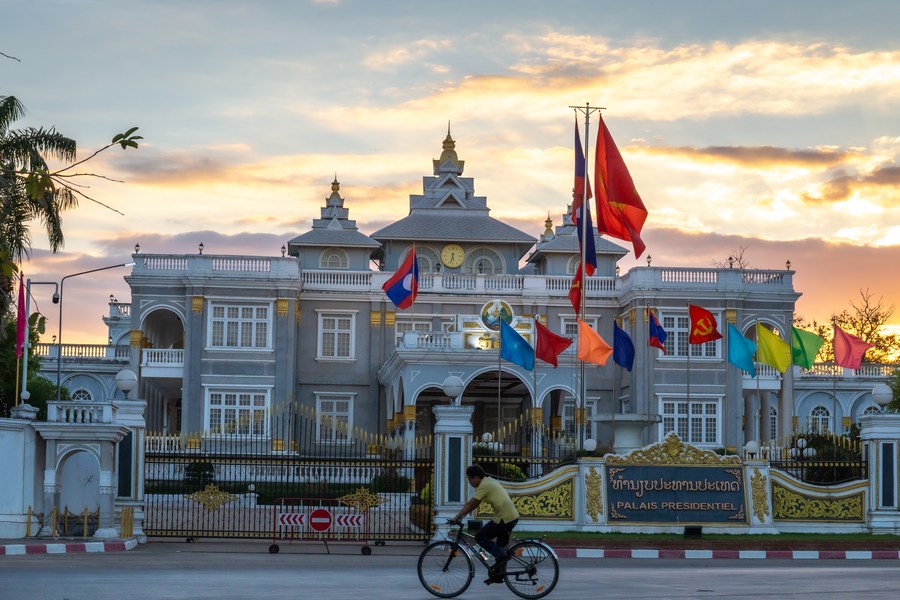 The Presidential Palace is decorated with flags in Vientiane, capital of Laos, Jan. 8, 2021. (Photo by Kaikeo Saiyasane/Xinhua)
Since the 10th congress, the LPRP Central Committee headed by General Secretary Bounnhang Vorachith has attached importance to the party building, continuously consolidated and strengthened the party's leadership, and made a series of important achievements in promoting its cause of socialist construction and innovation by uniting and leading the whole party and the people, said the message.
Faced with the sudden COVID-19 pandemic, the LPRP Central Committee has played a leading role, coordinated COVID-19 prevention and control as well as economic and social development, and maintained political stability, economic growth and the improvement of people's livelihood, from which the CPC draws genuine pleasure, said the message.
In the message, the CPC Central Committee said the 11th congress is an important meeting held when various undertakings of the LPRP and Laos are entering a new stage in history, adding that it will surely have far-reaching influence on the advancement of Laos' socialist cause.
It said the CPC and the Chinese government attach great importance to the relations between the two parties and the two countries, and are willing to work with the Lao side, under the guidance of the principles of "long-term stability, good neighborliness, mutual trust and comprehensive cooperation" as well as the spirit of "good neighbors, good friends, good comrades and good partners," to fully implement the important consensuses reached by the top leaders of the two parties and the two countries.
The CPC and the Chinese government also stand ready to deepen the comprehensive strategic cooperation between China and Laos, and push forward the bilateral ties and the building of a community with shared future to a higher level, so as to better benefit the two countries and peoples and make greater contributions to regional peace, stability, development and prosperity, it added.