The fourth China-ASEAN Information Harbor Forum opened Thursday in Nanning, capital of south China's Guangxi Zhuang autonomous region, hosting discussions on digital cooperation between China and ASEAN countries.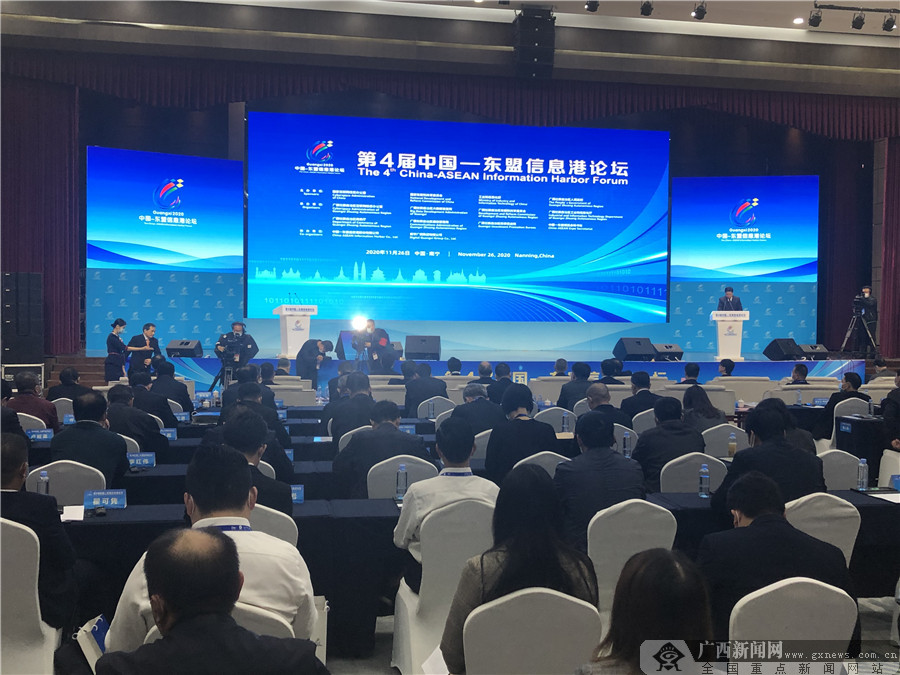 The fourth China-ASEAN Information Harbor Forum opens on Nov. 26, 2020 in Nanning, capital of south China's Guangxi Zhuang autonomous region. [Photo/gxnews.com.cn]
More than 180 people, including government officials, business leaders and scholars attended the event offline.
Themed "digital technology connects ASEAN, intelligence creates the future," the forum features exchanges and discussions on topics including digital economy development, intelligent interconnection, data interoperability, and mutually beneficial cooperation.
The forum seeks to explore new trends in the digital economy and cutting-edge information technology to encourage innovation in the digital economic development of both sides, according to the event organizer.
This year's event involves one main forum and seven sub-forums, along with the China-ASEAN Digital Technology Exhibition, which is being held online.
Multiple speakers have highlighted the role of cooperation in the field of the digital economy amid the global COVID-19 pandemic.
"The digital economy is now front and center for every nation and organization as COVID-19 accelerates technology adoption trends," said Rais Hussin Mohamed Ariff, Chairman of the Malaysia Digital Economy Corporation, adding that he hopes China and Malaysia will grow together and forge a prosperous path as partners and ecosystem collaborators in this new norm.
Keovisouk Solaphom, director general of the Lao National Internet Center, noted that, this year, ASEAN digital ministers and China have adopted an initiative on building an ASEAN-China partnership on the digital economy that will pave the way for cooperation in the coming years.
"We welcome all digital technology companies from China and ASEAN countries to cooperate and invest in Lao PDR," Solaphom said.
"The China-ASEAN Information Harbor, as a major national platform, is an important vehicle to strengthen information connectivity between China and ASEAN and to enhance the level of China-ASEAN economic, trade and cultural cooperation," said Qin Rupei, executive vice-chairman of the Guangxi regional government.
Guangxi will build ASEAN-oriented cloud services, data resource sharing and exchange systems, and big-data development and transaction service systems to promote economic and trade exchanges between the two sides, Qin added.