China and the Association of Southeast Asian Nations will explore new opportunities for deeper cooperation and seek fresh impetus for socioeconomic development at the upcoming 17th China-ASEAN Expo in Nanning, capital of South China's Guangxi Zhuang autonomous region, experts said.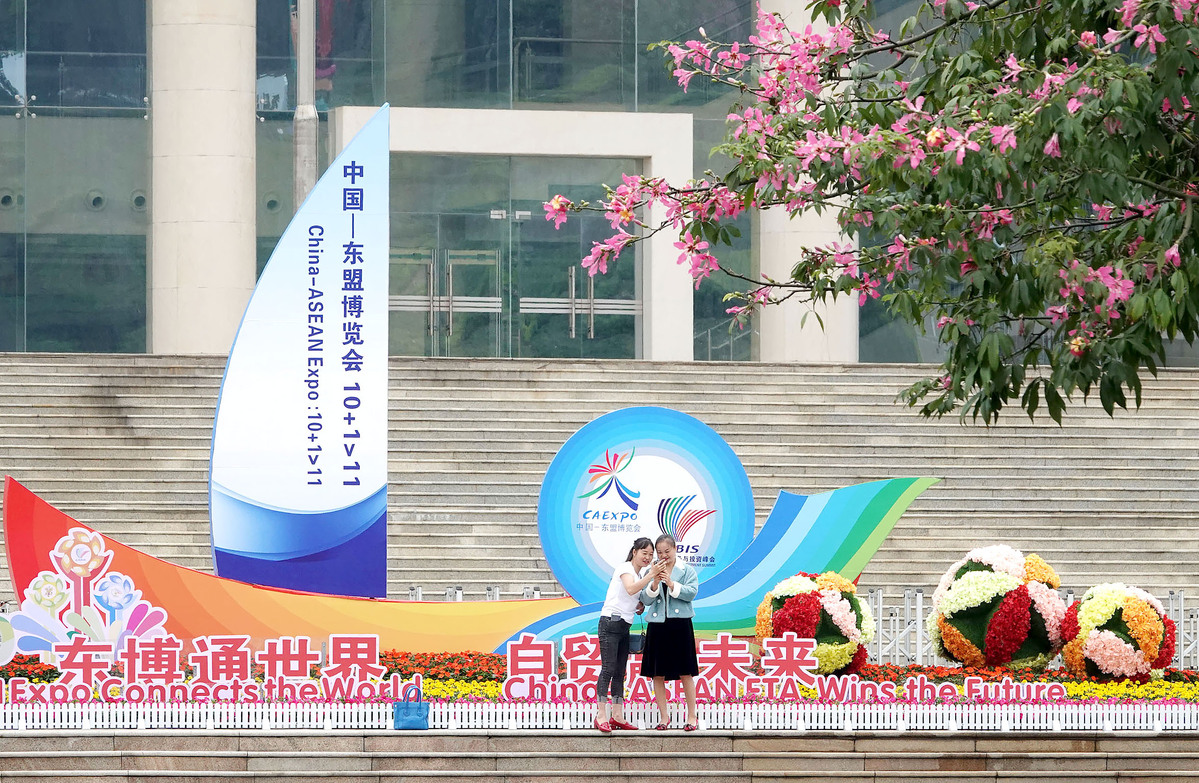 Pedestrians take photographs of a decoration for the 17th China-ASEAN Expo in Nanning, capital of the Guangxi Zhuang autonomous region. [Photo/China Daily]
The CAEXPO, which will be held from Friday to Monday, will also feature nine high-level forums focusing on topics like free trade agreements, healthcare, international industrial production, technology transfer, information harbor, statistics, insurance, electricity, and finance, according to the event's official website.
First launched in 2004, the CAEXPO will also feature a "Belt and Road" exhibition area this time and have a series of activities to promote the Regional Comprehensive Economic Partnership. The RCEP, signed by the 10 ASEAN member states, China, Japan, South Korea, Australia and New Zealand on Nov. 15, covers a total population of 2.27 billion people and a combined gross domestic product of US$26.2 trillion, according to the Xinhua News Agency.
"Economic and trade cooperation between China and the ASEAN has been deepening in the past decade, especially since the start of the Belt and Road Initiative, with trade and investment between the two sides expanding exponentially," said Zhang Jianping, director-general of the Beijing-based China Center for Regional Economic Cooperation.
"The RCEP will help the regional industrial and supply chains to accelerate the integration of the regional market and facilitate free trade and investment," said Zhang.
The CAEXPO will further demonstrate and tap into the economic and trade cooperation potential of China and the ASEAN, to help each other achieve their development objectives despite the tough times, he said.
China and the ASEAN signed a free trade agreement in 2004 and established the China-ASEAN Free Trade Area a decade back. In November 2018, the two sides upgraded the protocol of their free trade agreement to build the largest free trade zone among developing countries.
China has been ASEAN's largest trading partner since 2010. The region became China's biggest trading partner during the first half of this year, accounting for 14.7 percent of the nation's total foreign trade volume, according to data from China's General Administration of Customs.
Despite contracting global trade, economic recession and serious disruptions to travel, China-ASEAN trade amounted to US$481.81 billion in the first three quarters of this year, up 5 percent on a yearly basis, according to the Mission of the People's Republic of China to the ASEAN.
China's exports to the ASEAN stood at US$267.09 billion during the first nine months, up 4.9 percent year-on-year. China's imports from the ASEAN hit US$214.72 billion, a year-on-year increase of 5.1 percent. Vietnam, Malaysia, and Thailand were China's top three trading partners in the ASEAN. The nation's direct investment to ASEAN member states rose by 76.6 percent on a yearly basis to US$10.72 billion.
Zhang said China and the ASEAN are very complementary partners in trade and investment, and the economic and trade cooperation between the two have evolved to be very comprehensive over the years.
Apart from direct trade, China has been helping develop infrastructure and improve connectivity within ASEAN member states. A large number of industrial parks between China and ASEAN countries have also contributed to trade and investment cooperation activities, while the recently signed RCEP, which aims to cut tariffs, further open markets and lower barriers to liberalize trade and investment, is set to boost trade and investment and further integrate the regional market, he said.
Zhou Hao, senior emerging markets economist at Commerzbank, a German lender, said the RCEP demonstrates a new international cooperation approach that incorporates opening-up of trade in services, rather than merely reducing or eliminating imports tariffs.