In-person experience at the third China International Import Expo (CIIE) was a unique memory and overall success for business, a New Zealand dairy company manager told Xinhua on Tuesday.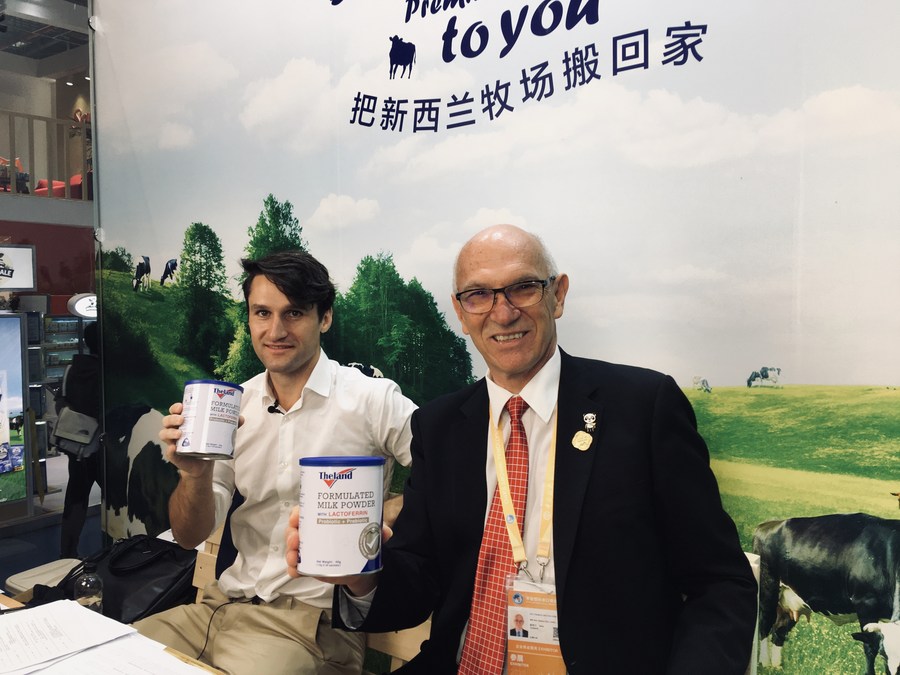 Roy van den Hurk, General Manager of Theland Global R&D, Milk New Zealand Dairy, is doing a livestream broadcasting with Patrick Rosevear, a New Zealander who speaks fluent mandarin at the 3rd China International Import Expo (CIIE) in east China's Shanghai, Nov.10, 2020. [Photo courtesy of Milk New Zealand Dairy Company]
Roy van den Hurk, General Manager of Theland Global R&D, Milk New Zealand Dairy, spoke to Xinhua in his Auckland managed isolation room after his 28-day trip to China, that he was excited to see the company's achievement at this year's CIIE.
Hurk's company signed substantial potential purchase agreements with large e-Commerce platforms in China such as the NetEase Yeation, Alibaba LST and Greenland Global Commodity Trading Hub Group.
"I've always had this fundamental belief that any business always revolves around customers. Our customers are in China, so I have to be in China," said Hurk.
Hurk went into a 14-day quarantine at an isolation hotel upon arriving in Shanghai after a long haul flight from New Zealand in mid-October, having his temperature taken twice a day and multiple tests taken for COVID-19.
Traveling to China also meant having to endure jet lag while dealing with a packed schedule, initially waking up at 3:00 a.m. local time, and missing the rolling hills of New Zealand while being cooped up in his hotel room. When he eventually came back to New Zealand, he needed to stay for 14 days at the New Zealand managed isolation again.
"Personally, I agree with what China is doing. Having tough border measures is the only way you are going to keep the virus out of the population, and this will have the effect of getting places and businesses running properly," said Hurk.
The strict health and prevention methods at the CIIE made him feel safe. "I felt completely safe while at CIIE, and in fact I feel completely safe in Shanghai as well," said Hurk.
After all, Hurk found his sacrifices paid off. "It was worth the 14-day quarantine in Shanghai to come to China, because of the overall success this year at CIIE," said Hurk.
It was the third consecutive year for Theland to participate in the CIIE. The annual CIIE has become a magnet for Hurk and his company to debut their new products and technologies. Hurk said this reflected the Chinese market's growing significance to the global economy.
"At the first CIIE we launched our pasteurized milk 'Fresh Milk' product, and it became very successful following that CIIE. Last year at CIIE we launched the 4.0g/100ml protein milk, which became our most successful product in the following year. This year we launched the 3F (Free Range, Fresh Pasture, and Farm to Glass) standard of safe milk, and make product debuts of Lactoferrin milk powder. We expect this to be as successful as products from previous years. We are also very confident of the China market for many years to come," said Hurk.
The company has already signed a three-year long-term participation memorandum with the CIIE to secure a booth place in next year's CIIE.
"If New Zealand companies want to succeed in China, they need to make good contacts, and CIIE is the best place for that. We are doing it already, as are many other NZ companies. New Zealand government also helped to put together a good NZ pavilion demonstrating our nation's products, and I do not think any of these companies would be at CIIE if they did not consider it worthwhile," said Hurk.
Roy van den Hurk is determined to see his customers in China next year. "The Chinese market is too good to be missed out."