The sixth China and Globalization Forum opened in Beijing on Wednesday. During the two-day forum, foreign ambassadors to China offered their individual insights into global trade trends and prospects for economic recovery at the ambassador's roundtable.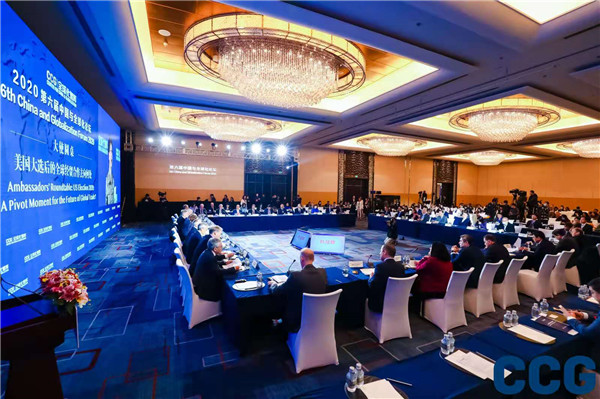 Rahamtalla M. Osman, African Union Representative to China, focused on how economic globalization could promote the development of global trade and economic recovery, and lift more people out of poverty. However, globalization faced many obstacles and the current international trading system harmed the interests of less developed countries, and therefore it was important to cultivate an environment for fairer competition.
Nicolas Chapuis, E.U. Ambassador to China, stressed the importance of continuous openness in global trade. "For the E.U., 85% of growth over the next 10 years will be related to external trade, and we need to connect all the partners," otherwise the E.U. would be "in danger," said Chapuis.
Luca Ferrari, Italian Ambassador to China, commented: "I think we can agree around this table that the COVID-19 pandemic was the second 'black swan' in our century threatening globalization. Most economic recovery will only be possible based on globalization."
The authority of WTO and proper international consensus should also be developed to create a level playing field on a bilateral and global scale, he added.
Noting that the COVID-19 epidemic had caused the rise of unilateralism and political tensions, Laurent Bili, the French Ambassador, suggested channeling capital to less developed countries to promote global economic recovery and ensuring access to vaccines for all countries.
Wim Geerts, Dutch Ambassador to China, appreciated its integration into the global economy and the consequent benefits to both China and the rest of the world.
"We want to work together with China to deepen our economic cooperation in order to deal with the great challenges of our times - food security, healthcare, circular economy and energy transition as we seek to fight climate change," Geerts said.
While referring to the necessity and urgency of WTO reform, Geerts said: "It's more important than ever that big traders in the world assume their responsibilities to ensure the (trading) system functions properly. The Netherlands remains fully committed to a rules-based and multilateral trading system where conflicts can be solved in a fair and transparent manner within the framework of WTO."
Luis Diego Monsalve, Colombian Ambassador to China, commented that being one of the regions worst hit by the COVID-19 pandemic in terms of both healthcare and its economy, Latin America would need a raft of cooperative measures, trade openness and technological investments.
Therefore the region shouldn't be forced to choose sides and instead it needed to remain open to all opportunities brought by its main trading partners including China, the U.S. and the E.U.