It has been 75 years since the United Nations was founded. China's cooperation with the UN is growing stronger and deeper and is entering a new era.
China has taken a more proactive part in international affairs and made greater contributions to world peace and development. China stands for the international system built around the UN.
China plays an active role in safeguarding regional and international peace and security, and participating in UN peacekeeping operations. China also plays an essential role in addressing climate change, and promoting high-quality Belt and Road cooperation.
China and UN founding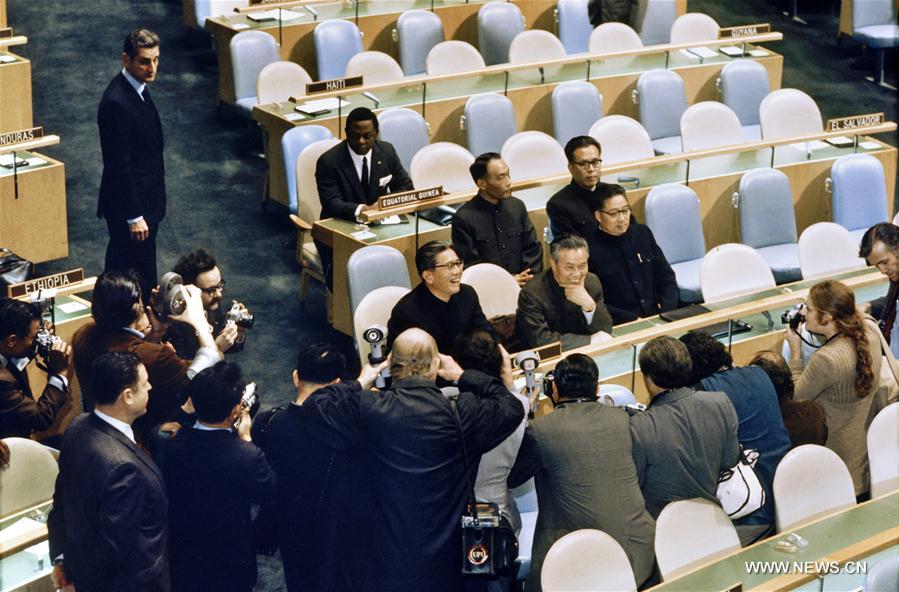 Photographers take pictures of the delegation of the People's Republic of China when the delegation attended the 26th UN General Assembly on Nov 15, 1971. [Photo/Xinhua]
The UN officially came into existence on Oct 24, 1945. China is a founding member of the intergovernmental organization and the first country to sign the UN Charter.

On October 25, 1971, the 26th Session of the UN General Assembly, recalling the principles of the Charter, adopted Resolution 2758 with an overwhelming majority and decided to restore the lawful seat of the People's Republic of China in the UN.
The resolution stated that the People's Republic of China is the only legitimate government of China. The resolution also recognized that the People's Republic of China is one of the five permanent members of the Security Council.
China and UN peacekeeping operations
Over the past 30 years, China has dispatched over 40,000 peacekeepers to 25 operations. Sixteen Chinese military peacekeepers have sacrificed their lives for the noble cause of peace. The Chinese peacekeepers are highly commended by the UN and host countries for their strict discipline and professionalism.
With more than 2,500 peacekeepers on duty as of August 2020, China is the largest contributor of peacekeepers among the five permanent members of the UN Security Council.
In September 2017, China completed the registration of a UN peacekeeping standby force of 8,000 troops. This force has 28 units in ten categories - infantry, engineer, transport, medical, force protection, rapid response, helicopter, transport aircraft, unmanned aerial vehicles, and surface ship units.
In addition, in June 2016, the Chinese Ministry of Public Security set up a permanent peacekeeping police squad, the first of its kind in the world.
China and UN 2030 Agenda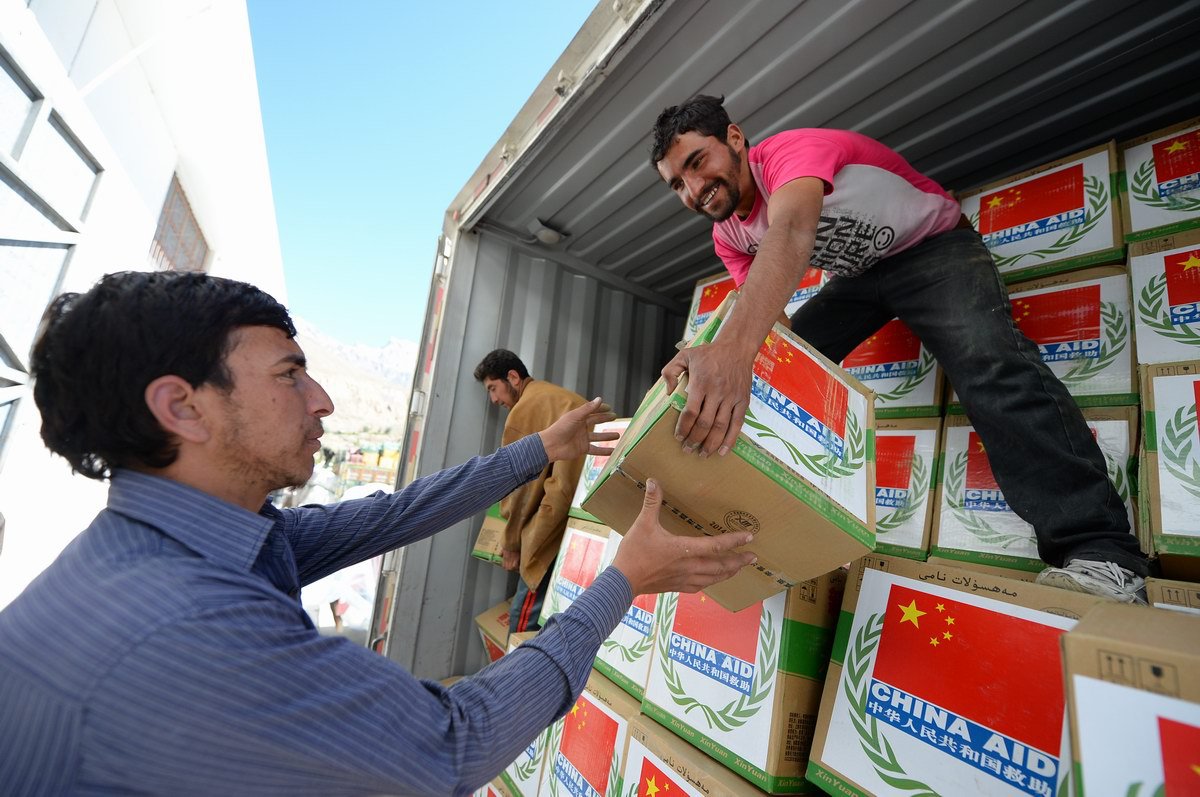 China's aid arrives at Sost, Pakistan, Sept 26, 2014. [Photo/MOFCOM]
China seeks to advance both its own development interests and the shared interests of all nations. In the 40 years since 1978, when reform and opening-up began, more than 700 million Chinese people have been lifted out of poverty. This accounts for over 70 percent of poverty reduction worldwide.

Meanwhile, China has provided over 400 billion yuan in foreign aid and sent more than 600,000 aid workers to nearly 170 countries and international organizations. This is a big contribution to the global fight against poverty and to the development of all countries.
China is ready to share with other countries its experience in targeted poverty alleviation and eradication. Under the framework of South-South cooperation, China will continue to do its best to help other developing countries implement the 2030 Agenda.
China and UN reform
China supports Secretary-General Antonio Guterres' efforts to reform the UN system in the areas of peace and security, economic development and internal management. The reform should be led by member states and give full consideration to the concerns of developing members.
Stable and predictable funding is crucial to keep the UN running. China believes that the "capacity to pay" principle should be upheld and calls on member states to pay their assessments for both regular budget and peacekeeping operations on time and in full.
Since 2019, China has become the second largest contributor to the UN's regular and peacekeeping budgets and will continue to fulfill its financial obligations.
In 2015, a China-UN Peace and Development Fund was established, marking China's strong support for multilateralism and for the UN. Since its launch, the fund has financed about 100 projects and become a new platform for China-UN cooperation.
China's diplomacy at UN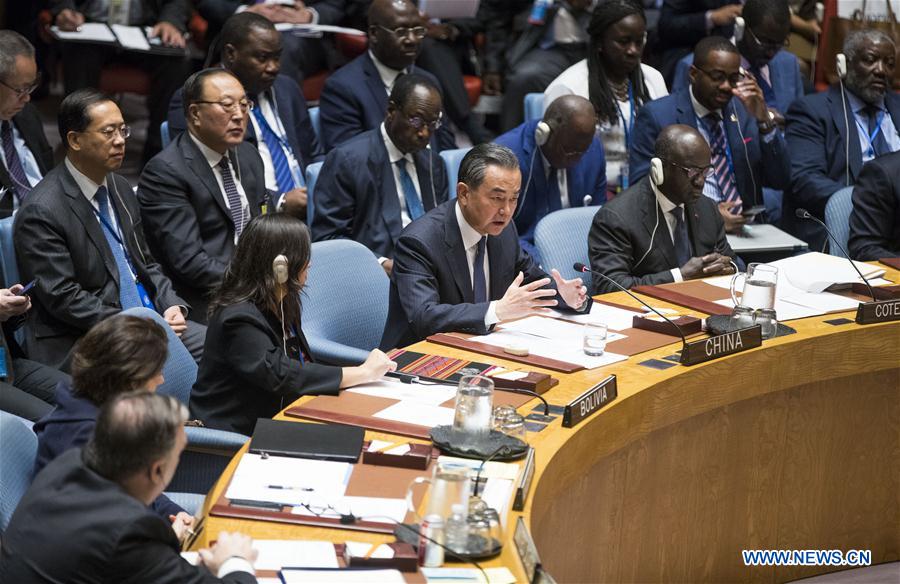 State Councilor and Foreign Minister Wang Yi (center) addresses the UN Security Council meeting on the Korean Peninsula issue at UN headquarters in New York on Sept 27, 2018. [Photo/Xinhua]
As a permanent member of the UN Security Council, China always stands on the side of peace, justice and the purposes and principles of the UN Charter.

China actively looks for settlement of major regional hotspot issues, such as the Korean Peninsula nuclear issue, the Iranian nuclear issue, Afghanistan, Myanmar, the Middle East, Syria, and South Sudan. In its pursuit of solutions to international and regional hotspot issues, China seeks to do it the Chinese way — a peaceful, legitimate and constructive way.
On the Korean Peninsula nuclear issue, China stands for denuclearization, peace and stability on the peninsula and for a negotiated solution.
China thinks the implementation of the Iranian nuclear deal is not only what is required by the Security Council resolution, but also the only way to properly settle the Iranian nuclear issue.
Belt and Road and international cooperation
As of January 2020, 138 countries and 30 international organizations have signed Belt and Road cooperation documents with China. The initiative has become the largest platform for international cooperation and a popular public good in the world.
China has hosted the first and second Belt and Road Forum for International Cooperation. Two separate lists of 279 and 283 practical cooperation deliverables were released at the two forums respectively.
During the second Belt and Road Forum for International Cooperation, a CEO conference was held for the first time, where participants signed project cooperation agreements worth over $64 billion.
China also has initiated 20-plus platforms for multilateral dialogue and cooperation under the Belt and Road Initiative in areas like finance, ports, taxation, energy and environmental protection.
China and global climate change
China is among the first signatories to the UN Framework Convention on Climate Change, and played an important part in the conclusion of the Kyoto Protocol and the Paris Agreement.
Since the adoption of the Paris Agreement, China has worked actively for its ratification, entry into force and implementation worldwide.
At the 2018 UN Climate Change Conference in Katowice, China encouraged all parties to take a constructive approach and show flexibility, and put forward its solutions to key issues, thus playing an essential role in seeing the implementation rules of the Paris Agreement adopted as scheduled.
China supports the initiative of Secretary-General Guterres to convene a UN Climate Action Summit. As a co-lead of the Nature-Based Solutions, China is working closely with all other parties for a productive summit.
China and international arms control
China has stayed a participant in the international arms control treaty system. China is a party to over 20 international treaties on arms control. China follows a defense policy that is defensive in nature, and never takes part in any form of arms race.
China resolutely opposes the proliferation of weapons of mass destruction and their means of delivery. China has established a well-functioning domestic legal system and enforcement regime on non-proliferation export control. China supports the UN and its Security Council in playing a key role in non-proliferation and works actively for the full implementation of Security Council Resolution 1540.
China supports and takes an active part in the international conventional arms control process. China is committed to properly address humanitarian concerns regarding conventional arms. China has provided international humanitarian assistance in mine clearance and sponsored training programs for over 40 countries.