Musicians from China and Malaysia jointly put on a classical music performance here on Tuesday, playing out melody featuring cultural uniqueness to mark the 45 years of diplomatic relations between the two countries.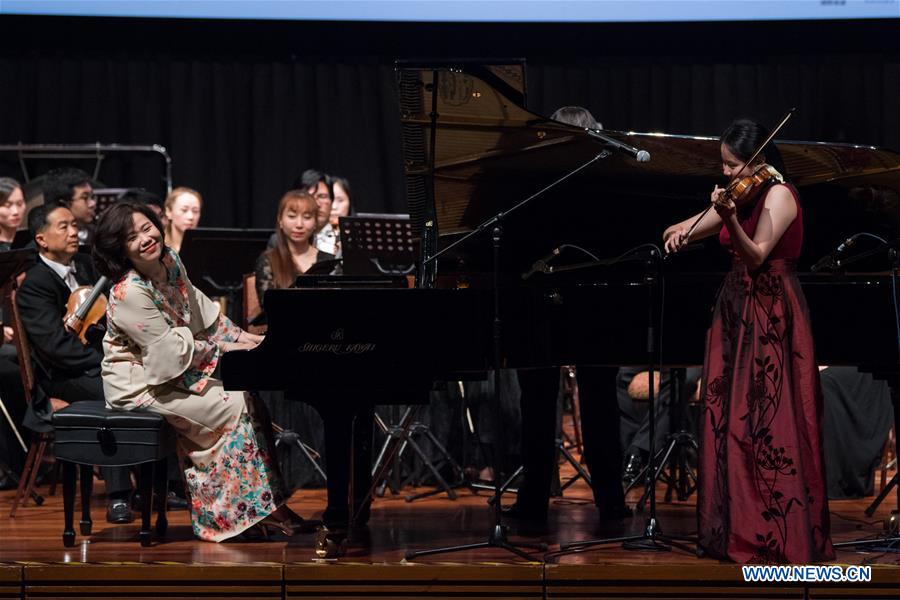 The "Maritime Silk Road Legend Concert 2019" was held in conjunction with marking the 45 years of the diplomatic relations between the two countries, as well-known conductor Tang Muhai guiding the Guangxi Symphony Orchestra conveyed the meaning of Chinese traditional culture and friendship to the Malaysian people through classical music.
The performance drew hundreds of audience including senior Malaysian government officials like Mohamaddin Bin Ketapi, minister of tourism, arts and culture as well as Foreign Minister Saifuddin Abdullah and Education Minister Maszlee Malik.
In his message to the performance, Mohamaddin said he believed that the performances would greatly enhance bilateral cooperation between Malaysia and China.
"The concert could not come at a better time when commemorative activities for the 45th anniversary are picking up steam, and it will definitely bring new vitality to the friendly relations between the Chinese and Malaysian people," said Bai Tian, Chinese ambassador to Malaysia in his message.
The concert started with Overture P. Ramlee Medley, as the brisk Malaysian melodies set the tone of the whole event.
It was followed by two distinguished pieces with Chinese elements, namely symphonic fantasia "The Third Sister Liu"-A Mountain Song Fairy as well as "Butterfly Lovers" violin concerto, which depicted a traditional Chinese love stories with poetic plays.
Claudia Yang, a homegrown Malaysian pianist, and the Guangxi Symphony Orchestra then demonstrated their skills in Piano Concerto No. 1 in E flat Major composed by Hungarian composer Franz Liszt.
The concert reached its climax when the orchestra accompanied Yang in playing the Piano Concerto "Dream of the Red Chamber", which was inspired by one of the greatest Chinese classics and won long lasting applause from the audience.
The concert on Tuesday evening was the first stint of a performance tour jointly hosted by Malaysia's ministry of tourism, arts and culture, the Chinese embassy in Malaysia as well as the China National Arts Fund. The performance will also take place in Kota Kinabalu and Penang, two other Malaysian cities later this week.