The first China-Africa Economic and Trade Expo, due to be held later this month in Changsha, capital of Hunan province, will spotlight cooperation in manufacturing, agriculture, infrastructure and emerging sectors such as finance and cross-border e-commerce, the Ministry of Commerce said on Tuesday.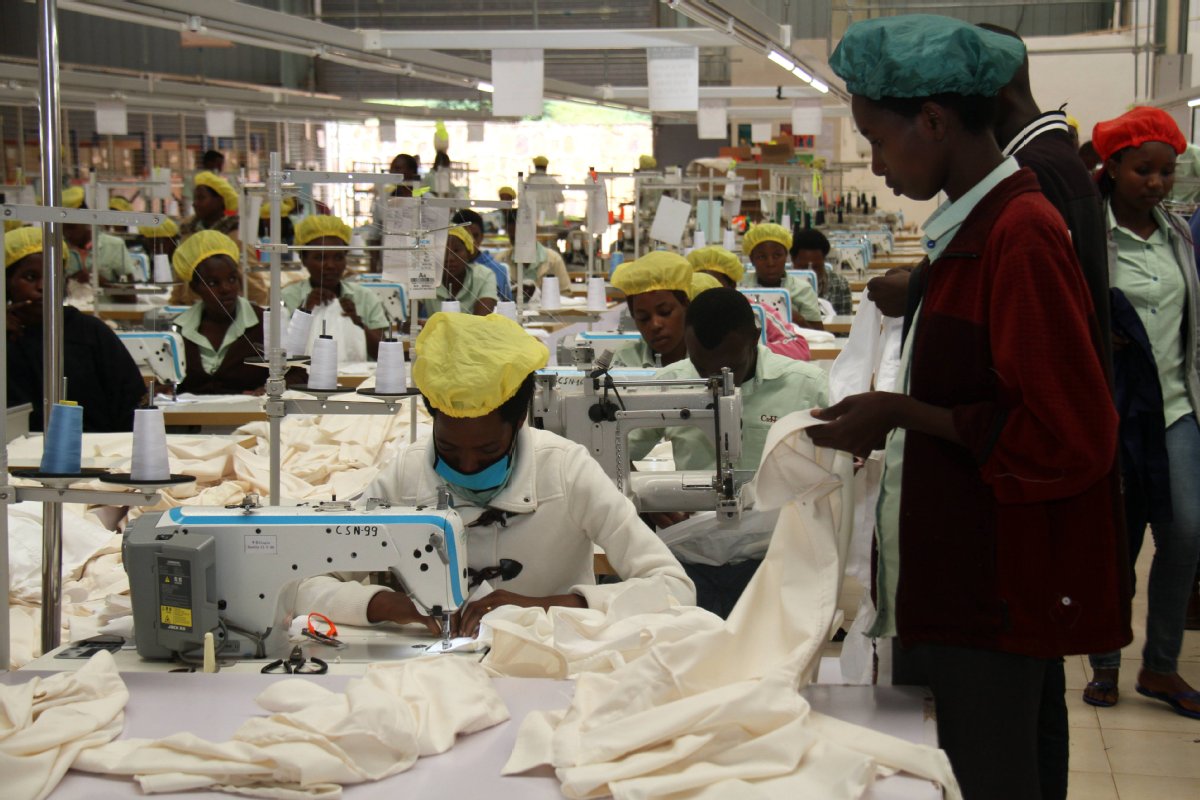 Employees work at a garment factory, which was set up by a Chinese investor, in Rwanda. [Photo/Xinhua]
Qian Keming, vice minister of commerce, said a number of deals were expected to be signed during the expo related to agriculture, manufacturing, infrastructure and the building of trade and economic cooperation zones.
A number of conferences, forums and exhibitions will be held during the expo, which will take place from June 27 to 29. It is a follow-up activity from last year's Forum on China-Africa Cooperation.
"China has been the top trade partner of Africa for 10 years in a row," said Qian, pointing out that China-Africa trade has been growing steadily, reaching US$204.2 billion in 2018, up 20% year-on-year.
He said the structure of China-Africa trade had continued to be optimized in recent years, as electromechanical and high-tech products accounted for more than 56% of China's exports to Africa, while imports of non-natural resource products from Africa had also been increasing.
China's investment in Africa has also seen strong growth, as the ministry's data show that more than 3,700 Chinese companies had set up branches in Africa by the end of 2018, bringing over US$46 billion to the continent.
"Cooperation in emerging sectors is also starting, as Chinese financial institutions have set up over 10 branches in Africa, and eight African countries such as South Africa have included the renminbi in their foreign exchange reserves," Qian added.
He Baoxiang, vice governor of Hunan province, said the expo is expected to yield fruitful results.
"Hunan's economy used to depend on agriculture … and we have a lot of experience to share with Africa," he said.
He said in the past, cooperation between China and Africa had mainly been driven by the central government and large State-owned enterprises. As a result of the expo, this cooperation was expected to include more local governments, as well as small and medium-sized enterprises.
"Africa is home to many agricultural products, but it lacks processing industry, which not only needs the participation of big companies but also small and medium-sized ones," he said. "Food processing is an industry worth more than 1 trillion yuan (US$144.7 billion) in Hunan, thus our companies can find many opportunities in Africa."
Yang Tao, CEO of Kilimall, a Chinese e-commerce company currently operating in Kenya, Uganda and Nigeria, which will showcase its online platform during the expo, said the relative lack of transportation infrastructure had made it difficult to make purchases in Africa.
"But the mobile payment system in African nations is quite advanced, and as the first Chinese e-commerce company operating in Africa, Kilimall has set up its warehouses in Africa and offers sameday and next-day delivery services," he said. "We aim to cover the entire continent by 2021."