A photo exhibition is held in the western American state of Utah throughout May to commemorate thousands of Chinese workers' contributions to building the first U.S. transcontinental railroad.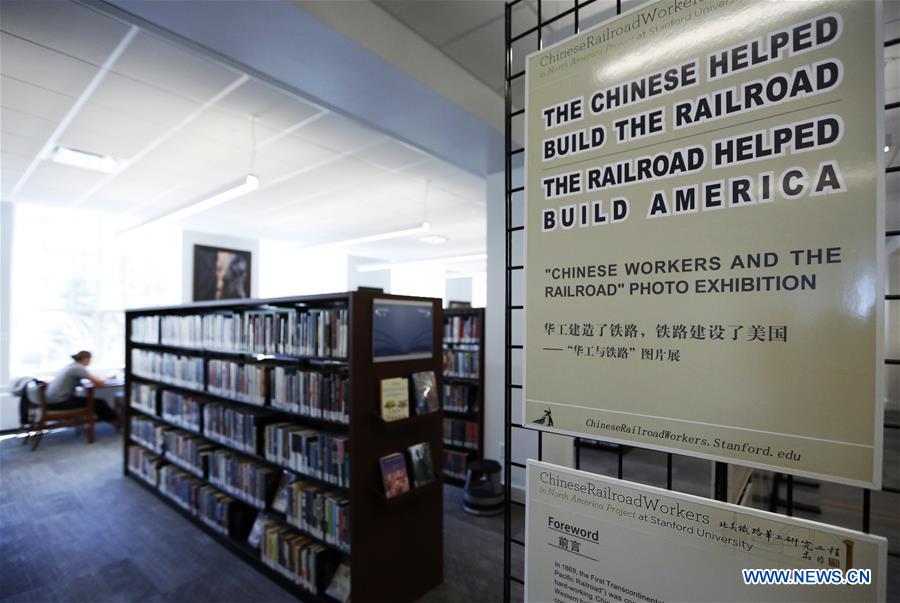 Photo taken on May 11, 2019 shows a view of the "Chinese Workers and the Railroad" exhibition in Park City, the United States. [Photo/Xinhua]
The bilingual photography exhibition, curated by Stanford University and featuring the stories of the Chinese rail workers during the construction of the railroad in 1860s, runs from May 1 to 31 in Park City near Salt Lake City. It also travels to other parts of Utah.
"People from all over the country and even the world have stopped by to see this exhibit. It aims to highlight the contribution of Chinese railroad workers, and let the public know more about that history," said Kate Mapp, adult services librarian of the Park City Library.
Stanford University curated those old photographs in their archives, and compiled the exhibition through chronology of the railroad, with focuses on Chinese workers and their hard work, Mapp told Xinhua.
"The Chinese workers contributed so much to the success of the transcontinental railroad, and should be respected and remembered forever," she said.
Currently, there are some descendants of the Chinese railroad workers living in Park City, according to Mapp.
A series of events was held in Salt Lake City from Friday to Sunday to celebrate the 150th anniversary of the completion of the transcontinental railroad.
The first transcontinental railroad, also known as the Pacific Railroad, was a 3,000-km-plus continuous railroad line linking the eastern U.S. rail network with the Pacific coast.
From 1864 to 1869, 12,000 or more Chinese laborers, among the first Chinese immigrants to the United States, endured harsh working and living conditions to help build the mega project.