The second Belt and Road (BRI) Afro-Sino Art Exchange Exhibition opened in Zimbabwe's capital Harare on Monday evening with more than 120 pieces of art from China and Africa on display.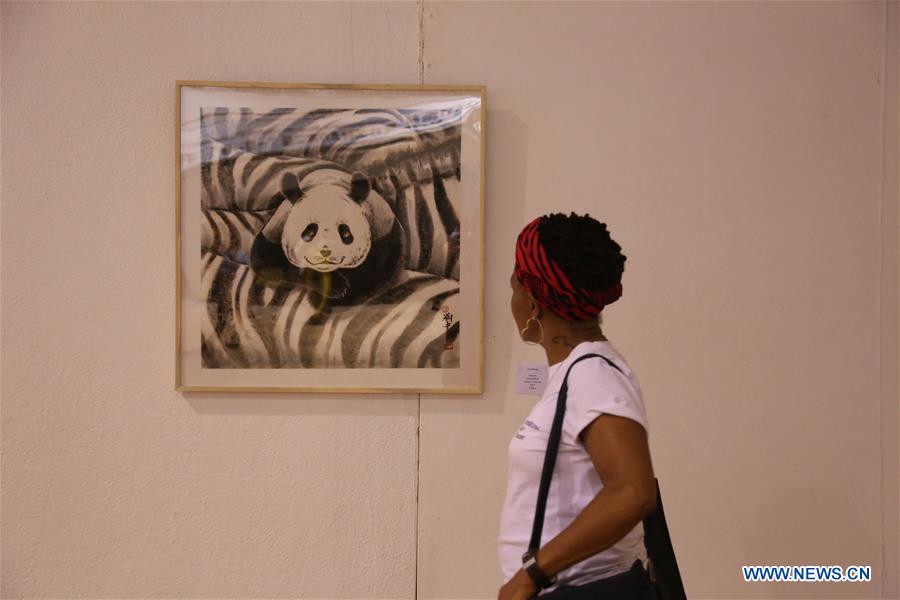 A visitor views an artwork at the second Belt and Road Afro-Sino Art Exchange Exhibition in National Gallery of Zimbabwe in Harare, Zimbabwe, April 29, 2019. [Photo/Xinhua]
More than 21 artists from China are also participating in the exhibition, the brainchild of Afro-Sino Cultural Exchange Association headquartered in Kenya.
The three-day event is being held in Zimbabwe after the southern African country won the bid to host the prestigious event in Beijing last year where the inaugural edition was held.
In a speech read on his behalf at the opening ceremony of the second BRI art exhibition, Kazembe Kazembe, Zimbabwean acting minister of youth, sport, arts and recreation, said Zimbabwe was proud to host the event which promotes cultural exchange and cooperation between Africa and China.
"As host, Zimbabwe is proud of this new program which we hope will become a permanent feature on our National Gallery calendar of events every year.
"I gratefully commend them (organizers) for this vision and effort of networking our artists. It enhances their visibility, entrenches them in international cooperation and indeed widens their market," the minister said.
The exhibition is running under the theme: "South Meeting the East: A Tale of Two Communities."
Some of the art works on exhibition comprise paintings depicting the peoples of Africa and China and their culture, and are drawn from such countries as China, Kenya, Seychelles, Zambia and Zimbabwe.
Kazembe said as part of Zimbabwe government's Vision 2030, the creation of synergies with international organizations through cultural cooperation was important.
"Today we are experiencing South meeting the East, a tale of two communities. This platform helps to create opportunities for the artists from both the South and East to interrogate parallels in their working processes. In addition, artists can exchange information on global discourse."
He said Zimbabwe values the cordial relationship with China while the exhibition at the National Gallery of Zimbabwe further cements cultural exchange programs between China and Africa.
"This privilege affords this second BRI Afro-Sino art exhibition the opportunity to be viewed by a wider audience through educational public programming that involves public and private schools, colleges and universities as well as other international audiences who will visit the gallery to see and experience select art works. This is good for our art," he said.
As part of the event, there will be an art forum for artists to discuss various issues of mutual interest as well as the launch of the Southern African Development Community (SADC) Chapter of the Afro-Sino Cultural Exchange Association.
Speaking at the same event, Chinese ambassador to Zimbabwe Guo Shaochun said the exhibition provides a rare chance for the two sides to showcase their unique strength in art and culture.
He said under the BRI, the Chinese government was attaching greater importance to deepening people to people exchanges, adding that China will in the next five years invite more than 10,000 representatives of political parties, think tanks and NGOs from countries participating in the BRI to share information and experiences.
He said China will engage the Zimbabwe government so that it can in the near future build a Chinese cultural center in Zimbabwe to promote cultural exchanges and cooperation between the two countries.
Dean of Academy of Arts and Design at China's Tsinghua University Lu Xiaobo congratulated Zimbabwe for hosting the exhibition, saying China and Africa have great potential to increase cultural cooperation.
Chairperson of the Afro-Sino Cultural Exchange Association Franklin Asira said the exhibition is a response to China's call for greater cultural cooperation with Africa. He said their organization wants to bring the people of China and Africa more closely through enhanced cultural cooperation.