The China Academy of Art and San Francisco Art Institute, both prestigious art schools in their respective countries, on Friday opened an exhibition and a symposium in San Francisco to explore the role of art in the modern technological age.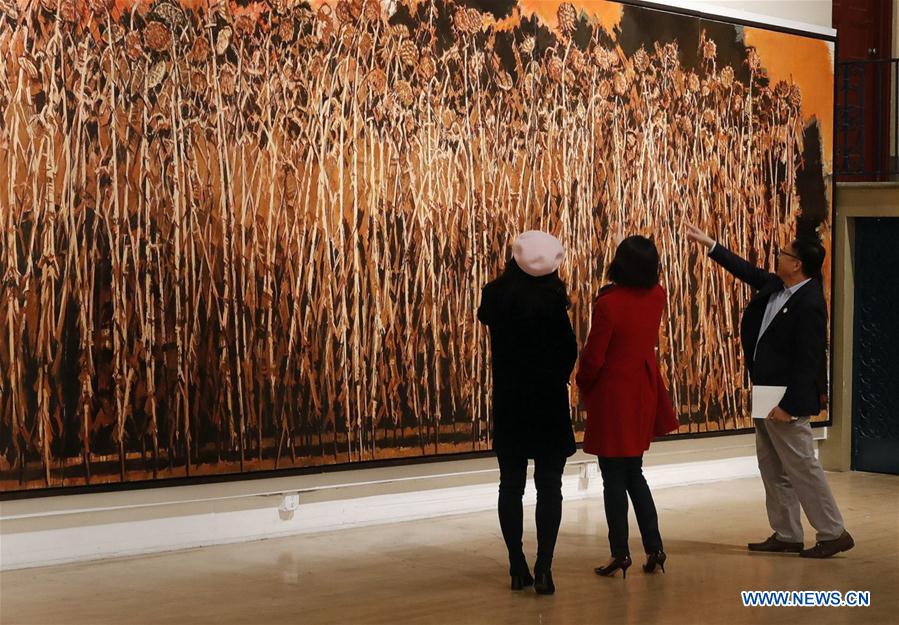 People visit the "From/To: the Frontier of Chinese Art Education" co-hosted by China Acadamy of Art and San Francisco Art Institue in San Francisco, the United States, on Nov. 16, 2018. [Photo/Xinhua]
The exhibition, entitled "From/To: the Frontier of Chinese Art Education," brings the works of more than 40 faculty members of the China Academy of Art (CAA), including oil paintings, ink paintings, sculptures and installments, to San Francisco Art Institute (SFAI) to showcase the distinct Chinese art world and the evolution of traditional Chinese art.
The exhibition, which includes two parts at the SFAI's Chestnut Street campus and Fort Mason campus, will run through Dec. 9.
The exhibition was designed by CAA's faculty and students, which started by inviting artists to ask 90 questions about art.
The questions aimed to generate conversation around the future role and mission of art academies in the modern technological age, said CAA President Xu Jiang.
"The 'from/to' reflects the international vision of CAA. We hope the artist communities in San Francisco and even in the United States can better understand China's art education through the exhibition," said Xu.
Founded in 1928 in Hangzhou as the first art academy with a comprehensive academic program, CAA is honored as "the cradle of modern art education in China."
With over 9,000 students, it upholds its historic mission of revitalizing national art through its support of traditional art forms, while continuing to champion the innovative contemporary works of modern-day Chinese visual culture.
The exhibition is accompanied by a two-day symposium and film series, entitled "Poverty of Sensibility -- Panel 21: Art/Education in the 21st Century III."
Leading scholars from China and the United States, including professors of art history and practice, curators, and art program directors from art schools, galleries and museums, are invited to speak at the symposium from Friday to Saturday.
Xu said CAA was the first art school to start exchange programs with overseas colleges following China's opening-up and reform policy in 1978, and SFAI became the first art school in the West to establish contact with it 32 years ago.
Early this year, the two schools signed an agreement in Hangzhou to strengthen exchanges through exhibitions, symposiums and student exchange programs.
According to the agreement, SFAI will organize an exhibition and co-host a symposium at CAA in Hangzhou next year.