An exhibition of China's Terracotta Warriors has become a hit and contributed 78 million pounds (US$100.5 million) to Liverpool's economy, the exhibitor announced Wednesday.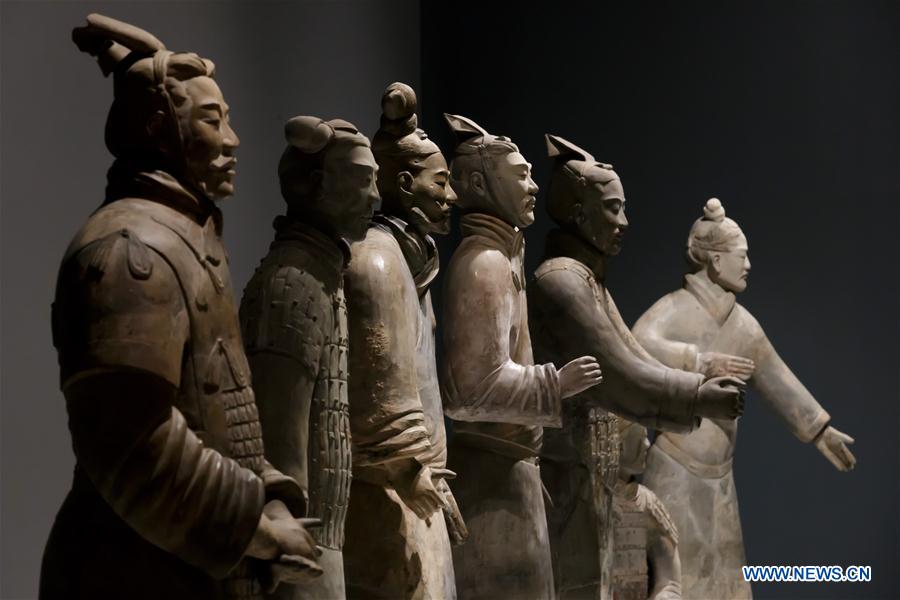 Terracotta Warriors are seen during a reception and private viewing ahead of the exhibition "China's First Emperor and the Terracotta Warriors" at the World Museum in Liverpool, Britain, on Feb. 8, 2018. The stunning exhibition featuring the famous Terracotta Warriors opened to public in Liverpool on Feb 9, 2018. [Photo/Xinhua]
National Museums Liverpool on Wednesday has revealed that its blockbuster exhibition, China's First Emperor and the Terracotta Warriors, is the most popular exhibition ever held by the organization, and it have contributed almost 80 million pounds (US$103.1 million) to the Liverpool City Region's economy throughout its run.

The exhibition has been part of a programme of cultural excellence across the city of Liverpool in 2018 which has included the Biennial, Tate Liverpool's 30th birthday and public celebrations through the Liverpool 2018 initiative to celebrate ten years since the city was declared European Capital of Culture.
As China's First Emperor and the Terracotta Warriors draws to a close this Sunday, the latest figures show that more than 600,000 people will have seen the exhibition in Liverpool since it opened just over eight months ago on February 9, 2018, which far exceeds expectations of around half a million visitors.
That figure includes more than 20,000 schoolchildren on educational visits and an incredible 97,000 visitors on group tours.
The museum's shop has reported sales of 30,980 terracotta warrior fridge magnets and 31,119 replica terracotta warriors, including 13 replica life size warriors.
Laura Pye, Director, National Museums Liverpool, said: "We opened China's First Emperor and the Terracotta Warriors in a wonderful year of culture for Liverpool, with another great Biennial and Tate Liverpool's 30th birthday. Huge public events such as The Giants have celebrated 10 years since we were the Capital of Culture. We're so proud to be part of the fabric of Liverpool's rich culture and to have delivered the Terracotta Warriors exhibition for our visitors this year. "
Sir David Henshaw, Chairman, National Museums Liverpool said: "We are thrilled that so many people have been able to see and enjoy the Terracotta Warriors here in Liverpool."
"More than three quarters of visitors told us that our Terracotta Warriors exhibition was the main reason for their visit to Liverpool. We are delighted to have made such a significant contribution to the visitor economy of the Liverpool City Region," he added, describing it as an " once in a lifetime experience" for visitors to view the exhibition.
An estimated 36 percent of visitors to National Museums Liverpool venues are on staying visits from outside the city region. Using this data, National Museums Liverpool estimates the Terracotta Warriors exhibition has driven around 208,220 staying visits to Liverpool throughout the exhibition from February to October 2018, and a wider contribution to the local economy of over 78 million pounds. (1 pound = US$1.29).