The media center for the upcoming Forum on China-Africa Cooperation (FOCAC) Beijing Summit opened for trial operation on Aug. 29.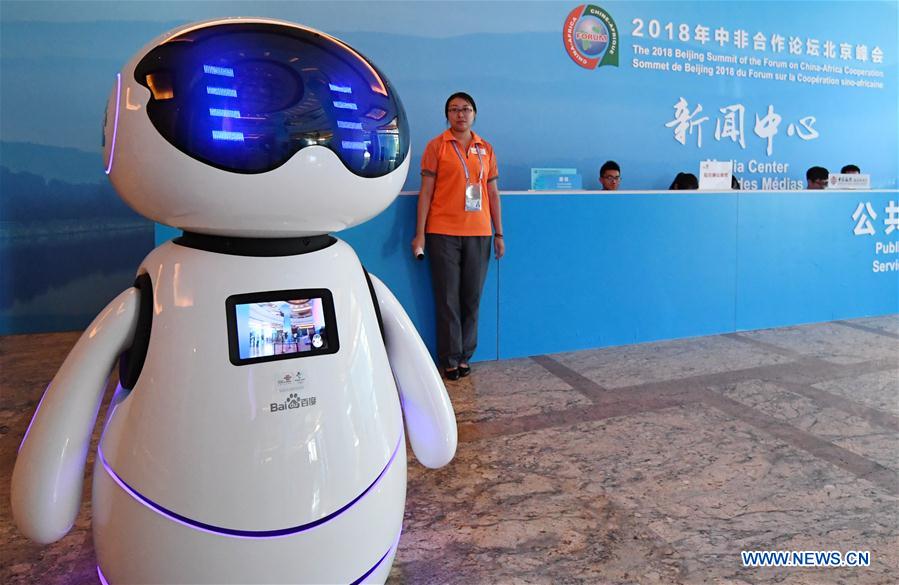 A consultative robot is seen at the Media Center of the FOCAC 2018 Beijing Summit at the Beijing Jianguo International Convention Center of Beijing International Hotel in Beijing, capital of China, Aug. 29, 2018. The media center of the Forum on China-Africa Cooperation (FOCAC) started trial operation on Wednesday. The summit is scheduled for September 3 to 4 in Beijing. [Photo/Xinhua]
The summit will take place in the Chinese capital on Sept. 3-4, and it is expected to receive over 2,600 accredited journalists.
The media center is situated at the Beijing Jianguo International Convention Center of the Beijing International Hotel, covering an area of around 8,300 square meters.
The center is equipped with media services, working stations, soundproof booths, press conference rooms, master control rooms, an exhibition area, catering services, and a tea break area.
Media professionals can expect on-site interview services, information services, television and broadcasting services, high-speed internet access, and multilingual services including Chinese, English and French.
Materials for distribution are also presented at the media center, including the media guide, books introducing the Chinese capital Beijing, as well as the first and second volumes of "Xi Jinping: The Governance of China" in six languages.
The "Colorful Africa" photo exhibition has opened on the second floor, introducing the cultural heritage and beautiful sceneries of various African countries.
The media center employs the latest technologies including augmented reality and radar sensing to provide interactive experiences for Chinese and foreign journalists.
Performances and artworks featuring Beijing's local intangible cultural heritages are presented at the interactive area of the center.