History abounds with formidable challenges from which the world has emerged as an even safer and better place, and those triumphs over adversity have testified that cooperation and common development are crucial in turning the tide.
The world is now living through drastic changes and a COVID-19 pandemic, both unseen in a century. Various security challenges continue to surface, while the global economy is still battling against significant headwinds on its path to recovery. Meanwhile, global development has experienced major setbacks.
"Where is the world headed: Peace or war? Progress or regression? Openness or isolation? Cooperation or confrontation? These are choices of the times that we are confronted with," Chinese President Xi Jinping said Wednesday in his keynote speech at the opening ceremony of the BRICS Business Forum. He then went on at that forum and later at two other related high-level events in the following days to share his thoughts on how to tackle global challenges and advance common development.
Experts worldwide said they are inspired by Xi's insights into the choices of the times, and expect BRICS cooperation to add impetus to global prosperity.
PROMOTING GLOBAL UNITY, COOPERATION
Experts told Xinhua that they are impressed by Xi's emphasis on and China's commitment to promoting global unity and cooperation, and the BRICS partnership has set an example of South-South cooperation and of seeking strength through unity among emerging markets and developing countries.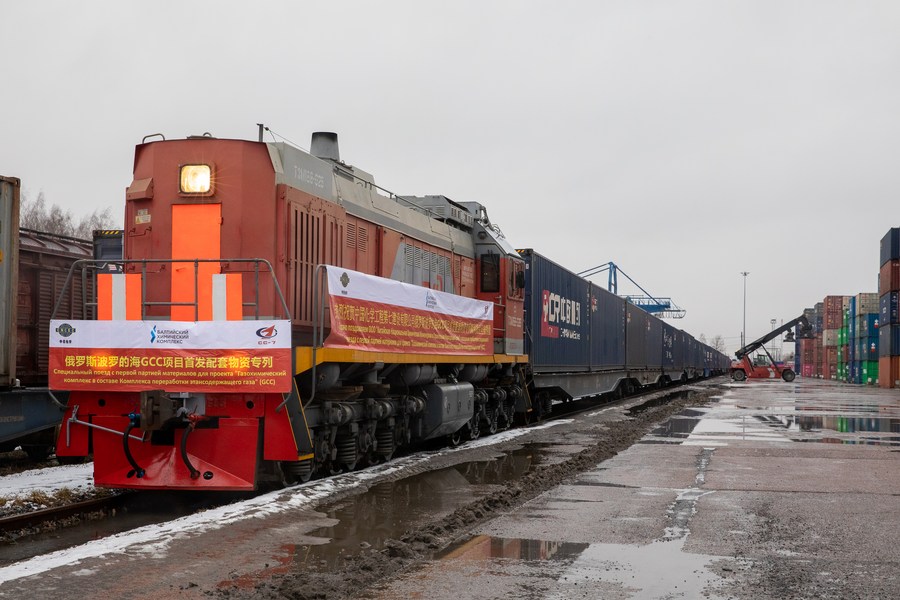 The first China-Europe freight train from Chengdu to St. Petersburg arrives at Shushary railway station in St. Petersburg, Russia, March 15, 2021. (Xinhua)

In his keynote speech on Wednesday, Xi said despite changes in an evolving global environment, the historical trend of openness and development will not reverse course, and the shared desire to meet challenges together through cooperation will remain as strong as ever.
When hosting the 14th BRICS Summit via video link on Thursday, Xi stressed that the Global Security Initiative (GSI), which advocates a vision of common, comprehensive, cooperative and sustainable security, follows the philosophy that humanity is an indivisible security community, and aims to create a new path to security that features dialogue over confrontation, partnership over alliance and win-win over zero-sum.
"China would like to work with BRICS partners to operationalize the GSI and bring more stability and positive energy to the world," said Xi.
Xi's call for global cooperation and solidarity, as well as true multilateralism, is a positive step toward world peace and security, said Samer Khair Ahmed, a Jordanian writer and expert on Arab-China relations.
The experiences of recent years have demonstrated that global security is an integrated issue that cannot be achieved by antagonizing or isolating a country or a group of countries, and it has become necessary for the world to build true international solidarity for the sake of security and peace, said Ahmed.
Jose Ricardo dos Santos Luzin Junior, CEO of Sao Paulo-based company LIDE China, said China has been playing a key role in upholding multilateralism and helping shape a new global governance order that stresses mutual cooperation.