CULTURAL EXCHANGE, INTEGRATION
"The sculptures are very complex and imaginative, reflecting the fairy world imagined by people at that time, and they demonstrate the diversity and richness of Chinese civilization," said Zhao Hao, an associate professor at Peking University who is head of the excavation of the No.8 pit.
Ran Honglin, an official with the institute, said that the sculpture of the human head and snake body shows characteristics of ancient Shu civilization, the vessel with a square pedestal is the representative of the culture of the pre-Western Zhou Dynasty (1046 B.C.-771 B.C.), while zun represents culture stemming from Zhongyuan, a region known as the central plain area.
"These three factors are now blended into one artifact, which demonstrates that Sanxingdui is an important part of Chinese civilization," Ran said.
"More cultural relics unearthed at Sanxingdui have also been seen in other locales in China, giving evidence of the early exchange and integration of Chinese civilization," Ran added.
Lei Yu, an expert from the institute, also confirmed the close cultural relationships between the newly discovered artifacts at Sanxingdui and other places in China, and their exchange and integration.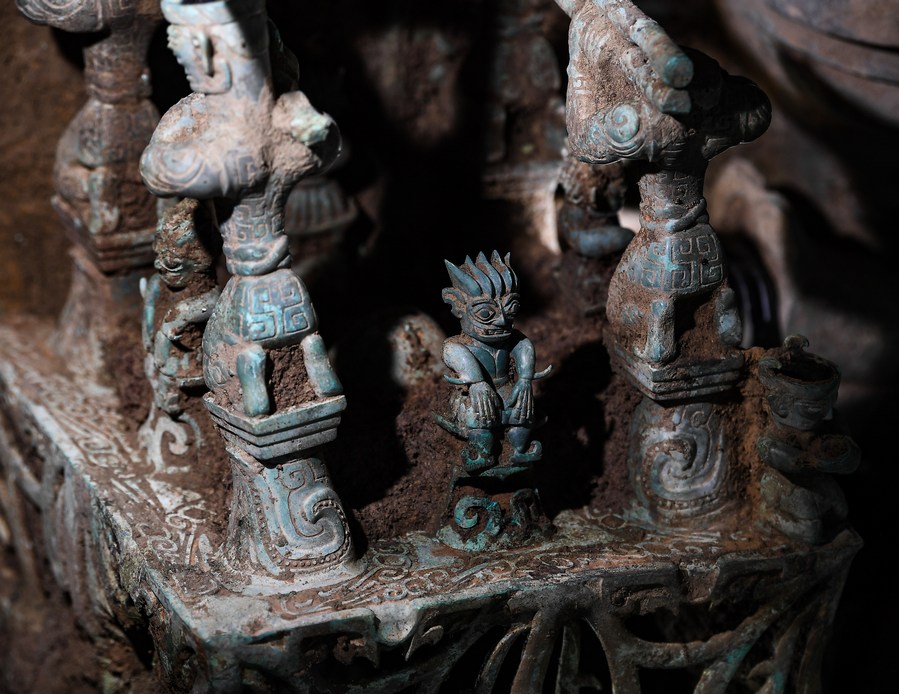 Photo taken on June 1, 2022 shows a bronze altar excavated from the No.8 sacrificial pit at Sanxingdui Ruins site in southwest China's Sichuan Province. (Xinhua/Wang Xi)

In the next step, archaeologists will continue to explore the site outside the sacrificial area, and outline the ancient kingdom at Sanxingdui.
A new exhibition hall of Sanxingdui Museum, covering an area of 44,000 square meters, is scheduled to be completed and open to the public in 2023.
Originally discovered in the late 1920s, the Sanxingdui Ruins have been dubbed as one of the world's greatest archaeological findings of the 20th century.
Located in the city of Guanghan, around 60 km from the provincial capital Chengdu, the ruins covering an area of 12 square km are believed to be the remnants of the Shu Kingdom, dating back some 4,500 to 3,000 years.