WORK RESUMPTION PROCEEDING SMOOTHLY
A ship loaded with over 4,000 electric cars produced by U.S. automaker Tesla's Shanghai Gigafactory left a Shanghai port for Belgium on May 15.
This has been the second export shipment of Tesla cars from Shanghai since the factory resumed production on April 19, just five days after the first batch of vehicles left for Slovenia, according to Shanghai Customs.
Due to the latest COVID-19 resurgence in the city, the Shanghai Gigafactory had suspended production for over 20 days.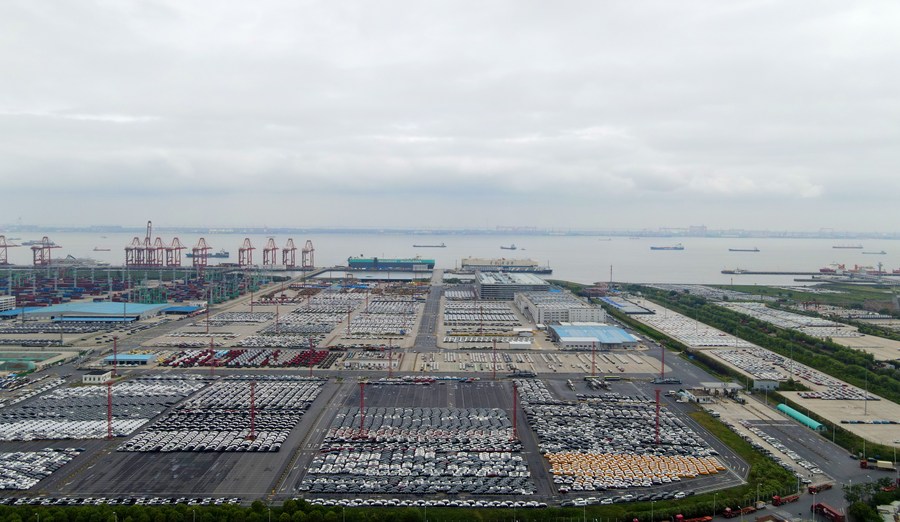 Aerial photo shows a view of Shanghai Haitong International Automotive Terminal at Waigaoqiao in Shanghai, east China, May 25, 2022. (Xinhua/Fang Zhe)

Shanghai customs said it has established a communication channel with Tesla to coordinate customs services online and help speed up the delivery of orders.
In the first four months of this year, Tesla's Shanghai factory delivered more than 180,000 vehicles, over 1.7 times the amount for the same period last year, already surpassing the total for 2020.
"We believe that the epidemic situation is only a short-term challenge. We have seen the capacity of all sectors as they cope with the challenges of work resumption," said Tao Lin, vice president of Tesla. "We believe that production will soon return to normal."
Tesla's Shanghai Gigafactory is the first wholly foreign-owned car manufacturing enterprise in China. Deliveries from the Shanghai Gigafactory stood at 484,130 vehicles last year, an increase of 235 percent from 2020 and accounting for 51.7 percent of Tesla's global production capacity in 2021.
As of May 19, China's top automaker SAIC Motor and Tesla's Shanghai Gigafactory have rolled off 21,000 and 26,000 vehicles, respectively, since they resumed work, invigorating more than 1,200 auto parts producers in Shanghai.
Leading automaker FAW Group Co., Ltd. based in Changchun, capital of northeast China's Jilin Province, resumed production on April 13 after a month-long suspension. Workers in its five main engine plants in Changchun are working in shifts, while some production lines are operating at full capacity.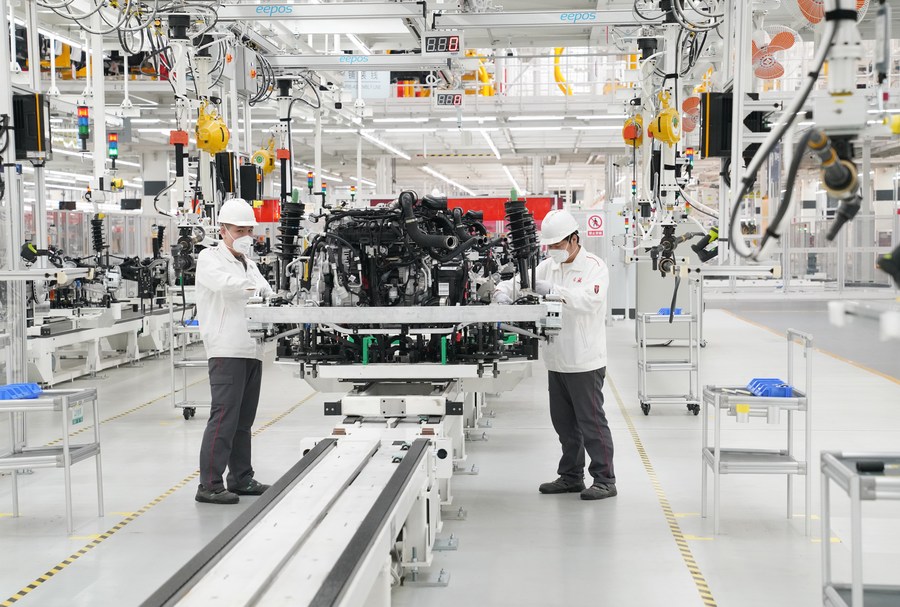 People work at the assembly line of China's leading automaker FAW Group Co., Ltd. based in Changchun, capital of northeast China's Jilin Province, April 22, 2022. (Xinhua)

Since the resumption of work, the company's daily output of complete vehicles has exceeded 5,700 units, and its factories in Changchun have made 93,396 vehicles as of May 18.