City planners, demographers, politicians and academics are considering how cities will look in the post-pandemic era as vaccinations take hold and people learn to live with the coronavirus.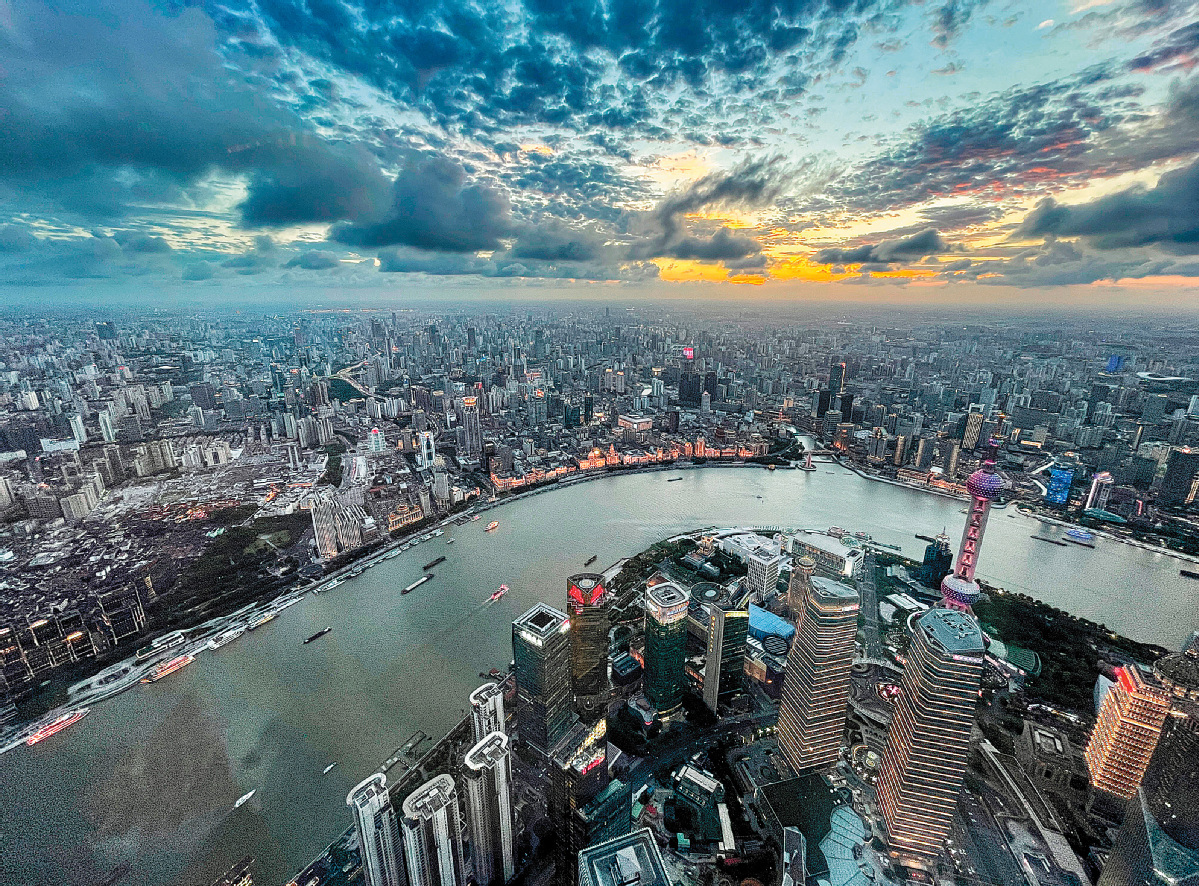 An aerial view of Shanghai. [Photo by Du Lianyi/China Daily]
It is a reasonable assumption that city life will recover, with restaurants, bars, cinemas, theaters and museums back in business, but the big question is: Will central business districts have the same buzz as they did before the COVID-19 pandemic emerged?
The jury is still out on this, as countless workers around the world have left their offices to operate from home.
In a report last year titled "Reimagining the office and work life after COVID-19", global consultants McKinsey & Co said the pandemic has brought unprecedented human and humanitarian challenges.
"Before the pandemic, the conventional wisdom had been that offices were critical to productivity, culture and winning the war for talent," the report said.
"Companies competed for prime office space in major urban centers around the world, and many focused on solutions that were seen to promote collaboration."
McKinsey found that during the height of the pandemic last year, some 62 percent of people in the United States worked from home, compared with 25 percent a few years ago.
"During the pandemic, many people have been surprised by how quickly and effectively technologies for videoconferencing and other forms of digital collaboration were adopted. For many, the results have been better than imagined," the report said.
The past two years have seen lockdowns, supply line disruptions, travel restrictions, planes grounded and massive disruptions to the tourism and education sectors worldwide.
No one knows whether commercial life will recover from the pandemic, or if companies will need to have all their staff members working from offices again.
In view of technological advances, the questions now are do we need to work in cities, and do we need to cram into overcrowded trains and buses or spend hours in traffic jams just to travel to and from work?
The pandemic has shown that people work just as well from home as they do from an office.
Analysts say some aspects of cities and metropolitan areas will be reshaped, depending on how long the pandemic lasts.
In Australia's state capitals, workers have been leaving offices in record numbers during the pandemic, according to the Australian Bureau of Statistics.
Most jobs are easily transportable, and with many people now working from home, research has found that productivity has increased.
Michael McGauran, partner at PwC Strategy based in Singapore, said the likelihood of cities and business around the world returning to normal after the pandemic is "virtually zero".
"This old model of the way we commute-for example, of herding into the CBD and then herding back out of the CBD, our working hours, our headquarters-we think all that's going to change," he told the April issue of INTHEBLACK magazine.
McGauran said many companies will reduce their CBD presence, with their headquarters likely reserved for the most crucial face-to-face interactions. Employees will be allowed to work from home at other times.
"Senior leadership will still need to meet in-person for large events or meetings. A bank merging with another bank will not be discussed over Zoom," he said, pointing out that central workplaces are important for career development, especially for younger employees and for social connections.
In April, HSBC said in a report titled "Future cities: the changing shape of urbanization" that cities will face a different future after the pandemic, which has given people a greater appreciation of space and quality of life.
The report added that operating remotely has changed the "allure" of cities as places of work, bringing new challenges for transportation, use of buildings and urban design.
The authors of the report, HSBC economist James Pomeroy and Stephen Bramley-Jackson, HSBC global head of real estate research, said they did not think urbanization trends were heading permanently into reverse.
"In much of the emerging world, cities are still going to be a draw-for jobs, for amenities and for a better quality of life," they said.
"At least while only a fraction of jobs is in professional services or other remote-friendly roles, and computer and internet access isn't as widespread, urbanization rates should continue to creep up from very low levels today.
"In the developed world, the change may be subtler than many have made it out to be. While the draw of living close to an office may be lower for many people than it was back in 2019, the likelihood is that the pandemic accelerates the growth of suburban areas, towns and smaller cities.
"People like being near things. This means that while urbanization in terms of megacities may pause, a different kind of urbanization is taking place, bringing new challenges for these areas and the big cities that may have lost some of their draw."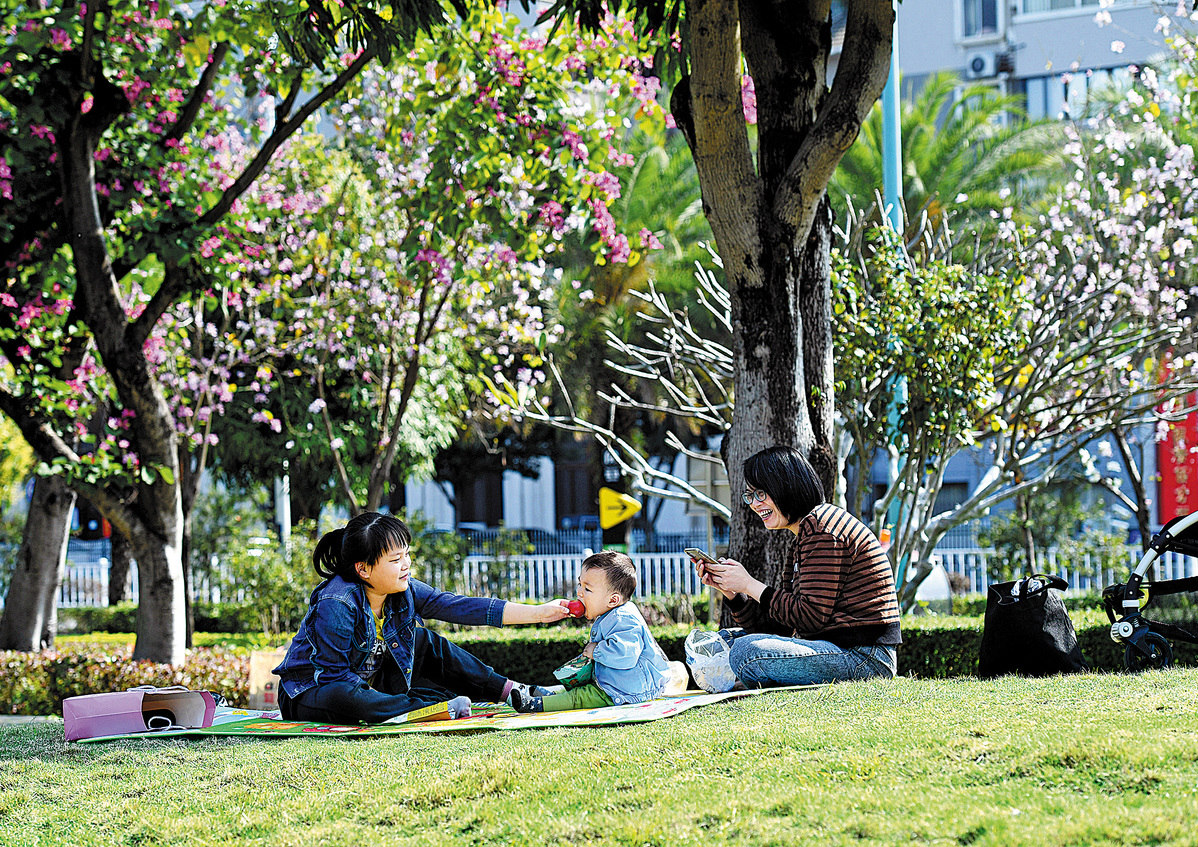 Residents enjoy a day out at Nanhu Lake in Nanning, capital of Guangxi Zhuang autonomous region. [Photo/Xinhua]
New methods
In China, companies have developed their own methods of working, combining office and remote operations. Many overseas companies based in China encouraged their staff members to work from home, rather than risk going to the office.
In a paper titled "A blueprint for remote working: Lessons from China", released in March last year, McKinsey Digital said, "Working from home skyrocketed in China in the wake of the COVID-19 crisis as companies told their employees to stay home.
"Around 200 million people were working remotely by the end of the Chinese New Year holiday (last year). While this arrangement has some benefits, such as avoiding long commutes, many employees and companies found it challenging.
"One employee at an internet company quipped that his workday changed from '996' to '007,' meaning from nine to nine, six days a week, to all the time.
"On the personal front, employees found it difficult to manage kids' home schooling via videoconferencing while coordinating with colleagues remotely. At company level, many felt that productivity rapidly tailed off if not managed properly".
By June, more than 381 million people were working from home in China, accounting for 37.7 percent of the country's netizens, a rise of over 90 percent compared with the previous year, according to a report released last month by the China Internet Network Information Center.
Despite the pandemic, young Chinese still prefer to live and work in cities, especially Beijing and Shanghai, where salaries are higher than elsewhere.
Luo Xiaoming, associate professor working in the cultural studies program at Shanghai University, said, "The link between the COVID-19 pandemic and the lost attractions of city life is not so direct, but more indirect.
"It is more likely the pandemic has accelerated the shift to a new lifestyle which already existed but had been evolving among young people in China.
"There are many reasons young people are less interested in city life, ranging from restrictive measures such as lockdowns and social distancing, working from home and even the change in China-US relations."
Luo said people living in cities, especially the urban middle class, may continue to work in city centers while owning a home in the suburbs.
"Of course, this is not just evident because of COVID-19, but existed before the crisis. It is the same with the high cost of living and inconvenience of big city life. COVID-19 did not create these (situations) but exacerbated them."
Luo said COVID-19 has had an impact on city life, especially cultural activities.
"If we look at the damage the pandemic has done to city life, there's no doubt that people's cultural lives have borne the brunt since the beginning of the outbreak," she said.
"Cultural activities in big cities have been drastically reduced, along with public space for such events.
"Cross-city or cross-border cultural events and products have been fraught with uncertainty," Luo said, adding that such doubts affect the flow of good cultural products between cities.
"The need for public life is part of human nature. The pandemic has challenged it in two ways.
"First, we need to figure out a way to ensure a high quality of public life if we have to live with the pandemic for a long time.
"Second, people living in cities should rethink what public cultural life brings them and what kind of private life could lead to a better public cultural one," said Luo, who specializes in urban culture and social space.
She added that many young people who have started working from home or learning online are becoming increasingly used to this. They tend to see no difference between physical presence and virtual presence.
"This may reshape the way in which they understand themselves and how they interact with the world. This is noteworthy and needs more discussion," Luo said.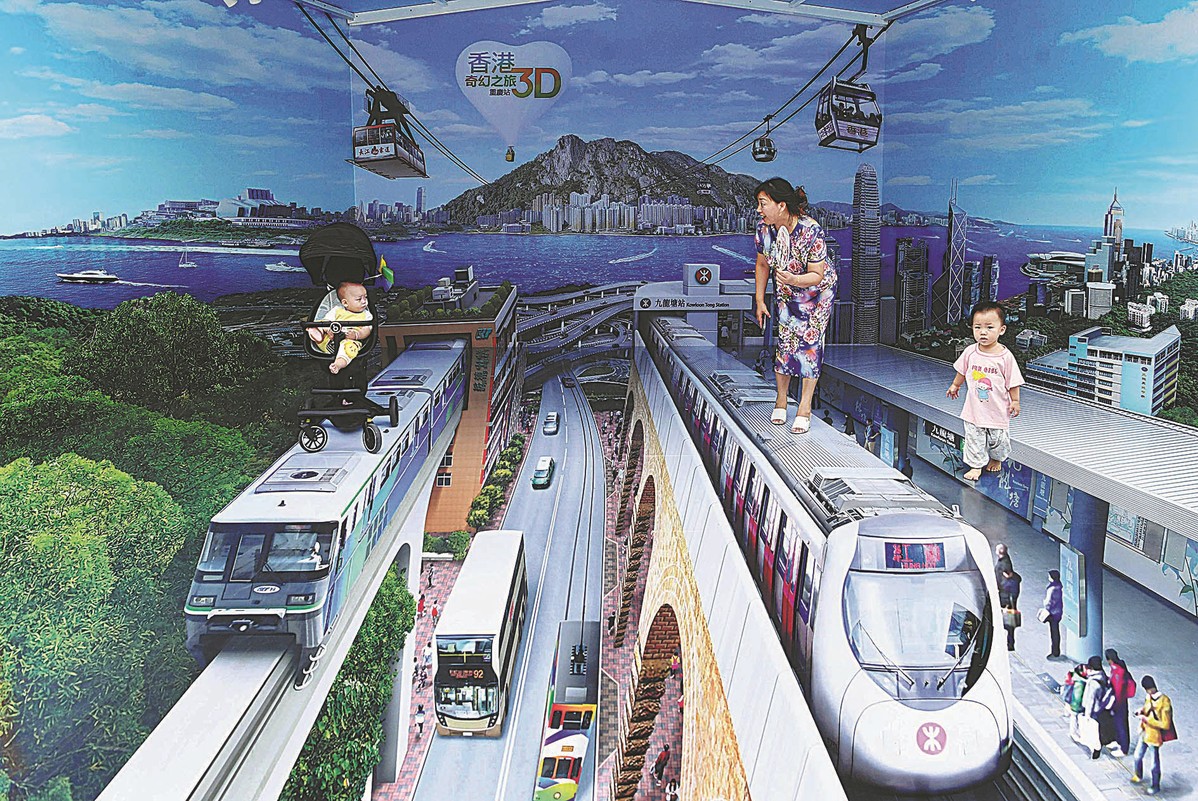 Visitors tour an exhibition in Chongqing featuring aspects of life in Hong Kong. [Photo by Chen Chao/China News Service]
Attractions closed
Xiao Wenting, a white-collar worker in Beijing said, "While big cities have their attractions, the pandemic effectively closed everything off ... even the Beijing International Film Festival had to be canceled last year.
"I've been working in Beijing for nearly five years and I'm thinking about moving to another city with lower living costs, where I can spend less time commuting," Xiao said.
She pays 3,700 yuan ($574) a month for a 14-square-meter bedroom in a two-room apartment she shares with another woman.
It takes Xiao 40 minutes on the subway to reach her office in Chaoyang district.
"I came to the city for its rich cultural attractions, such as art galleries and theaters, but I am tired of living here now. The city has made me feel as if I'm an outsider, especially during the COVID-19 lockdown, when I felt disconnected from the real world.
"I want to live a simpler life, rather than striving for higher pay and social status in a city where I can't even afford to buy an apartment ...maybe I'll leave next year."
World Bank Director for Knowledge and Learning, Abha Joshi-Ghani, said the pandemic "triggered a reverse migration" to rural areas, with economic shutdowns, job losses and a lack of employment for migrant workers.
In a paper for the World Economic Forum's Pioneers of Change Summit in November last year, Joshi-Ghani said: "Workers are migrating away from cities, looking for open spaces. The future of cities has become uncertain and constrained by diminishing revenues due to the economic downturn and already-limited infrastructure services."
In Australia, data show many people are moving out of major cities for a quieter and less stressful life in regional areas. Property sales in such areas rose by 20 percent last year, according to realestate.com.au-double the growth seen in state capitals.
Nathan Stribley, a city planner at business consultancy Urbis, said the pandemic has "turbocharged" exciting trends in Australia.
He told the BBC in February, "Working from home was something that was happening pre-COVID, but there's no doubt that the impact of COVID and the restrictions on accessing CBDs and getting to work have been a revolution in terms of the number of businesses that have moved to the technological enablement of offsite work.
"That greater flexibility has freed people up to make decisions about where they want to locate, how often they need to be in the office, and how far they're willing to commute."